International Graduate Student Profiles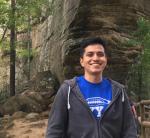 Cris Alvarez (Ecuador)
Master's Student in Geology

Originally from Quito, Ecuador, Cris came to UK because he felt his research interests aligned well with the department and because he wanted to be involved in the development of an environmental study while becoming skilled in field techniques and methods. He is studying methane in the groundwater of Eastern Kentucky and how it relates to water chemistry, geology, and anthropogenic influences.

"Growing up in Ecuador, I experienced everything from beaches to volcanos and forests within a few hours from home, so I was always interested in why the landscape was so different and how it changed, as well as how we as humans changed it," he said. "I really enjoyed going out to the field and sampling water wells for my research. Having the opportunity to engage with the larger Kentucky community and to learn about their experiences and concerns surrounding groundwater/water quality has been exceptionally rewarding."
He holds a B.S. in Geology from the University of Illinois at Urbana-Champaign. In the future, Cris hopes to apply his knowledge to further our understanding of environmental processes and bring awareness to them.

Ruwen Chang (China)
PhD Candidate in Gender and Women's Studies
Ruwen's work focuses on the politics of reproduction and the central question of who is fit to reproduce. Originally from China, Ruwen joined UK as a student in 2017 after completing an MA in Sociology from Peking University. "I always wanted to study Gender and Women's Studies (GWS), but there are no GWS doctoral programs in China," Ruwen said. "When I came here, I felt so happy to read and write about these things. I enjoy it so much ... the readings, the professors, and the class discussions."
Ruwen also values the real-world experience and advice she can absorb from her professors. "I'm able to develop myself as a young professional," she said. "Professors talk about publication and how to make a final paper more publishable ... They organize workshops, like how to organize your teaching experience on your CV so you can be more appealing to employers and how to apply for grants so you won't starve!"
As for Lexington, Ruwen also enjoys the scenery and nature that weren't common in metropolitan areas of China. "When I first got here, I realized oh my gosh, there are so few people, the sky is very blue, it's very beautiful. I like the big spaces in Lexington, it's a very beautiful place". When she graduates, Ruwen hopes to become a professor of GWS.

Suraj Chaudhary (Nepal)
PhD Candidate in Philosophy
Initially interested in literature, Suraj knew there were few options to study liberal arts at the university level in Nepal. Accordingly, he decided to pursue his undergraduate work at the University of Colorado - Denver, which is where he was exposed to philosophy and ended up double majoring in English Literature and Philosophy. After completing a Master's in Philosophy at the University of Mumbai in India, Suraj joined UK.
The Philosophy department at UK has a good mix of different specializations and interests, Suraj said, and he found that attractive. He described the department as pluralistic and supportive. "What I can speak to is the welcoming environment in the department and at UK overall," he said. "Being here I have never felt like I was an alien. As an international student, you probably can't say that about many places."
Now he studies phenomenology and the intersection of questions of space, place and technology. He won the departmental teaching award in Spring 2017 and the College of Arts & Sciences Certificate for Outstanding Teaching in Spring 2018. "I love doing what I do, the students I teach, and being able to teach a diverse group of students who come from different backgrounds ... they show an enthusiasm for the big questions of life, and a philosophy class is just the right place to explore them." He also directed the UK Philosophy Summer Camp in 2017, which allowed him to engage in the community and "take philosophy to the people, especially the youth, who do not usually know about it."
Suraj enjoys the small town feel of Lexington and the greenery of the area. His wife is also a doctoral student at UK, and he hopes that when they are finished with their studies, they can find teaching positions near each other.

Ankur Das (India)
PhD Candidate in Physics & Astronomy
Ankur is currently working in theoretical condensed matter physics, with a research topic focused on the Quantum Hall effect analyzing the quantum behavior of electrons in a magnetic field. He chose UK due to the accomplished physicists here and their specific research interests.
"My highlight of being in UK is the vast variety of research exposure that I have gotten," he said.
After graduating, Ankur hopes to continue his research in Physics and contribute to fundamental science. He holds a master's from Harish-Chandra Research Institute in Allahabad, India and a bachelor's from St. Xavier's College, Kolkata, India. He was born and raised in Kolkata as well.
Nisheeta Desai (India)
PhD Candidate in Physics & Astronomy
When Nisheeta was working on her master's thesis at the Tata Institute of Fundamental Research in Mumbai, India, her advisor recommended faculty at UK, so she explored the option of coming to the United States. Compared to other options, studying in the US and at UK allowed her time to think about the specific research she might want to pursue, with more opportunities to explore different areas of research.
Now in her sixth year, she is studying theoretical condensed matter physics, specifically quantum magnetism. She holds a master's and bachelor's from the Birla Institute of Technology and Science in Goa, India. She first became interested in physics in high school, where she loved how we come up with models to describe laws of nature and why things happen.
Nisheeta has enjoyed the full experience of doing her PhD at UK - from the people to the landscape. "The coursework is difficult and you would have to work hard if you join UK, but it's totally worth it," she said. "You will learn a lot in the process, and there are some really good people here who do great research. It's a great place to come." Another highlight for Nisheeta was meeting her husband at UK!
Upon graduation, she hopes to return to India and work as a professor/scientist, inspiring new generations of students.

Luc Dunoyer (France)
PhD Candidate in Biology
Originally from Annecy, France, Luc was applying for funding at European universities when he decided to expand his academic search to the United States. After connecting with a biology researcher at UK, he decided to study for his doctorate here, focusing on stream ecology. Luc's studies at UK have paid great dividends - not only has he recently won four teaching awards, including the Provost's "Outstanding Teaching Assistant Award" (2019), he also met his wife as a fellow biology student at UK!
"The awards are the pinnacle of my stay here at UK," Luc said. "I had decided to focus more on teaching, I had sort of switched my primary interests from research to teaching, and people are telling me I'm doing a good job." After finishing his doctorate, Luc plans to live and work in North Carolina. He also holds a Master's in Behavior Ecology from the University of Burgundy in Dijon, France.
Luc credits the class "Writing for International Students", given by the Graduate School's Angela Garner, as essential to his success in his first year at UK. "Finding people who understand where you are coming from, and finding support through the Graduate School, through the Center for the Enhancement of Learning and Teaching (CELT), and the libraries is essential," he said. Luc also benefitted from his involvement in the Graduate Student Congress, a great way to meet students of different backgrounds and interests. "Campus is not a foreign place anymore."
Juan Fernandez-Cantero (Spain)
PhD Candidate in Hispanic Studies
Juan is researching Alcala de Henares, Spain and Mexico City, Mexico in a transatlantic study of colonial cities. With a grant from the Sigma Delta Pi Honors Society, he will be conducting fieldwork in Spain. While pursuing his PhD, Juan has also completed graduate certificates at UK in Gender and Women's Studies, Latin American Studies, Social Theory and Historic Preservation. 
"There are so many things to do here at UK, and I think UK is really focused on student success," Juan said. "I love that I've been able to teach higher-level courses within my department, collaborate with others and earn graduate certificates ... I feel that I have a lot of room for extracurricular activities and to develop myself."
After graduation, Juan hopes to work in academia and continue to teach. "I love teaching," he said. "I love connecting with my students and teaching about my culture." Juan received the A&S Teaching Assistant Teaching Award in 2019 as well as the 2019 Cross-Cultural Understanding Award from UK's International Center.
He holds a master's in Hispanic Studies from Auburn University, a master's in Teaching English through Literature and another in Business Administration, both from the Universidad de Alcala, Spain.
 
Ulas Gozutok (Turkey)
PhD Candidate in Political Science
Originally from Antalya, Turkey, Ulas chose to study at UK because of the research interests of the International Relations and Comparative Politics professors in the Political Science department. "It is a growing and ambitious political science department, and I thought that I would complement the department well with my research interests in International Peace and Security Studies," he said.
Ulas' research revolves around how authoritarian regimes behave during foreign policy crises. He investigates how domestic political institutions in an autocracy affect the regime's strategies towards democracies and non-democracies in crisis setting. He holds a master's degree in International Relations from the Univeristy of Groningen in the Netherlands and a bachelor's degree from the University of Dokuz Eylul in Izmir, Turkey.
"With the education and knowledge I have gathered at UK, I would like to teach my own class of research methods to undergraduates in Turkey for the purpose of contributing to the spirit of critical thinking and scientific inquiry in young people's minds," Ulas said.
He also had words of encouragement to offer prospective graduate students: "You are going to find a lot of resources, a great library and a welcoming, supportive environment for your research. I highly recommend UK!" In addition to academics, Ulas appreciated many features of UK and Lexington, including the campus gym, the library Starbucks, the clean weather, green environment and fresh food as well as the horse races at Keeneland.
Malene Jacobsen (Denmark)
PhD Candidate in Geography
Malene's work focuses on the geographies of migration and political geography. She is interested in questions around forced migration, transnationalism, borders, power, and political subjectivity.
Malene earned her B.S. in Geography and Education Studies from Roskilde University, Denmark. During her bachelor's, Malene spent time studying abroad at Georgia Southern University, where her professors recommended UK's geography program. She has an MA in Geography from UK and is now finishing her PhD.
"My first semester at Kentucky for my MA, I took a social geography course that focused specifically on issues of migration, borders, and politics," Malene said. "It was this course that really got me interested in forced migration and questions about asylum, refuge, and rights."
Malene has found the Geography department at UK to be a supportive community. "There is a strong sense of collegiality and you really feel that the people, both students and professors, are there to support each other and make the best out of your time as a graduate student," she said. "One of the highlights from my time at UK has been teaching ... I have really enjoyed getting to know the undergraduate students and teaching them what geography is about, taking them to new places through case studies, and introducing them to new tools and skills in order to better prepare them for their next semester and life after college."
Malene plans to start a post-doctoral fellowship in Fall 2019 after submitting her final dissertation at UK. After her post-doc, she hopes to find a permanent position at a university that will allow her to continue to research and teach.
Tasnuba Jerin (Bangladesh)
PhD Candidate in Geography
The world's diverse landforms have always intrigued Tasnuba, who is originally from Dhaka, Bangladesh. She is a physical geographer studying the complex fluvial landscape dynamics in spatial scale related to riparian biodiversity. "Geography is the platform that will give me the opportunity to know the world's landscape complexity in association with mapping tools and techniques," Tasnuba said.
"Teaching my first course as an instructor is a time that I will always remember," she said. "I learned a lot from that experience about classroom management, teaching strategies, and much more." She hopes to work as a research scientist and have the opportunity to pursue continued research.
Tasnuba holds a bachelor's in Geography from Dhaka University. Before coming to UK, she reached out to other international students studying here and received positive feedback. She also connected with her advisor, Dr. Jonathan Phillips, whom she credits with being one of the reasons she chose UK. "I felt happy to be able to work with such a great mind in my field," Tasnuba said.

 

Myung In Ji (South Korea)
PhD Candidate in Geography
Myungin's research project is about the retail gentrification of Seoul. Drawing upon concepts of authenticity, consumption, desire, and practice, she explores the way in which cultural landscapes represent, mediate, and negotiate gentrification dynamics.
The highlight of Myungin's time at UK so far was her qualifying exam. "It was the hardest time period among the last five years at UK, but I felt honored and grateful that four experts in my research field sincerely discussed, thought about, and commented on my project," she said. "That was the moment that I was most developed academically."
Myungin holds a Master's in Geography and a Bachelor's in Geography Education from Korea University. She learned about UK's Geography department while at Korea University, and she contacted Dr. Rich Schein whose work regarding landscape influenced her master's project. Dr. Schein encouraged her to apply. Even as a child, Myungin was interested in the world around her. "I had a strong curiosity about a world that I barely knew about," she said. "I've always been enthusiastic to learn that unknown world."
After graduation, Myungin would like to work in academia as a teacher and/or researcher. Go Cats!

Daniel Joseph (Haiti)
PhD Candidate in Anthropology
Daniel's research focuses on Dominicans of Haitian descent who were displaced from the Dominican Republic in 2015 and now live in a small town called Anse-à-Pitres in Haiti. Daniel examines how members of this population create survival strategies and build alternative forms of citizenship.
As a Haitian student who has studied in France, Daniel appreciated the diversity of UK's student body. "It was a very good environment with students from different places, such as Africa and Latin America, and I found that inspiring and motivating," he said. "I had a lot of very good conversations with other students who really helped me to integrate into the program. Also, I met some wonderful faculty who welcomed me and helped me settle in Lexington."
Daniel became interested in UK's doctoral program in Anthropology after spending a year as an exchange fellow teaching French at the University of Iowa. He completed his master's in Foreign Cultures and Societies: Europe and the Americas at the University of Poitiers, France in 2012. He obtained his bachelor's degree in Haiti at the École Normale Supérieure of Haiti State University. While at UK, Daniel has received a National Science Foundation grant in 2017 and a Dean's Fellowship award in 2018.
Currently preparing his dissertation for final submission, Daniel has already secured a job teaching Anthropology at DePauw University in Indiana. Although he is excited for the next step in his career, he is sad to leave Kentucky. "After 5 and a half years in Lexington, it's really very hard for me to say farewell."



Chenlu Ke (China)
PhD Candidate in Statistics

Chenlu began work as an Assistant Professor of Statistics at Virginia Commonwealth University in Fall 2019. "I am really looking forward to working with my future students," she said. "I will work very closely with them in research areas and interact with them in class. I enjoy teaching and research - that's why I decided to go into academia."
She is currently preparing her dissertation on sufficient dimension reduction in big data for final submission. Originally from Xiamen, China, Chenlu has a bachelor's degree in Mathematics from East China Normal University. Fellow students had chosen to study in the United States, and her undergraduate advisor got his PhD in the U.S. as well. Influenced by these factors, Chenlu applied to programs in the U.S. and chose UK after being offered a full scholarship.
"Our department is very nice and supportive of students in all aspects," she said. Chenlu credited her teaching experience, research work, and conference presentations and networking with helping her successfully find her faculty position at VCU.
Jiacheng Liu (China)
PhD Student in Political Science
Jiacheng wanted to study political science and the social sciences, and he felt that the United States had better educational options for those fields. "When I grew up back in China, I observed lots of social inequalities, and I wanted to make a change to that," he said. "When I came here to the U.S., I found that politics is related to every aspect of our social life. So, I thought it would be helpful to learn from political science so I can do good for our societies."
Jiacheng decided to study at UK for his undergraduate degree after visiting the campus upon the recommendation of a friend. He found UK to be an international-friendly place with diversity as well as highly-ranked programs, in a safe city. After completing his bachelor's, Jiacheng decided to pursue a PhD at UK in the sub-field of International Relations where he is currently studying civil wars and inter-state wars.
"I used to be shy to talk in front of people, but now after one year of teaching undergraduates, I'm standing in front of them talking about political science and international relations and I think that's a huge leap for my life," Jiacheng said. "I enjoy it when students are really paying attention, that is really satisfying."
After graduation, Jiacheng hopes to work in an international government organization such as the United Nations as well as work as a professor.
Si-Nong Liu (China)
PhD Candidate in Physics
Si-Nong applied to UK after her undergraduate advisor recommended the program as an option for further opportunities in the field of theoretical physics. She was considering programs in the U.S., Canada, and the Netherlands, but she chose UK after the committed outreach of UK faculty. "After a short time, they contacted me and introduced me to the campus and the department," Si-Nong said. "They had some Chinese professors contact me and give me ideas for how to prepare for my future. They did everything they could to recruit me. It was really wonderful."
She is studying string theory and hopes to secure a post-doctoral fellowship after graduation, and one day become a professor able to do her own research. The relatively small size of the department means easier access to professors and advisors, Si-Nong said. "If professors have the time, they are willing to talk to me," she said. "Not just my advisor, but our Director of Graduate Studies and other professors too ... they even invited me for Thanksgiving dinner."
Si-Nong appreciates the convenience of campus transportation shuttles and the services located in the Student Center. Although other students studying in the U.S. had told her she would definitely need a car, she has found that a bike allows her to get around as well as shop for groceries. 
Si-Nong is from Fuzhou, China and holds a bachelor's in Physics from Fudan University in Shanghai.
Abel Manuel Lorente Campos (Spain)
PhD Candidate in Physics
Abel is researching particle physics and working on the G-2 experiment, an international collaboration centered at Fermilab in Batavia, Illinois. He has always enjoyed the sciences and mathematics, and he credits his interest in physics to an outstanding high school teacher who was a physicist. "He challenged us," Abel said. "I like those challenges. I see physics as a challenge."
Abel holds a B.S. in Physics from the Universidad de Granada in Spain. He spent his last year of undergraduate studying in Geneva, Switzerland, which is where he met his girlfriend - a UK undergraduate student at the time. After hearing about UK, Abel investigated. "I liked it. I liked the system of TA-ing, it's very different in Europe and more difficult to find similar opportunities to teach."
The faculty and students in the Physics department are welcoming and helpful, he said. With a diverse international group of students at UK, Abel enjoys learning about other people's cultures. He taught for two years and is now a Research Assistant.
"What I like here the most is campus life," he said. "There are lots of things going on. I go to debates, I go to the cinema, I eat here almost every day. I like taking a walk and going to the gym. I spend most of the day on campus."
After graduation, Abel said that it feels like many doors are open for him. Whether he applies for a post-doctoral fellowship or works for a company or applies for faculty positions, he is confident that he has many options.
Lilia Malave Gomez (Venezuela)
PhD Candidate in Hispanic Studies
Lilia is studying Spanish sociolinguistics, and specifically telenovelas that are produced outside the United States but for a U.S.-based audience. "The U.S. is the biggest Spanish laboratory in the world. It's changing, and I would like to see how TV is contributing to creating a different dialect of Spanish that is spoken in the U.S.," she said.
Originally from Caracas, Venezuela, Lilia holds a master's in Spanish from Auburn University and bachelor's in Journalism from Universidad Central de Venezuela. After doing some master's coursework in discourse analysis, Lilia decided to apply to study in the United States. "I really love speaking English and studying Spanish," she said, "so I thought I could do it. It was a big turn in my professional life, but I decided to do it."
Lilia loves UK's campus - from the new graduate study room at the William T. Young Library to Champions' Kitchen cafeteria in the Gatton Student Center. She said that working with her advisor, Dr. Yanira Paz, has been a highlight for her so far, as well as the departmental atmosphere in general. "The thing that I appreciate most is the climate of professionalism and respect in my department, amongst professors and also from professors to students," she said. She was awarded a Lyman T. Johnson Diversity Fellowship which has allowed her to teach one course a semester while focusing on preparing for her qualifying exams.
In the future, Lilia hopes to work for Hispanic media outlet - writing news content or even working with telenovelas from a linguistics perspective. She is also interested in teaching Spanish at a university and continuing to study linguistics.
Sebastiaan Meissner (Netherlands/UK)
PhD Candidate in Philosophy
Sebastiaan studies analytic philosophy with a focus on philosophy of science and philosophy of language. In particular, he is studying questions about whether scientific research yields knowledge about the world - for example, the question of whether there are real things in the world that more or less corresond with the contents of scientific theories. Having finished his coursework, he is looking forward to focusing more on his research and participating in conferences.
Sebastiaan holds a bachelor's degree from The Open University in the United Kingdom. Attracted by the funding and teaching opportunities in the U.S., he applied to a variety of programs. One of the key factors in choosing UK over other options was the friendly interactions with faculty and staff. "The people at Kentucky seemed nicer," he said. "They actually sent me personal messages, rather than just boiler plate e-mails." 
Now at the end of his third year, Sebastiaan appreciates the positive environment in the Philosophy Department. "My colleagues, the graduate students - it's a good community," he said. "It's a very pluralistic department with lots of different views. People are generally supportive of one another."
Sebastiaan counts the recent birth of his daughter, now fifteen months old, as the highlight of his time at UK. He hopes to secure a post-doctoral fellowship after graduation.
Oluwabukola Omotola (Nigeria)
PhD Student in Biology
Originally from Lagos, Bukola was studying Medicine at the University of Ilorin in Nigeria when she decided to apply to finish her bachelor's in the United States. She was frustrated by the lack of equipment, training and specialization available in Nigeria. A cousin of hers attended Mississippi State, so Bukola focused on Mississippi and ended up earning a bachelor's in Biology from the Mississippi University for Women in Columbus, Mississippi.
After graduation, she got a job in a biology lab on campus. At a job-related conference, Bukola interacted with UK faculty from the College of Medicine and became interested in doing a research degree at UK. Initially intending to pursue only a Master's in Biology, Bukola is now continuing for a PhD in Biology.
Bukola notes the friendliness of people in Lexington in general and of her department in specific. "I thought there would be competition, but that's not how it is in my department," she said. "I expected my interview to be like The Hunger Games, a fight to the death, but everyone was fun and dressed casually." She also notes the willingness of colleagues and professors to share. "Currently there's a technique I don't know, and a post-doc was supposed to teach me, but they have a lot on their plate right now," she said. "So I asked another professor, hey, I heard you know this technique, could you teach me? He said yeah sure, just set up a time and let me know."
Bukola hopes to one day attend medical school after she finishes her PhD.
Daniela Contreras Pérez-Sosa (Venezuela)
PhD Candidate in Hispanic Studies

Daniela is researching the journals of women and traveling nuns of the 19th century. "Growing up in Latin America allowed me through education at school to be exposed to the best and greatest writers of Hispanic literature, as well as culture and art," she said. "I believe that my interest in Hispanic Studies developed during my undergraduate career in Caracas."
Daniela hopes to work in academia as a professor and be able to provide her students with the knowledge that has been so influential to her academic and professional development. "I chose UK because I wanted to work with Dr. Mónica Díaz and Dr. Anara Rueda in the area of autobiography, conventual writing and the literature of traveling women," Daniela said. "Some of the most important reasons behind my selection of UK were the different classes offered by the department, as well as the opportunity to take classes in other departments such as History and Gender & Women's Studies ... also the opportunities we have as Teaching Assistants to teach different classes, which prepares us better for the job market."
She is grateful for her involvement in many of UK's campus services and programs designed to guide and assist students, including the VIP Center, the Graduate Student Congress, Big Blue Pantry, the Office for Institutional Diversity, the Counseling Center, the Academic Ombudsman and the Disability Resource Center. She firmly believes that being in contact with these groups has made her feel part of the UK community, as well as endowed her with an understanding of her right and her duty to use her voice for herself and others.
Daniela holds a master's from the University of Notre Dame and a bachelor's from Universidad Católica Andrés Bello in Caracas, Venezuela.
Hadi Rahmani (Iran)
PhD Candidate in Physics
Hadi chose UK based on the research specializations within the Physics department as his goal was improving his own research. He found that doctoral programs in the United States place more of an emphasis on research than programs offered in other countries. Currently, he is researching biochemistry and biophysics. "We are using molecular simulations and numerical methods to investigate chemical systems, especially molecular dynamic simulations for molecular transport phenomena," he said.
 
Hadi enjoys the wide breadth of areas that physics covers - he is working under the supervision of both Chemistry and Physics professors. "There are a lot of links between professors in Physics and professors in other areas, like Chemistry Engineering, so you can also work with other departments," he said.
He has enjoyed Lexington and the UK campus, including the library, access to supercomputer clusters available for student use, as well as the sports facilities. "Fortunately teaching assistantships are available in science," Haid said. "A lot of Engineering bachelor's students need to take courses in Physics. So, you don't need to be concerned about funding. And professors get funding from outside organizations, such as the Petroleum Research Fund in our research group."
After completing his PhD, Hadi hopes to work in academia and continue to develop his skills in research and teaching. He holds a master's from Shahid Beheshti University in Tehran and a bachelor's from the University of Isfahan.

Aklilu Reda (Ethiopia)
PhD Candidate in Anthropology
Aklilu began his doctoral work at UK after completing a two-year fellowship at the University of Hokkaido in Japan and having previously served as the Director of the Institute of Paleo-environment and Heritage Conservation at Mekelle University in Ethiopia. He credits the Anthropology department for a successful orientation and integration into local culture. "I had an experience in Japan where language barriers and culture prevented me from capitalizing on my presence in society," Akilu said. "The department here at UK made my integration very smooth. There was lots of support. They connected me with the Anthropology Graduate Student Association, and the department was working very hard on my behalf. I was privileged."
The central question of Aklilu's research is how Ethiopians use their cuisine to define themselves and to challenge the racial alignment which designates them as "black" in the United States. He is about to begin a year of fieldwork studying the diasporic populations in Atlanta, a growing hub for the Ethiopian community. 
Aklilu said that he finds Kentucky an accessible location with high-quality research. "I was at the fifth ranked university in Japan, but when I came here, I found UK much more engaging and involved in research possibilities. Staff take extra miles to create opportunities ... It is a kind of home where you feel that you are in good hands".
Tasnia Symoom (Bangladesh)
PhD Student in Political Science
Originally from Chittagong, Bangladesh, Tasnia is researching the effects of political and economic inequality on domestic protests as well as media framing of political inequality. "I firmly believe that political science can go a long way in helping to understand the behavior of individuals and society better," she said.
"I care deeply about women's issues, in particular the constraints that women face in developing entrepreneurial talent, in removing gender gaps in access and control of resources, and in collaborative work for legislative success," Tasnia said. "The research interests of the faculty in the Political Science department at UK on women empowerment and gender quotas, among others, had great appeal to me."
In the future, Tasnia hopes to be able to suggest policies for stable democratic politics and faster economic growth, especially in developing countries. "The training in theory and statistics that I have been receiving at UK has taken my research skills to a much higher level," she said. "I want to use the quantitative research skills I have acquired at UK to analyze practices in domestic politics and international relations."
Tasnia holds an undergraduate degree from Asian University for Women where she majored in Economics with a minor in Development Studies. 
Gargi Vyas (India)
PhD Candidate in Political Science
Gargi was born in Jabalpur, India but due to her father's military career, she moved frequently throughout India. Her father worked as a peacekeeper in Sudan for a few years, and his experiences contributed to her interest in International Relations - she is currently researching economic sanctions and international security and cooperation.
Gargi chose UK due to professors' research interests and their openness in talking with her as a prospective student. "They were great ... I always felt like they really wanted me to come," she said. When she was offered a Teaching Assistant position, she knew that she would gain valuable teaching experience for a career in academia.
 
Presenting at academic conferences this past year has been a highlight for Gargi. She also passed her comprehensive exams in Spring 2019, a milestone in her journey. In addition to securing UK funding for conference travel, Gargi received a fellowship that has allowed her to dedicate two semesters solely to research. She has also enjoyed being a part of the UK community, volunteering at the Feast for Equality with the Office of LGBTQ* Resources. 
 
Before attending UK, Gargi did her undergraduate work at the University of Richmond, double majoring in Political Science and International Studies. She initially started as a Physics major. "Back home, I had to choose what I wanted to do after 10th grade, and I chose the science stream. I liked the idea of going to undergrad (in the U.S.) and being able to explore for a bit before finalizing a topic," she said.
Jiaying Weng (China)
PhD in Statistics
Originally from Longyan in Fujian Province, China, Jiaying grew up loving math and logic and hoping to study these subjects further.
Jiaying studied Mathematics before transitioning to Statistics. She holds a Master's in Mathematics from Fudan University in Shanghai and a Bachelor's in Mathematics from Sun Yat-sen University in Guangzhou.
"The U.S. was my dream country to study in when I finished my master's degree," Jiaying said. "The main reason is that the U.S. is a multicultural and multiracial country. My mind was open to different thoughts and religions while insisting on my own. Another reason is that I want to have experience with hands-on projects. UK provides many of these opportunities because of the interdisciplinary cooperation."
Jiaying's research is about dimensional reduction - reducing the number of variables in order to better visualize and interpret data. She began work as an Assistant Professor of Statistics at Bentley University in Massachusetts in Fall 2019. "I got a lot of support from the department to go to conferences and to gain experience with teaching and research," Jiaying said. "All the professors are very supportive to help students to succeed in their future career. I appreciate their help and feel lucky to be here. That was a great experience for me. "
Jiaying has enjoyed her time in Lexington and says it's a friendly, comfortable and affordable place to live. "I really like this city - it's medium-sized, not too big, not too small. You can get everything you need in a 15-minute drive. I never feel lonely here. I have lots of precious friendships regardless of background. I am thankful that I have known so many wonderful people."
Chenghui Zhang (China)
PhD Candidate in Sociology
Chenghui studies how different stakeholders influence the social construction of hate crime statistics (officially recorded data) in the United States. She has an LLM and a bachelor's in Law from Tongji University in Shanghai, China. 
"While laws tell people what they should not do, they do not explain well why some people would follow the rules but others don't," Chenghui said. "I wanted and still want to look for answers to these questions. Sociology is a discipline that welcomes different perspectives and methodologies and which not only offers rigorous training but also encourages and inspires scientific, creative, and interdisciplinary studies. Sociology is THE area to study if you would like to understand society and human beings."
Chenghui chose UK for its reputation and as an R1 research university with many opportunities for graduate students to conduct interdisciplinary research and gain teaching experience. She also enjoys the quality of life in Lexington.
A highlight of her time at UK so far was participating in the Pedagogies Learning Community in 2018-2019. "I met many graduate students and professors who share the same passion in creating an inclusive culture on campus through our teaching and mentoring process here at UK," she said. "It was inspiring and challenging." Chenghui hopes to continue her research after graduation with a job in academia.