by Erin Holaday Ziegler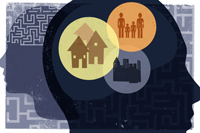 The University of Kentucky's Clinical Psychology program took the number one spot in a national study of productivity rankings, meaning that UK psychology graduate students and professors in the College of Arts & Sciences are generating a host of novel research that is effective and influential as well.
In a recent published study "Leading North American Programs in Clinical Assessment Research: An Assessment of Productivity and Impact" by Texas A&M University psychology professor Leslie C. Morey, UK's Clinical Psychology program ranked No. 1 in h-index. 
"We were thrilled to be ranked first," said UK psychology professor and clinical psychology program director Greg Smith. "The h-index is an objective measure of a program's national and international research impact, and it is gratifying to know that our research is playing such an important role in the field of clinical psychology."
To identify doctoral programs with strong concentrations in clinical assessment, Morey measured productivity and impact of faculty at North American institutions with American Psychological Association accredited clinical programs.
Publications, citations, and h-indexes derived from four top assessment journals were calculated over a 10-year period (1999–2009). Morey identified a total of 42 leading programs that collectively accounted for more than half of the publications and citations in these journals.
Morey found a moderate relationship between assessment productivity and both US News & World Report program rankings as well as general productivity rankings of clinical programs reported in an earlier study. 
The h-index for each university was obtained as a combined representation of both production and impact. The h-index is the number of papers with citation count ≥h; thus, a program that produces four papers that have been cited at least four times has an h-index of 4. View the full study and results here.
"Many of the publications that contributed to our ranking were authored or coauthored by UK graduate students," Smith said. "Those students will be among the next generation of leaders in our field. We hope this success is a source of pride to UK students."