Inside Greenhouse: Carmen Agouridis and Mary Arthur
Two of the faculty co-directors, Carmen Agouridis and Mary Arthur, share some of their thoughts about the exciting new opportunity that Greenhouse can provide for students living on campus.
UK's Greenhouse is designed for students interested in learning different aspects of their local environment, all in the context of sustainability. Greenhouse students will extend their classroom learning through community engagement with organizations and like-minded students committed to developing a sustainable Lexington.
Anonymous (not verified)
Tue, 01/28/2014 - 05:23 pm
Investigating Shelter: Public Archaeology in Lexington's Davis Bottom Neighborhood
srhuts2
Mon, 10/02/2017 - 09:03 am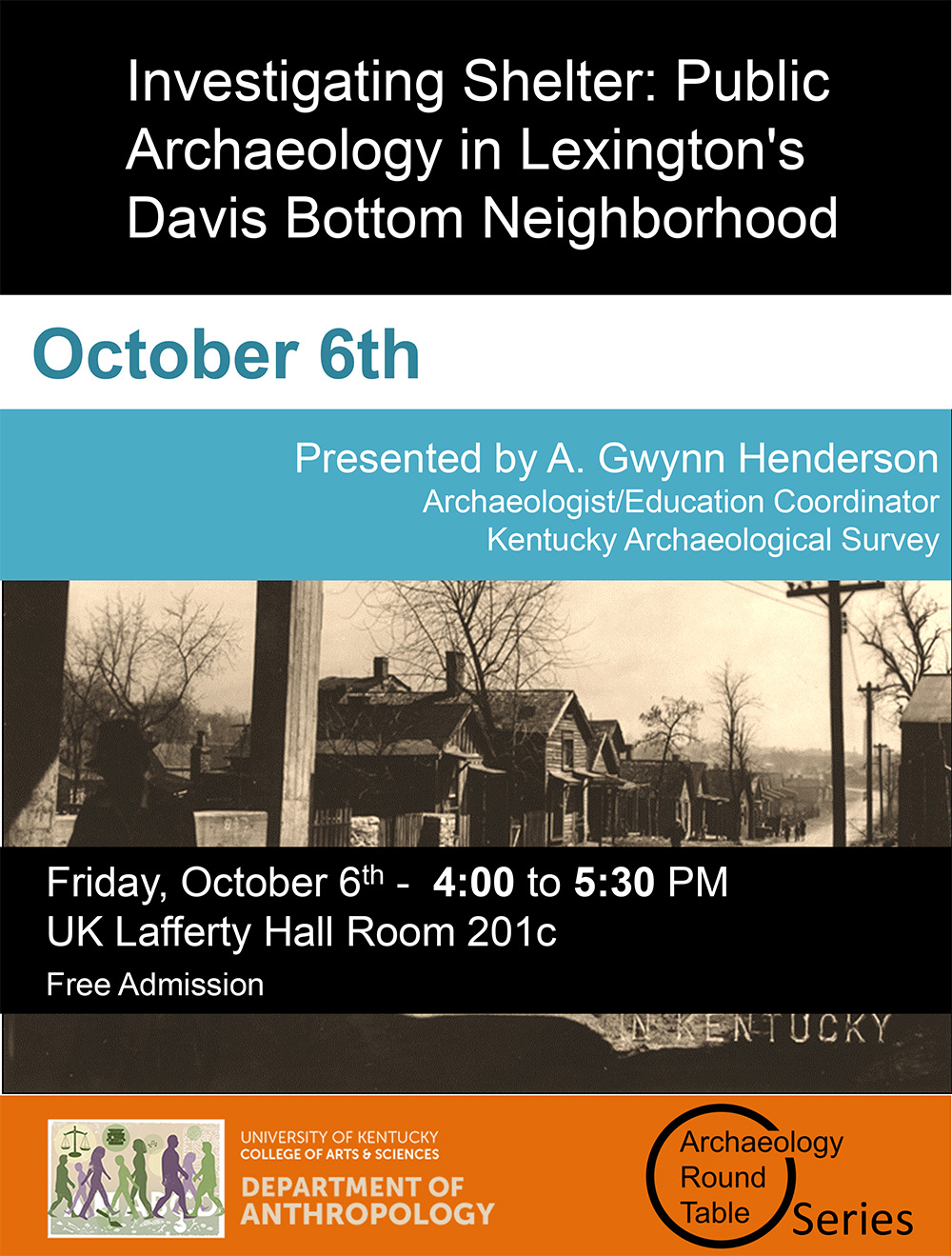 Location:
Lafferty room 201
Type of Event (for grouping events):
A&S Hall of Fame 2016 - Kip Cornett
Anonymous (not verified)
Wed, 10/12/2016 - 03:17 pm
CESL Student Success: Thanh Thi Hoang
Visiting Vietnamese student, Thanh Thi Hoang, talks about her experience at the University of Kentucky and in the Center for English as a Second Language. She improved her English language skills and fell in love with the city and people of Lexington, Kentucky.
Anonymous (not verified)
Tue, 10/20/2015 - 01:38 pm
Language Talk - Episode 5
Our fifth Language Talk: KWLA podcast, News and Updates for the 2015-16 School Year, features host Laura Roché Youngworth discussing upcoming events sponsored by the KWLA with President Sarah Meredith and President-Elect Lucas Gravitt. Topics include the KWLA conference in Louisville, KWLA opportunties for professional development and advocacy, plans for the World Language Showcase, and classroom techniques.
Anonymous (not verified)
Thu, 08/13/2015 - 05:01 pm
Real World Sustainability: Greenhouse Students in the Community
Achieving environmental sustainability requires creativity and active involvement, not just understanding. Greenhouse students who took Mary Arthur's 1-credit course, "Real World Sustainability: Stepping into the Community" during the spring 2015 semester share their experience in this video. The course provided students with the opportunity to learn how others have developed new ideas in the service of sustainability, and how they are implementing those ideas through the development of various types of organizations.
Anonymous (not verified)
Thu, 05/28/2015 - 10:05 am
Biology Professor Helps Bring New York-based Alzheimer's, Parkinson's Therapeutics Company to Lexington
Gismo Therapeutics Inc., a New York-based biotech startup, has recently relocated its company to the University of Kentucky Advanced Science and Technology Commercialization Center, a business incubator housing new and emerging technology-based companies on UK's campus.
brconn2
Wed, 11/19/2014 - 09:51 am
Join Bike Lexington Commuter Challenge
With Lexington Bike Month kicking off May 1, faculty and staff can get involved with the fifth annual Commuter Challenge.
mngr222
Mon, 04/21/2014 - 10:44 am
WUKY Partners with DLC in Downtown Trash Bash
WUKY 91.3 FM is partnering with Downtown Lexington Corporation as a sponsor of the Downtown Trash Bash taking place from noon to 4 p.m. Friday, April 18, in downtown Lexington.
mngr222
Tue, 04/01/2014 - 11:28 am
Subscribe to lexington