gaines center
A Screening of THE 24TH, and Interview with Director
rlso222
Tue, 08/10/2021 - 04:37 pm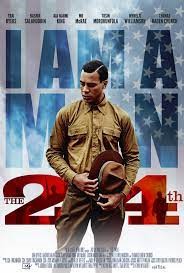 Join us for a film screening of The 24th, a historical film written and directed by Kevin Willmott! This film screening will be held virtually followed by a brief Q&A discussion. For more insight on the film, check out this interview.
Read more on Kevin Willmott's extensive works HERE.
This event is sponsored by:
English Department MFA Visiting Writers Series
International Film Certificate Program
Gaines Center for Humanities
UK History Department
Commonwealth Institute for Black Studies
Rosenberg College of Law
Cooperative for the Humanities and Social Sciences
UK Veteran's Resource CEnter
William T. Young Library
UK Office of Institutional Diversity
To register, click HERE! Contact Pearl James for more information.
Location:
Law School and streaming simulcast
Type of Event (for grouping events):
Location:
Singletary Center Recital Hall
The University of Kentucky Gaines Center for the Humanities and the UK College of Arts and Sciences are teaming up to present a series of workshops on violence and the human condition.
For a full list of events and information visit: visionsinmethodology.org/conferences/2015-conference
Sponsered by the National Science Foundation, UK Gaines Center for the Humanities, UK Office of the Vice President for Research, the Department of Political Science, QIPSR, and the Department of Sociology.
As the sesquicentennial of the Civil War draws to a close this year, University of Kentucky Gaines Center for the Humanities will examine the war's impact on history and culture in the years that followed as part of the 2015 Bale Boone Symposium on the "Legacies of the American Civil War" Feb. 4, 10 and 12.
Recognized for his exceptional contributions to research, teaching, and administrative work, Professor of History Phil Harling has been named director of the Gaines Center for the Humanities.
Brooks is one of 16 educators who will participate in a seminar titled "Tudor Books and Readers: 1485-1603."
Eight exceptional students in the College of Arts & Sciences haven been selected for the prestigious Gaines Fellowship Program.
Subscribe to gaines center