Interested in studying abroad?  
Make sure you start this process early (9 months is great!) and follow the steps.
Email us at AS-EdAbroad@uky.edu to be added to the listserv for reminders on deadlines and important announcements.
Email EducationAbroad@uky.edu for general Education Abroad questions.
Steps to Studying Abroad
Step 1: Attend a First Steps Session
These sessions explain what to think about when considering a program, how to select a program, cost, financial aid and scholarships, credit transfer and equivalencies, and much more.
Spring Semester Dates: January 16 - May 1, 2024 (*NO meetings April 2-3)
Step 2: Meet with your Academic Advisor
Every student is assigned an Academic Advisor, who will help you think about the best time to study abroad in your course planning, which courses you may want to take abroad, and what course equivalencies may already be established (especially on faculty-led programs).  This step is critical to ensure you stay on track toward graduation.
Step 3: Find your Program
There are different types of programs:
Partner Programs
Exchange Programs
Direct Programs
Even Virtual Programs
Learn more about the difference.
Questions about Arts & Sciences-specific programs?  Contact Tiffany Williams at AS-EdAbroad@uky.edu.
Questions comparing all programs?  Contact Allison Peoples at Allison.Peoples@uky.edu.
Step 4: Determine Costs
Each program has a "Cost" or "Costs & Scholarships" tab. Find the cost sheet for your program.
Select the correct term from the dropdown box at the top (e.g. Spring, Summer, etc.)
Select any required fields (such as tuition)
Click the print icon to save. 
Example: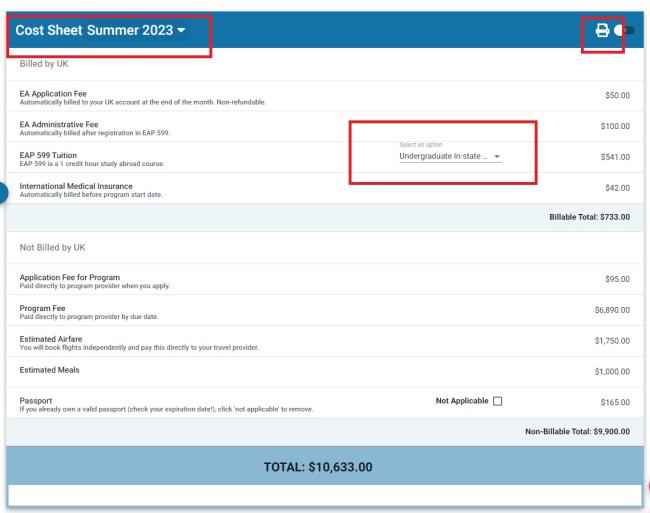 Step 5: Find Funding
Study abroad might be more affordable than you realize, particularly if you apply early!
UK Education Abroad & Exchanges maintains a Scholarships Database featuring scholarships from:
UK Education Abroad & Exchanges
Colleges
Departments
Partners, and more! 
Scholarships range in award amount and eligibility requirements.
Visit our Scholarships Database to browse awards and apply. 
Step 6: Apply!
To apply for a program, find your trip in the Program Search.
Click the blue "Apply Now" button at the bottom of the program page. 
Read the popup text box very carefully for an explanation of the our UK EA Application fee. (Note: some applications don't have a fee.) 
Click Proceed. 
Once you start your application, you will need to complete your profile and all of the application pieces.
More Questions?
Within the College of Arts & Sciences: You have an advocate to help you ensure that you stay on track and work through all the steps:
Book an appointment with Tiffany Williams
Within the Education Abroad and Exchanges Office:  You have an advisor who can help you navigate the many different programs, costs, scholarships and application:
Book an appointment with Allison Peoples
Have you considered?
Upon your return, you may want to pursue an additional resume-building certificate, which may be easier than you think!
Certificate of Global Studies
The Certificate of Global Studies attests to your ability to live and work in a global community. It documents the global issues you have studied in your undergraduate courses, the credit you have earned through education abroad, the second language in which you have learned to communicate, and your internationally-focused activities in the United States. To learn more, click here.