By Erin Holaday Zielger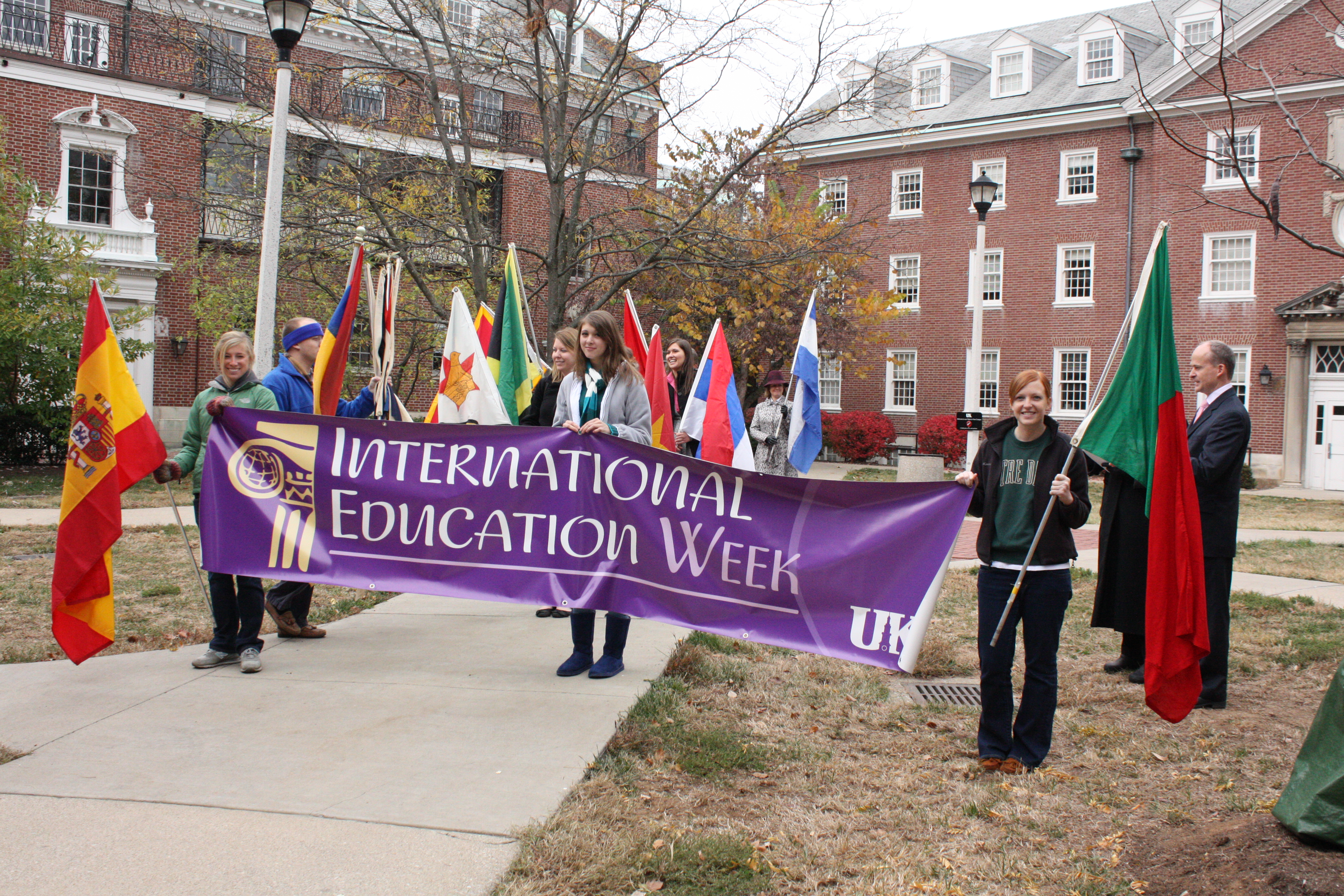 The United States celebrates International Education week this week, but UK has escalated its presence and connectivity across the globe since Provost Kumble Subbaswamy established the Internationalization Task Force in February 2007.
"Our students, regardless of whether they come from rural Kentucky or from outside the U.S., are increasingly aware of the importance of being ready for the global marketplace," Subbaswamy said.  "Thus, it is our responsibility to make sure that UK provides them ample opportunity to become 'world ready.' Our internationalization efforts are aimed at achieving this strategic goal."
International Education Week is an opportunity to celebrate the benefits of international education and exchange worldwide. The joint initiative of the U.S. Department of State and the U.S. Department of Education promotes programs that prepare Americans for a global environment and attract future leaders from abroad to study, learn and exchange experiences in the United States.
International Education Week is Nov. 12-18. Events include film screenings; sessions for UK students on study abroad, international internships, employment and research; and workshops for international students on American slang and southern barbecue.
See a partial list of events below:
Office of International Affairs staff and international students will present at Celebrate Culture night at the Carnegie Center for Literacy and Learning on Tuesday, Nov. 15.  For more information, please contact Kay Roberts kay.roberts@uky.edu or Lena Masterson lena-masterson@uky.edu.
The College of Arts & Sciences Year of China will continue its weekly film viewings with a presentation of "Beijing or Bust" at 5 p.m., Nov. 15, in 118 White Hall Classroom Building.  "Beijing or Bust" is a documentary that follows six American-born Chinese as they leave their lives in the United States for new ones in Beijing. The film, which is documentary maker Hao Wu's first, was released in 2005.
The College of Arts & Sciences Year of China will present a China Town Hall:  Local Connections, National Reflections, which is a national day of programming on China involving 50 cities throughout the United States. In connection with the national town hall, UK will host a live talk and webcast at 6 p.m. Wednesday, Nov. 16, in the Small Ballroom of the Student Center.
Professor Renqiu Yu of Purchase College, State University of New York, will begin remarks at 6 p.m.; Zbigniew Brzezinski, former national security adviser and current counselor and trustee of the Center for Strategic and International Studies in Washington, D.C., will be speaking via webcast at 7 p.m.; and Stephen A. Orlins, president of the National Committee on U.S.-China Relations, will be moderating via the Web.
Sponsored by the UK Chinese Students & Scholars Association and the National Committee on United States-China relations, the evening will also include a discussion of Chinese Americans. For more information, please contact Xiang Xie at xiang.xie@uky.edu.
UK's International Student Council is organizing a fashion show and dance at 5:30 p.m. Friday, Nov. 18.  Traditional clothing from Africa, Japan, India and other areas of the world will be represented, in addition to K-pop, African, swing and salsa dance. For more information, please contact Elif Bengu at Elif.bengu@uky.edu.
Office of International Affairs staff will visit Lexington elementary, middle and high schools to do presentations on international topics throughout the week.  Contact Roberts kay.roberts@uky.edu or Masterson lena-masterson@uky.edu.
The UK-China Connection, Video Display will be on display throughout the week. Sponsored by Toni Greider and the W.T. Young Library, this video demonstration and celebration of cooperative educational programming between UK colleges and other Chinese universities runs from Nov. 12-16 at The Hub in William T. Young Library.
UK Libraries is conducting a vexillology contest based on the flags that have been on display in the atrium of William T. Young Library since the beginning of the semester. Each participant will receive a certificate acknowledging his or her participation, and the person that identifies each flag correctly will be declared a "Master Vexillologist." Entry forms are at each entrance to the library, and the contest is open to anyone wanting to test his or her flag knowledge.