True Blue Through and Through

by Rebekah Tilley 
Step into US Army Captain Joey Orr's office and you can tell his blood runs True Blue. On the wall hangs a large University of Kentucky flag – blue with a large white "K" – that is visibly stained with Iraqi dirt.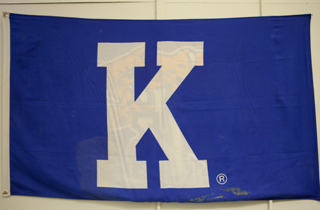 "I was representing my school even while in combat," Orr grinned, pulling out a model of the tank he commanded in Iraq to point out exactly where the flag flew.
After seven years on active duty and a combat tour in Iraq, Orr took up the post of Operations Officer for the UK Army ROTC program. It's familiar territory for Orr as he himself graduated from the program in 2003.
Orr's father made the military his career, as did both of his grandfathers. Was Orr's decision to join ROTC automatic?
"Absolutely not," Orr said emphatically. "I was actually opposed to joining the military until I was in my early 20s. I got a soccer scholarship to Georgetown College so I was following my own youthful goals, which were to be active and have fun."
But as Orr described, the military roots in his family "ran deep," and by the end of his sophomore year in college, Orr started exploring his options. He decided to transfer to UK and join the Army ROTC program.
"ROTC took over the bills and it was a no-brainer from there. I really fell in love," said Orr. "I regret I didn't do it freshman through senior year. I only had a two-year ROTC experience."
Orr's UK flag with the Iraqi dirt shares wall space with an inconspicuous frame that holds a medal identified as a Bronze Star. The Bronze Star is awarded for bravery, acts of merit, or meritorious service and is the fourth-highest combat award of the U.S. Armed Forces.
During Orr's 12-month tour in Iraq, he served as a tank platoon leader, commanding Cavalry soldiers, and spent the whole of his deployment outside the safe zone conducting steady operations in hostile territory.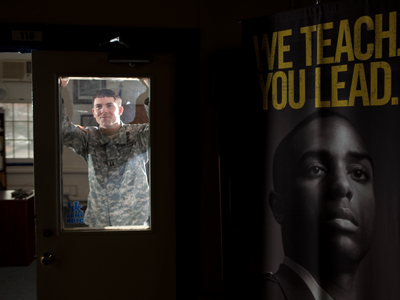 One of those operations with which Orr was involved was "Operation Restoring Rights" in Tal Afar, which sought to reclaim an area overtaken by insurgents. For more than 30 days, Orr was in constant 24-hour combat where he didn't shower, ate what he could and did what he could to fulfill his mission of providing freedom to the Iraqi people from local insurgents, protect his Soldiers and survive.
It was in part for this that Orr was awarded the Bronze Star. He was 26 years old.
"I was lucky enough to be surrounded by phenomenal leaders that helped me acquire that reward," Orr said humbly. "I saw a significant amount of combat, and those leaders helped keep me focused and doing the right things, and helped me to bring my Soldiers home. It's the other guys that actually deserve that reward."
Buell Armory has changed very little since Orr was commissioned in 2003. But unlike Orr's class of commissioning officers, every current ROTC Cadet signed up to serve with the understanding that they are likely to see combat before their four-year commitment is fulfilled. As an instructor, knowing that gives Orr a tremendous amount of respect for his Cadets as well as motivates him to give them the best training possible.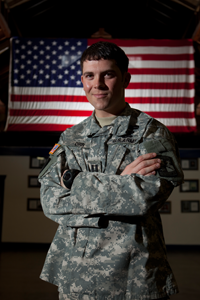 ROTC training still follows the Infantry doctrine in which Cadets work in small, squad-based groups and are given evaluated missions to fulfill within a certain timeframe and outlined standards to meet. Think "Saving Private Ryan." Though the training model is still the same, Orr believes that today's Cadets will leave UK better prepared to become the Army's next generation of leaders.
"You have to remember that this is still an all volunteer Army and for these women and men to take an oath to serve their country in their teens when they know that we're still in conflicts in two theaters, and based off what our President is saying, there is no end date, how do you not put forth 110 percent every day for these kids?" said Orr.
"They are the reason we still have an all volunteer force and they are the reason we have the strongest, most powerful military in the world."