By Whitney Hale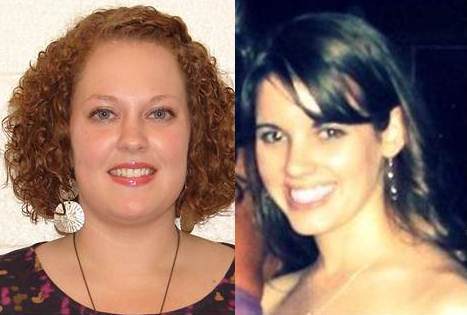 University of Kentucky's Nicole Schladt, an international studies and gender and women's studies sophomore, and Sarah Smith, a history junior, have been awarded two of six English-Speaking Union (ESU) Scholarships presented by the English-Speaking Union Kentucky Branch. The scholarships will cover Schladt and Smith's expenses for summer study at the University of Oxford and University of Cambridge respectively.
The Kentucky Branch of the English-Speaking Union awards a limited number of scholarships to qualified Kentucky college students for courses offered at institutions in the United Kingdom. Scholarship awards include tuition, lodging and two meals daily for three-week courses at the institutions chosen by the scholarship winners. Scholarships also include one week's lodging in London and a cash allowance.
ESU scholarships are awarded for studies in English literature, history and social sciences at Oxford, Cambridge and Edinburgh University for the summer of 2012. Scholarship winners, selected through an essay and interview process for the program, are expected to become articulate lifelong ambassadors for British/American cultural exchanges. 
While at Oxford, Schladt will pursue studies in history, politics and society. Smith will further her history studies at Cambridge this summer.
Both UK students were excited to receive the scholarship and are looking forward to all the ESU scholarships have to offer. "It will give me the opportunity to study at Cambridge and visit London," said Smith. "I've never had the opportunity to travel before."
Schladt, the daughter of Teresa and Thomas Schladt, of Lexington, is a 2010 Paul Laurence Dunbar High School graduate.
Besides pursuing majors in international studies and gender and women's studies, Schladt is also working on minors in Spanish and mathematics. Currently she is working on a research project on gender in courts and law under the direction of Srimati Basu, associate professor of gender and women's studies.
A Chellgren Fellow, Schladt is a member of UK's Debate Team, Women's Choir and Honors Program.
Schladt plans to attend law school after graduation. "I am interested in becoming an international lawyer with a possible focus on human rights violations," said the ESU Scholarship winner, who would like to concentrate on global action to end violence against women.
Smith, the daughter of Sandra and Robert Smith Jr., of Lexington, is a 2010 graduate of Tates Creek High School.
Smith, a member of UK's Honors Program, credits her father for her interest in studying history. "My dad was a history major, and he was always reading biographies while I was growing up," said the junior. "He started my interest in history and it has only grown from there."
Outside of her studies, Smith is a also an intern with the International Book Project, a nonprofit organization the promotes literacy, education and global friendships by sending more than 150,000 books annually to schools, libraries, churches, community organizations and Peace Corps Volunteers throughout the developing world and U.S.
Smith's internship has influenced the scholar's future plans. She would like to pursue graduate study in history or statistics and eventually work for a nonprofit organization. "Working with the International Book Project has made me want to pursue a career with nonprofits that help eradicate illiteracy," Smith said.
Schladt and Smith pursued the ESU Scholarship opportunity through the university's Office of External Scholarships, part of the Office of Undergraduate Education at UK.  The Office of External Scholarships assists current UK undergraduate and graduate students and recent alumni in applying for external scholarships and fellowships funded by sources (such as a nongovernment foundation or government agency) outside the university. These major awards honor exceptional students across the nation.
The English-Speaking Union (ESU) of the United States is a nonprofit, nonpolitical, educational service organization whose mission is to promote scholarship and the advancement of knowledge through the effective use of English in an expanding global community. Headquartered in New York City, the organization implements programs through a network of 78 Branches throughout the United States. The Kentucky Branch of the ESU was chartered in 1923 by local business and civic leaders. Since 1960, more than 450 Kentucky teachers and college students have been awarded scholarships by the Kentucky Branch of the ESU.