by Guy Spriggs
Cassie Hardin was sure that she wanted to explore her passion for studying languages after arriving at the University of Kentucky in the fall of 2008, but she also knew that she getting tired of more traditional romance languages. She wanted something new; she wanted a new horizon.
So how did Hardin arrive at her decision to pursue courses in UK's Chinese Studies program? She left it up to chance.
"I wanted a new challenge, so I flipped a coin: did I want to do Japanese or did I want to do Chinese. It landed on Chinese, so I went with Chinese and I'm so glad."
In the spring of 2010, Hardin was presented with a unique opportunity to travel to China for the Conversational Chinese in Shanghai Program through Education Abroad at UK. The program, directed by UK professor Liang Luo, was the inaugural exchange program for the new Confucius Institute at the University.
"Our teacher was the program director and she gave us the flyer in class one day. Our class is kind of small and it's a tight-knit group, so we decided together," Hardin said. "Having friends and close classmates [to help] make those kinds of decisions is a really big influence."
At Shanghai University, Hardin and her classmates in the study abroad program were completely immersed in the Chinese language. "We would go to class at 8 o'clock, and we took classes in Chinese. It was very efficient in terms of training our ears and getting us used to hearing the Chinese language."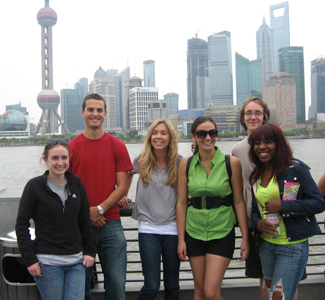 Hardin and classmates at the Bund, Shanghai's famous waterfront and skyline - photo courtesy of Cassie Hardin

In addition to the in-class education she received, Hardin took advantage of free afternoons by exploring Shanghai and experiencing Chinese culture first-hand. "Shanghai is an actual history, there's so much foreign influence: Japanese, French, English, American, Swedish. Different sections of the city have different historical backgrounds," Hardin explained.
"Shanghai is completely different from Lexington," she added. "There are about 20 million people there right now. I am at a complete loss for words when I try to describe it."
Hardin visited pavilions filled with cultural exhibits at the World Expo – called the Olympics Games of the economy, science and technology – and toured the scenic areas of Hangzhou and Suzhou to Shanghai's south with other students on the trip.
Hardin says that Shanghai is set up to welcome western visitors, but trips outside metropolitan areas really revealed her cultural education in China to be a two-way street.
"There are a lot of people from the country in China who haven't really seen westerners before," she said. "People would come up to me and say, 'Here, hold my baby. Take a picture with my baby.' It was a bit of a culture shock."
After the summer term at Shanghai University was over, Hardin stayed for six more days and was able to take part in ceremonies celebrating the Dragon Boat Festival. As part of the celebration, she was taught to roll dragon dumplings by locals and even took part in a boat race as a member of the team representing Shanghai University.
"The whole thing was so eye-opening. I feel like I'm a more cultured person now."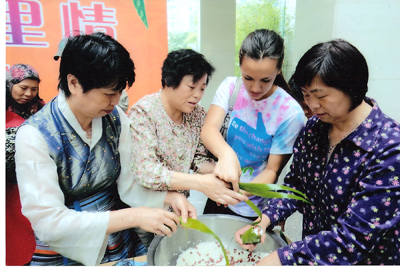 Learning to wrap Dragon Dumplings - photo courtesy of Cassie Hardin

But the greatest long-term benefit of the trip, Hardin says, is her improved understanding of Chinese as a result of her immersion in the language and culture of Shanghai. "I'm planning on including Chinese in my career, and my Chinese got a lot better. I feel much more comfortable being in social situations where I would have to use my Chinese."
Hardin is currently an International Studies major, but her experiences in Lexington and Shanghai have motivated her to include Chinese Studies in her curriculum. "I've been learning the importance and practical uses of the language. I'm very interested in diplomacy and I would love to play a role in the recent improvement of US-China relations."
And while her education through UK's Chinese Studies program and trip to Shanghai were the result of flipping a coin, Hardin has found purposeful direction through her studies and doesn't encourage others to leave such valuable opportunities to chance. "I want to encourage others to participate in UK's Chinese program.  I advocate both Chinese and studying abroad to others."
"To anyone who is considering studying abroad: just do it. If you're unsure, just close your eyes and leap. You will have fun, you will learn, and you will be a better person afterwards."