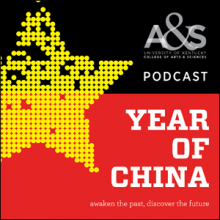 At the end of May 2012, the American Studies Center at Shanghai University hosted a three-day symposium and student summit. The summit was a two-part discussion of an excerpt from the book by Maxine Hong Kingston, "The Woman Warrior: Memoirs of a Girlhood Among Ghosts." The discussion was facilitated by Michelle Sizemore, an assistant professor in the Department of English. In this interview, Sizemore discusses the text, the unique dynamic that developed between students from different continents, and some reflections on the summit. 
This podcast was produced by Cheyenne Hohman.

This work is licensed under a Creative Commons Attribution-NonCommercial-ShareAlike 3.0 Unported License.