Stanton Earns Second International Award for New Novel About Easter Island
By Gail Hairston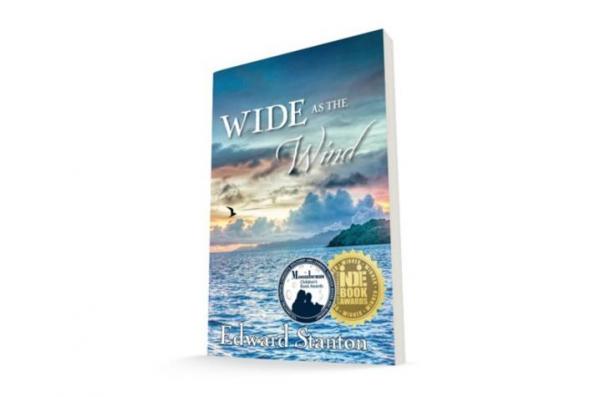 University of Kentucky Professor Emeritus Edward Stanton's young adult, prehistoric fiction novel "Wide as the Wind" has received a second international award — the coveted Moonbeam Children's Book Award, presented by the Jenkins Group for authors, illustrators and publishers from the United States, Canada and six additional countries.
Earlier this year, "Wide as the Wind" (Open Books Press) won the 2017 Next Generation Indie Book Award for Young Adult Fiction.
Described by the publisher as "a timely piece of environmental fiction," "Wide as the Wind" is the first novel of any genre to deal with the stunning, tragic history of Easter Island and its implications for our modern world. It has been described as "both a stirring novel of adventure and a prophetic tale for our times."
That's an impressive achievement for any book, much less one written for middle and high school "young adults" firmly entrenched in the age of 140-character Twitter messages delivered by a plethora of electronic distractions.
When asked why he wrote such a controversial and "scary" story for middle and high school students, Stanton said, "First of all, the historical record itself is catastrophic, and I tried to be faithful to that. Actually the book is not nearly as terrifying as many other books for young adults, who should be able to prepare to handle some of the difficulties of adult life."
Formerly a professor of Hispanic studies at UK, Stanton relied on the decade he spent researching and visiting Easter Island to create "Wide as the Wind."
Easter Island is a small, isolated volcanic island of about 63 square miles, more than 1,000 miles from any of its closest neighboring islands, and more than 2,000 miles west of Chile. The island's most distinctive landmarks are the massive and mysterious ancient stone statues, called moai, that ring the island's coastline. National Geographic has speculated that "the moai were created to honor ancestors, chiefs or other important personages. However, no written and little oral history exists on the island, so it's impossible to be certain."
Stanton wanted to share the Polynesian culture's heroic prehistoric exploration of the vast Pacific Ocean in wooden canoes, guided only by their courage and curiosity. Experts have called this exploration the greatest feat in human prehistory, as courageous as our first voyages into outer space 50 years ago.
Quest fiction that could enthrall multiple generations of readers, "Wide as the Wind" tells the story of the 15-year-old son of a tribal warrior who abandons his warring, starving island to search a dangerous ocean for the precious seeds to regrow the life-giving forests of his homeland. Although written for a young audience, the novel has the power to enchant any reader of any age.
"'Wide as the Wind' transports us to an island world both outside time and urgently relevant to us in the 21st century," wrote Leatha Kendrick, author of "Almanac of the Invisible." "This novel reminds us of what is important and what we might be called upon to set aside in order to make a world where we and our descendants can live and thrive."
Stanton is the author of 11 books, some of which have been translated and published in Spanish, Arabic and Chinese. The New York Times called "Road of Stars to Santiago," the story of his 500-mile walk on the ancient pilgrimage route to Compostela, one of the two best books on the subject. Pulitzer Prize-winning writer James Michener said, "Edward Stanton recounts his adventures with stylish conviction."
Moonbeam Award winners will be honored at an award ceremony held Nov. 11, during the annual Traverse City Children's Book Festival. The daylong festivities are dedicated to childhood literacy and a celebration of books, reading and the creative, hard-working people who support this essential cause.
UK is the University for Kentucky. At UK, we are educating more students, treating more patients with complex illnesses and conducting more research and service than at any time in our 150-year history. To read more about the UK story and how you can support continued investment in your university and the Commonwealth, go to: uky.edu/uk4ky. #uk4ky #seeblue