Sky's the Limit as UK Grad Enters U.S. Space Force
By Addison Cave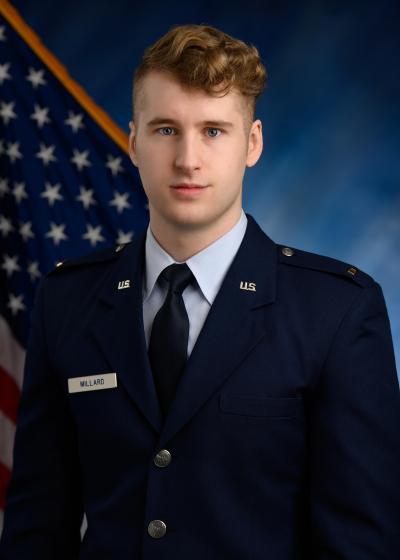 LEXINGTON, Ky. – Second Lt. Ryan Millard knew the University of Kentucky would take him places – just not quite so high. Millard, a recent December 2020 graduate, is the first University of Kentucky student to be commissioned into the U.S. Space Force.
"I want to be on the leading edge of technology, and that is exactly what the U.S. Space Force is allowing me to do," Millard said.
Millard had always had the thought of joining the military. Both of his uncles served in the U.S. Navy and when his high school graduation neared, he was prompted to make important decision regarding his future. Joining the military was always a thought in the back of his mind, and at UK he got to act on his idea. With scholarship support from the Air Force ROTC program, Millard found doors were opened to a number of opportunities. Millard chose to embark on his journey at UK primarily because of the impression the campus and the people he met made on him.
"It was reassuring to always know that what I was doing was getting me to a place I wanted to be," he said.
AFROTC provided a sense of security for Millard, and he carried this motivation forward to ultimately decide to check a box that would leave a lasting impact on his life.
"Lt Millard is at the forefront of a new US military force," said Lt. Col. Richard K. Harrop, commander of the UK detachment. "He is living history; the first Detachment 290 Flying Wildcat commissioning as a Space Operations Officer (13S). Following initial skills training, he will be assigned to fulfill a role in a number of mission sets to include: space electronic warfare; space- and ground-based missile warning; space surveillance; space lift; and satellite command and control. No matter his specialized track, Lt Millard will be an expert in his field and he will lead other guardians (Space Force personnel) toward building a new legacy in our US Armed Forces."
The U.S. Space Force is the first new military service in more than 70 years, following the establishment of the U.S. Air Force in 1947. The U.S. Air Force Space Command, was renamed the U.S. Space Force in 2019. It's the sixth independent U.S. military service branch, tasked with missions and operations in the rapidly evolving space domain.
"I am ready to be part of something bigger than myself in service for my country," Millard said. "With the new branch continuously growing and expanding, I am honored to be able to have a direct influence on the wellbeing of our country."