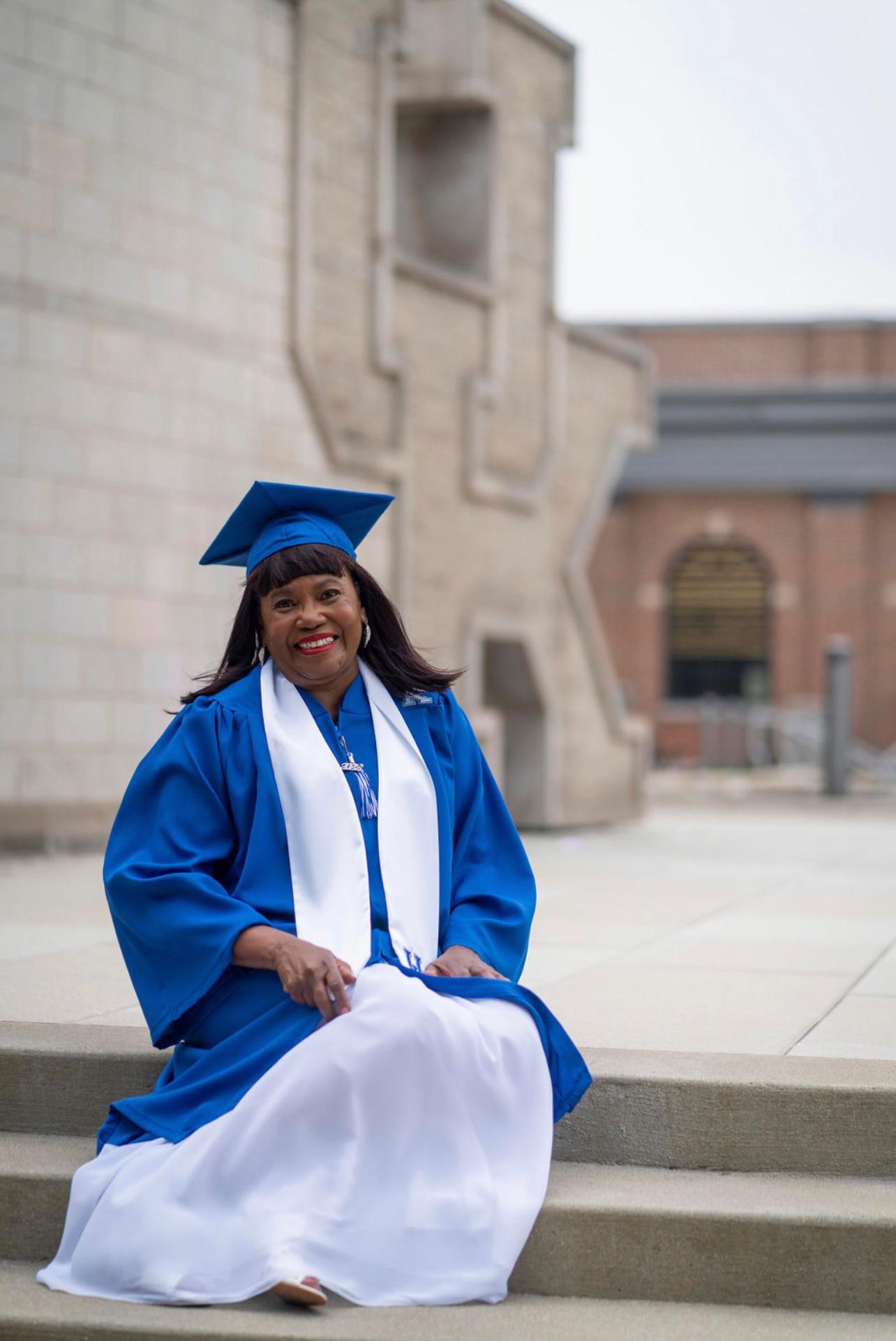 LEXINGTON, Ky. -- Dorothy Barr-Moore loves school. Seriously. She loves it so much that after years of working on her grandparents' farm, raising four daughters and working as a computer programmer and part-time minister for several organizations, she chose the era of the COVID pandemic to head back to a place she loved — the University of Kentucky — to, at age 71, get her bachelor's degree. 
"I really liked the campus's climate, the advisers — everything at the University," she said. "It's really good for anybody that wants to go back to school. Even if I was just leaving high school, this University would be the choice. But it's also a great choice for people 50 or older." 
Moore, who's about to take a job with AAA in California near where her youngest daughter lives, has strong ties to UK. One of her daughters, Judge Melissa Moore Murphy of the Kentucky 22nd District Court, is a 1998 UK grad in political science and history, and she earned her law degree from UK in 2001. Her son-in-law Daniel P. Murphy Jr. is the senior assistant dean of community engagement and chief diversity officer at the UK College of Law. 
Now Dorothy Barr-Moore will be joining her family in earning a bachelor's degree in the College of Arts & Sciences' Liberal Studies program with a concentration in social sciences. She had begun working toward a bachelor's degree in the mid-1990s, when she and her family were living in Lexington, but a move for a job to Baltimore disrupted her plans. Then, in 2020, when she was living and working once again in Kentucky, COVID came along.  
"The pandemic happened, and, as you can tell, I'm a busy person, so to be in the house with nothing to do but work was not going to work for me," she said. "So I said, 'I know — I'm going to work on my degree. And most of all, I can work on my degree for a school that I really, really want to go to.'" 
Barr-Moore's exceptional drive has deep roots in farming, family and ambition. In the early 1960s, because of stress within her family, she and her six siblings ended up living on her grandparents' farm in North Carolina. Her grandparents were sharecroppers, and she lived with them from the ages of 10 to 16. 
"We grew tobacco, cotton, corn and regular vegetables that we ate," she said. "But we had a contract to grow tobacco and cotton — your two kings — and those were the ones that we sold. The owner would get three fourths of the money, and my grandparents would get one fourth. My grandparents were good farmers, but sometimes they didn't have enough money to buy seeds, so the owner would pay for them. Mr. Jesse (the owner) would take the money out of their money." 
As one of the older siblings, Barr-Moore was expected to take care of her brothers and sisters as well as work on the farm. Often farm work came before schoolwork, and Moore had to stay home and help. Her paternal grandfather died when Moore was 12, and her grandmother used the children to run the farm. 
"I remembered when the rooster crowed and the sun came up, that was when I had to get up," she said. "That rooster said, 'Cockle-doodle-doo,' and the voice I heard was 'Make the fire,' because I was responsible even from the age of 12 to get up while everyone else stayed in the warmth of their beds and make that wood-stove fire for them to get up and get dressed around." 
Growing up in this environment, Barr-Moore said, she didn't have a clear sense of anything else in life, except for down-times on the farm when she could go to the local school. Her dream was to "get married and have 18 kids." Also, her relationship with her paternal grandmother was often strained.  
"She was very mean to us," Barr-Moore said. "I looked so much like my mother that she held it against me. All the negative treatment and the bad things that I would hear constantly — 'You're gonna be no good, just like your mother' — affected me."  
But Barr-Moore's life did a complete 180 when she was 16. She and her siblings had kept calling their mother and telling her how much they were suffering on the farm. On Nov. 6, 1966, her mother and her maternal grandfather came by the farm, picked the children up, and, under the guise of taking them to the store, brought them all to Baltimore instead. They never came back. But for Moore, the experience wasn't all positive.  
"I was negatively impacted by that because I didn't like the city," she said. "I couldn't understand the city. In 1966, so much was going on then. In the schools, there was so much disrespect. I was in the 11th grade then. That year three kids were killed at my school from fist-fighting and just meanness." 
Despite the fact of her irregular schooling, Moore was able to make up a great deal of work and score good grades. Unfortunately, the urban environment became too much for her.  
"God must have made me innately smart," she said. "When I went back and looked at my transcripts, I saw that my teachers said I was a very smart student. I just loved school. I love learning. I love tests. But because of the violence I was too nervous. I stopped going. A counselor told my mother I was having a breakdown because I was so nervous." 
On the heels of leaving school, she became pregnant with her first daughter and got married. What followed were many years of hard work, additional education and mothering of four talented children, including Melissa. To support her first two daughters, she worked as a cashier in stores, which fueled her desire to study math and eventually to work in a bank as a teller. She needed at least a GED, which she received in the early 1970s. She did so well she was offered a scholarship for continuing education at a Maryland community college, and presciently she opted to study computers.  
"They asked me what I wanted to major in, and said I wanted computers; they called it data processing back then," she said. "When I got to the bank instead of going into the teller route, I said I wanted to go into electronic data processing.  So I did. I went there and did checks and balances and the Christmas clubs, and eventually they had an opening in the computer room." 
Thus Barr-Moore, thanks to her classes and on-the-job training, became a computer programmer. Her skills helped her raise her four daughters. She moved from Baltimore to Kentucky to work at the General Electric plant in Louisville, among other jobs, and eventually ended up with her family in Lexington. Then she saw her daughter Melissa head off to UK in 1994 to a University Moore loved. 
"I'll I never forget: First you had to have the orientation for the parents," she said. "They take the kids someplace else so I'm just crying. The other parents were trying to console me — they told me she'd be home for Thanksgiving, you don't have to worry. But I was living in Lexington. I was crying because she was the first daughter to do what I always wanted to do." 
Thus she started her bachelor's degree at UK, until she went back to Baltimore in 1997.  
In 2005, she came back to Kentucky to do contract work for the state and local firms and pastor a nondenominational church, taking classes at Lexington Theological Seminary in the process. And now, thanks to her innate drive not to sit around at home during a pandemic, she's finishing her degree with the help of a Donovan Scholarship for students ages 65 and older.  
"I'm in the liberal arts because I asked my advisers what's the best way for me to get with all my transfer credits," she said. "I was going to do computer science, but they told me to do liberal studies instead with a social science concentration." 
Barr-Moore's drive compelled her to excel in her studies — she said when she got a C on an exam her children had to "talk her down off the ledge" and put the grade in context. Her study of the liberal arts also brought her up to date on some of the world events that transpired while she was working full-time and raising her daughters.  
"I took Political Science 391, and they talked about every war that I didn't know anything about that happened in the 1980s," she said. " I had very little knowledge about these wars, how they occurred and what happened because I was working and taking care of kids and trying to live life. I never paid attention." 
She's taken and appreciated four anthropology classes. And after her lifetime of experiences, she had a particularly emotional reaction to the African American history class she took. 
"I have to constantly tell myself to stay out of my feelings," she said. "But it's just so hard."  
Now she's about to achieve her dream of a UK degree as her children and grandchildren look on. Among many professors and staff members, she credits student adviser Luci Lucas with guiding her toward completion. And she's extremely excited to urge fellow seniors to try UK to bring home their dream of a degree.  
"There is a place for you at the University of Kentucky," she said. "I stand by that because I'm living proof."