When Shannon Hincker started her undergraduate work at the University of Kentucky in 2004, she was a mathematics major.
After two years, she switched to the College of Arts & Sciences' mathematical economics program.
With its combination of math, statistics and economics, the program was a good fit for Hincker and prepared her well for a job doing actuarial work for Mercer.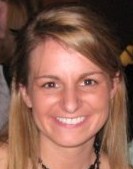 "I loved math," Hincker said. "I still love math. However, I knew early on that I didn't want to go into teaching so I was very interested in getting a background that was strong in math and strong in the business field, too. That way, I just figured I'd have a lot more choices when I was finished."
Robert Molzon, who is in the math department but is a faculty member in the math-econ program, helped Hincker figure out her path.
"I talked to him and other faculty members a lot," she said. "There's a lot of flexibility within the program and that really helps you make it work for you."
From reading financial statements to using math to make predictions and good business decisions, Hincker said she was ready for her career.
"The program and its classes really do prepare you with the math knowledge you need but it a way that you can apply it in the business world," she said. "Businesses are really looking for people who are strong in math and while you can pick up the business end as you go, I feel like I was a little ahead of the game because of the (mathematical economics program)." An Oldham County, Ky. native, Hincker works in downtown Louisville in Mercer's retirement service center.
"We determine the cost of pension plans and post-retirement medical plans for all different kinds of companies and employers," Hincker said.
She started her job with Mercer as soon as she finished at UK in 2008. The job verified that what Hincker had been studying in class mattered and had real-world value.
"I can't talk about what specific employers I work with because of confidentiality restrictions but they are names that I recognized and that was really great," she said. "These are everyday companies and so there was that immediate sense that what I was doing was real."
Hincker is not sure whether she'll go back to school for graduate work but she's furthering her education and adding to her credentials by studying for actuarial exams. Actuaries can pass a series of exams that allow them to progress in the field. Hincker said there are about five exams and they can take up to 10 years to get through.
"I'm not sure where I'll go in the actuarial field but I know it's where I want to be," she said. "It's challenging and gives you so many options and choices. For me, the combination of math and business have just been a great fit.
by Sara Cunningham