Scholarship Programs Bring Nepali Student From UT Tyler to UK
By Andrea Gils Monzon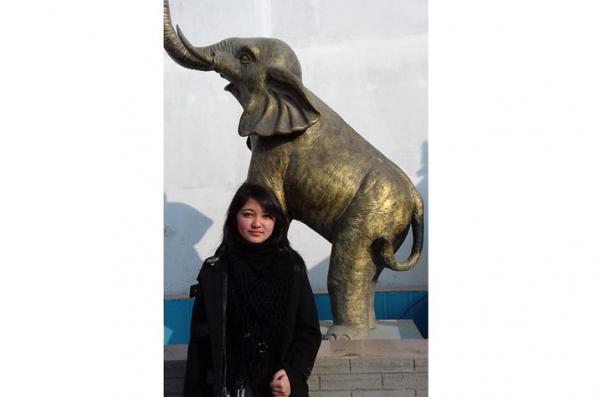 The University of Kentucky has offered a full-ride scholarship to Ojaswi Piya, one of the 61 talented students from Nepal whose scholarships at University of Texas at Tyler were recently canceled.
The University of Kentucky has offered a full-ride scholarship to Ojaswi Piya, one of the 61 talented students from Nepal whose scholarships at University of Texas at Tyler were recently canceled.
"This full-ride made my dreams and educational goals and aspirations seem possible again," Piya said. "I was beyond happy — words can't convey how grateful I am to have this amazing opportunity come to me."
Piya, from Karthmandu, Nepal, has accepted the offer and will join the Wildcat family this fall. She plans to major in biology but is also interested in other areas such as sustainability, the environment and waste management.
When searching for universities, Piya wanted to see which institutions had her programs of interest, as well as undergraduate research opportunities. That was one of the reasons she had originally applied to UT Tyler.
For the first time, the university was offering a presidential scholarship that covered everything — tuition, room and board. International students would be well-represented in the awards. Piya was among the selected candidates. It wasn't until after the offer letters went out that officials realized they had extended the scholarships to more students than they could afford.
"I was completely baffled," Piya said. "I stared at my screen for several minutes. I pinched myself to see if it was a dream or if it was really happening."
At that moment, Piya thought she wouldn't be able to study in the U.S. anymore and that her efforts had gone to waste. "Then I went crazy searching universities but did not have much luck that day," she added. "And even if they did take the application, their funding had been depleted."
Piya, along with other affected students, quickly came together to devise a plan on how to find placements. She met with several advisers, including Selena Malla, who told her not to give up hope.
"Initially, I thought there wouldn't be sympathy," Piya said. "We're from a small country, miles away from the U.S. I didn't think it would lead somewhere but with the news spreading around, people taking measures in higher education to ensure we had options, a miracle started happening. People started stepping forward, universities started to step forward. And there came the University of Kentucky."
Malla was one of the main contacts for UK, as Audra Cryder, director of international enrollment at the UK International Center, reached out to the Education USA Nepal team via Facebook to offer help.
Cryder messaged Malla and offered a partial scholarship to one of the affected students but she learned those funds weren't enough to support one's full tuition and living expenses. Cryder came back to the drawing board and with the help of the enrollment management, as well as Asia Payne and Sandy Copher in the Student Financial Aid and Scholarships office, the team was able to pull the resources to assist and help fund one full-ride scholarship.
Piya was one of the students Cryder selected as a potential candidate based on a set of criteria; including being academically admissible, programmatic fit, leadership and engagement experience, and whether the location was a significant factor in making a decision on the university. Malla then reviewed the list and recommended Piya for UK.
"Once we knew that she was interested, we pretty much admitted her within the same working day," Cryder said. Piya received her acceptance packet in only 10 days. "Everyone worked very quickly and very efficiently," Cryder added. "It helped that Selena (with Education USA) provided all the documents immediately. Anything we needed was right there."
Three scholarship programs and offices across campus came together to make this possible — the UK International Center, UK Enrollment Management and UK Student Financial Aid and Scholarships offices.
Piya didn't know UK in-depth but after researching, she said she knew that UK would be the perfect place for her to explore her research interest in the sciences and the environment, and potentially find solutions to what she sees are pressing and shared issues found in both Kentucky and Nepal.
"UK really came as a knight in shining armor for me," Piya said. "I'm really grateful to the University of Kentucky and I will try my best to not let anyone down and make you proud of taking me in. I'll do that by giving back to the university by sharing my culture and being successful in whichever career path I decide to pursue in the end."
So far, 26 out of 61 students have been placed in a university.
Even though things have fallen into place for Piya, she said it is not over because she hasn't been able find homes for everyone yet. "I'd like to help them and continue on this mission to finding homes to all of the affected students," she said.
For more information on the Nepali students who still seek replacement scholarship, or on ways to help, please go online or directly contact Selena Malla, with Education USA Nepal, or Joan Liu and Jamie Kanki.
For questions about University of Kentucky international admissions, please contact Audra Cryder or visit http://international.uky.edu/Apply
UK is the University for Kentucky. At UK, we are educating more students, treating more patients with complex illnesses and conducting more research and service than at any time in our 150-year history. To read more about the UK story and how you can support continued investment in your university and the Commonwealth, go to: uky.edu/uk4ky. #uk4ky #seeblue