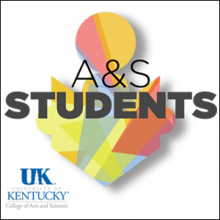 Cameron Hamilton, an undergraduate student in the Department of Biology, serves as an A&S Ambassador and as a K Crew Coordinator for UK's K Week for incoming students. Hamilton discusses new initiatives that the K Crew Coordinators are working on as well as the personal and professional benefits of being a K Crew Coordinator and A&S Ambassador.
This podcast was produced by Christina Buckner.

This work is licensed under a Creative Commons Attribution-NonCommercial-ShareAlike 3.0 Unported License.