By Whitney Hale
A desire to become a physician-scientist has led University of Kentucky biology junior Joshua Preston to not only excel in the classroom and lab, but also garner one of the nation's most coveted STEM scholarships as well as entry into several undergraduate research programs during his college studies.
Preston is UK's most recent recipient of the Astronaut Scholarship from the Astronaut Scholarship Foundation (ASF). He is one of 45 recipients of the prestigious $10,000 scholarship, which is presented annually to outstanding college students majoring in science, technology, engineering or math (STEM). Candidates must be nominated by faculty of the participating universities based on their display of initiative, creativity and excellence in their chosen field.
The ASF is a nonprofit organization established by the Mercury Astronauts in 1984. Its goal is to aid the United States in retaining its world leadership in science and technology by providing scholarships for exceptional college students pursuing degrees in these fields. More than 80 astronauts from the Gemini, Apollo, Skylab and Space Shuttle programs have joined in this educational endeavor.
To date ASF has awarded more than $4 million to more than 400 deserving students around the U.S. UK students have earned a total of $181,000 from the ASF since 1998.
In addition to his Astronaut Scholarship, Preston was also one of 1,350 interns out of a pool of more than 7,500 selected for the National Institutes of Health Summer Internship Program in Biomedical Research in 2017. As an intern, Preston spent last summer working at the NIH's National Institute on Aging (NIA) side-by-side with some of the leading scientists in the world, in an environment devoted exclusively to biomedical research.
Preston was excited about the opportunity to work in the experimental gerontology lab of Rafael de Cabo. "This fellowship helped me develop my skills as a researcher and allowed me to experience the intensity of NIH research. It also helped me broaden my horizons to research in the field of translational gerontology and helped me network with other scientists outside of UK. Lastly, this experience set me on a trajectory towards becoming a physician-scientist."
This July, Preston will give a presentation on his NIH NIA work at the 14th International Symposium on Neurobiology and Neuroendocrinology of Aging in Bregenz, Austria.
The son of Nicholasville residents Cynthia and Dr. David Preston, associate professor of urology at UK and chief of urology at Lexington VA Medical Center, Preston is a 2015 graduate of West Jessamine High School. At UK, the Lewis Honors College member is majoring in biology and minoring in mathematics and history.
Since Preston started at UK, he has been active in undergraduate research working in the lab of Kevin Pearson, an associate professor in the UK College of Medicine.
"The overarching goal of our lab here is to use animal models — and use human models — to basically pinpoint what certain behaviors could be for pregnant women to give their offspring the highest chance of having the best health," Preston said.
Preston completed a summer research project in 2016 in the Pearson lab through a summer undergraduate research grant from UK. The study examined the mechanisms of how prenatal nicotine exposure can "program" offspring obesity and diabetes risk in a mouse model. As part of his research, he authored a first-author literature reviewregarding the developmental origins of health span and life span. Preston will return to the Pearson lab this summer to continue work on some of his projects.
The junior is also a UK Superfund Research Center undergraduate trainee on Project #2: Postnatal Complications of Perinatal Polychlorinated Biphenyl Exposure. Preston will give a presentation on this research over Spring Break at the Society of Toxicology annual meeting in San Antonio, Texas.
In addition to his work with Pearson, Preston has also had the opportunity to shadow Dr. Daniel Reese since high school in the operating room at the Lexington VA Medical Center, which further piqued his interest in pursuing medicine.
A love of science started early for Preston and continues to grow. "Growing up, I was heavily influenced to pursue medicine by my father. The interest I had throughout my childhood to pursue medicine, my shadowing experience and my experience in the lab have all combined to make me want to pursue an MD PhD degree and a career as a physician scientist."
Preston applied for the Astronaut Scholarship through the UK Office of Nationally Competitive Awards, part of the Chellgren Center for Undergraduate Excellence within the Division of Student and Academic Life at UK. The Office of Nationally Competitive Awards assists current UK undergraduate and graduate students and recent alumni in applying for external scholarships and fellowships funded by sources (such as a nongovernment foundation or government agency) outside the university. These major awards honor exceptional students across the nation. Students who are interested in these opportunities are encouraged to begin work with the office's director, Pat Whitlow, well in advance of the scholarship deadline.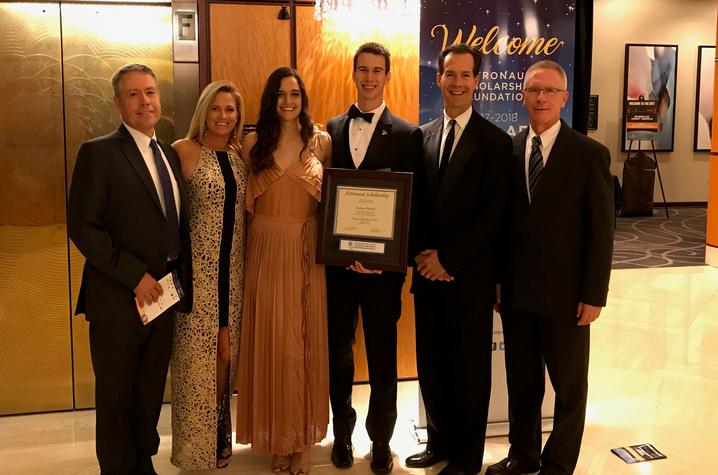 UK junior Joshua Preston (center) posed with family and friends at the Astronaut Scholarship Foundation Innovators Gala. (L to r) Dr. David Preston, Cindy Preston, fiancee Elle Goodknight, Preston, Bob Goodknight and Ron Prauner.
UK is the University for Kentucky. At UK, we are educating more students, treating more patients with complex illnesses and conducting more research and service than at any time in our 150-year history. To read more about the UK story and how you can support continued investment in your university and the Commonwealth, go to: uky.edu/uk4ky. #uk4ky #seeblue