by Colleen Glenn
Patience is a virtue. Just ask Ginny Carney. An alum of the English Department, Carney is now President of Leech Lake Tribal College in Minnesota. But she didn't get there overnight.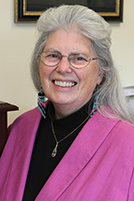 Carney, who is Cherokee Indian, was raised in the mountains of eastern Tennessee. The oldest of five children, Carney grew up without electricity (no phone or TV), indoor plumbing, or transportation. "As achildgrowing up in an isolated mountain region of East Tennessee, I assumed that everyone shared our worldview," she recalls.
But all of the time she spent not watching television led Carney to become a voracious reader, and the more she read, the more she soon learned about cultures other than her own.
Disturbed by the disparaging views many authors held of Appalachian people as well as the stereotypical beliefs regarding American Indians, she vowed at an early age to do everything she could do change those negative images.
The first of her family to graduate from high school, Carney was not satisfied with that diploma, and continued to college, paying her tuition by working two jobs. (Like many first-generation students, she had little money and no knowledge of the scholarship application process.)
Her determination paid off: she completed her bachelor's degree in English, graduating summa cum laude, working and raising her children at the same time.
She didn't stop there. After earning a Master's degree in English at University of Alaska Anchorage in 1990, Carney began her doctoral studies in English at the University of Kentucky and completed her Ph.D. in 2000. While at UK, she studied Early American Literature under the guidance of Professors Ellen Rosenman and Dana Nelson, all the while keeping her eye on her long-term goal: to teach at a tribal university.
Children, marriage, and work obligations may have slowed her progress, but it never halted it. Waiting to move until her youngest child graduated high school (there are no tribal colleges in the Southeast), Carney began to search for teaching positions around the country, and eventually landed a job at Leech Lake Tribal College (LLTC) in Cass Lake, located in northern Minnesota in 2001.
LLTC is a two-year college located in Northern MN, and was chartered by the Leech Lake Band of Ojibwe in 1990. (The Ojibwe people are also referred to as Chippewa and Anishinaabe—the latter term, meaning "The People," is commonly used today.) LLTC is one of 36 tribal colleges in the U.S., and 90% of its students are American Indian. In addition to taking regular courses, students also take cultural courses, including Anishinaabe Philosophy and Ojibwe Language classes.
Its small size of 225 students allows for a terrific faculty to student ratio: typical class sizes are 15 students/class. Because most LLTC students are low-income, first-generation college students, faculty members and administrators focus on student retention and strong student support services.
"In many ways," Carney says, "the entire college is like a family:  Each Monday we gather at noon for announcements, a drum ceremony, prayer (in the Ojibwe language), and a potluck provided by faculty and staff; when someone loses a loved one, we grieve together; and when one of our own is honored, we rejoice together."
Though Carney never aspired to become an administrator, she quickly found herself being asked to take on more and more responsibility at the college. One year after joining the faculty of LLTC, she was named Chair of the Arts & Humanities Department; in 2003, she was appointed Dean of Academics; in 2006, Vice President; and in 2008, President.
Carney's career path has been long and winding, but she retains a strong sense of her origins, and credits her upbringing to where she is today.
"Armed with the values  my parents instilled in us—a sense of cultural dignity and pride, a spirit of gratitude and generosity, a desire to persevere when faced by seemingly insurmountable obstacles, and an unshakable faith in our Creator—I am still experiencing the fulfillment of childhood dreams that originated in the backwoods of Tennessee."