Mission of the College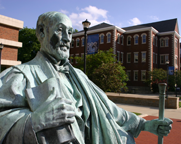 The mission of the College of Arts and Sciences is to facilitate the learning of a large and varied student population, and to advance the frontiers of knowledge in the humanities, social sciences, and natural and mathematical sciences through a range of research activities that befit a flagship, land-grant university. College faculty teach graduate students seeking advanced degrees in more than 30 different programs, undergraduates seeking Bachelors degrees in two dozen majors, and a host of students from across the campus who take required and elective courses in English, mathematics, sciences, world languages, and many other subjects. Because the College of Arts & Sciences builds the foundations of advanced study in every field, it addresses the core educational needs of every student in the university.
The college is dedicated to the idea that every university-educated person should have an informed familiarity with the diversity of fields of knowledge about the human and natural worlds and their operations in time and space, the diversity of ways of organizing knowledge, and the diversity of modes of expression. Moreover, the college seeks to provide students with the advanced literacy and mathematical and scientific skills that will best prepare them for today's dynamic job market. More broadly, the college's mission is to challenge students to think for themselves, and to think critically. On a practical level, critical thinking means the habitual use of the analytical skills, organizational ability, creativity and imagination that students will need to become productive members of an increasingly better educated work force.
On a more abstract but equally important level, it means perpetually re-evaluating the assumptions, prejudices and aspirations of one's society, community, family, and self. It is the special obligation of a college that takes as its province the full range of human endeavor to challenge students to become citizens who are willing and able to question authority in order to make it more responsible, to tolerate and indeed to welcome different points of view, and to be respectful of others while they think for themselves. It is also the particular obligation of the college to contribute to the discovery of new knowledge in the basic disciplines of the academy. Varied scholarly investigations, ranging broadly within and between disciplines, form the core of the college's identity. Since the University of Kentucky is the Commonwealth's leading research university, the advancement of academic research across a very broad front is central to the college's mission, and is a goal that routinely informs the teaching and service obligations of its faculty members.