Meet the A&S International Student Ambassadors
Our International Student Ambassadors are here to help you learn about the College of Arts & Sciences at the University of Kentucky.
A&S International Student Ambassadors for 2022-2023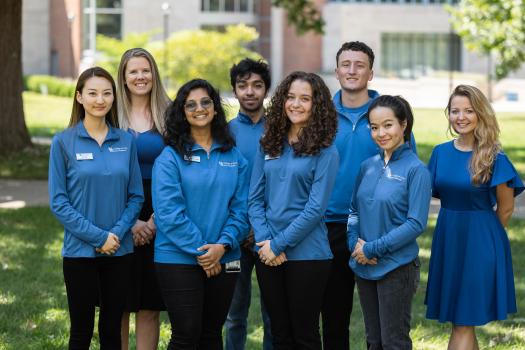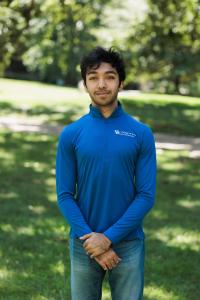 Artin Asadipooya, Neuroscience -  USA and Iran
Hello there! My name is Artin Asadipooya (first name pronounced "are-teen"). I am currently majoring in neuroscience (on the pre-med track) and double-minoring in biology and chemistry. I am originally from Shiraz, Iran. My family and I migrated to the United States in 2013, and we have been living in Lexington since 2018.

I chose to attend UK partly due to the convenience of proximity (I live only 15 minutes away), but also due to the plethora of opportunities that UK offers to its students. In addition to all the clubs and organizations, there are so many amazing faculty members who make massive contributions to their respective fields. As a pre-med student with a strong passion for neuroscience, I wanted to get involved in research with them, which has been one of the best decisions I've made here.

What I love most about UK, besides its environment and atmosphere, is the community. I have met some of the most supportive people (outside of my family) here at UK. This is part of the reason why I wanted to become a College of A&S ambassador. I see this as a way of giving back to the community. I hope to guide future and current UK students to find their purpose the same way that UK helped me find mine.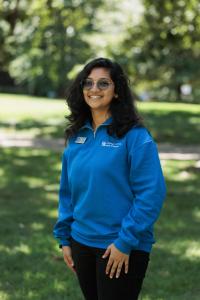 Sanjana Dhayalan, Psychology and Neuroscience - India
Hey y'all! I'm Sanjana, I am a sophomore here at the University of Kentucky. I am an international student from India and I am a double major in Psychology and Neuroscience. I love being an ambassador for the College of Arts & Sciences because of the student interactions! I get to meet and interact with students from various backgrounds and cultures from all over the world.  I am glad to have this new experience and exposure here at UK! Check out my International Voices Story here: 
https://www.as.uky.edu/as-voices-intl
Mariana Escobedo de la Peña, Sociology and Gender & Women's Studies - Guatemala
Hola! I am Mariana Escobedo de la Peña, an international student from Guatemala. I am double majoring in Sociology and Gender and Women's studies at the College of Arts and Sciences. A little bit about me: I studied two high school degrees at the same time, one academic and one in dance. Dance is one of my biggest passions, and I love to dance a little bit of everything. However, I decided to study both of my majors because I want to help indigenous women that live in rural areas in Guatemala. I want to help women's empowerment in these communities, and help increase their level of education and their overall welfare.
 I decided to come to the University of Kentucky because of all the resources that it has to offer. Here you can find resources that will help you success not only in your academic life, but also in your social, mental, and physical well-being. The University of Kentucky is truly interested in your success and well-being as an individual. There is always someone that is willing to help you, no matter the situation. UK's population is incredible! Here you will find a home far from home that will support you in your highs and lows. Everyone is welcome here, with great professors and a close (but big) student body, I found my second family. This experience changed my life, and if I get to choose anywhere else, I would still choose UK. 
Check out my International Voices Story here: https://www.as.uky.edu/as-voices-intl
Kameron Kraus, Biology - USA
Hello everyone! My name is Kameron Kraus, and I am a senior Biology major here at UK. I am from Northern Kentucky, and I graduated from St. Henry District High School in 2019. I am on a Pre-Medical track with the ultimate goal of one day becoming a physician. 
Apart from being an ambassador for the College of Arts and Sciences, I am a member of Beta Theta Pi fraternity, and I also work as a General Chemistry Peer Tutor at The Study. I am also in the Lewis Honors College. This past spring, I worked on a data mapping project in the College of Education to map out degree plans at all seven of Kentucky's public universities with the goal of creating an all-inclusive, seamless transfer portal system. I am also actively involved in undergraduate research, The Study, and Shoulder to Shoulder Global Brigade in Ecuador.  
My time here at UK has been extremely enjoyable. Please feel free to reach out to me about anything UK, the College of Arts and Sciences, Pre-Med, or anything else you may think of! I am always happy to help. Check out my International Voices Story here: https://www.as.uky.edu/as-voices-intl
Sydney Lilley, Psychology and Pre-Management - USA
Hello everyone!  My name is Sydney Lilley and I am one of the college of Arts and Sciences International Ambassadors!  I am a sophomore here at the University of Kentucky and am double majoring in Psychology and Business Management. I am from Augusta, Kentucky, which is a small town located on the Ohio River.  Coming from such a small town, I knew I wanted to come to a big school with a welcoming community and plenty of chances to get involved on campus.  When I began looking for colleges to attend, I knew the University of Kentucky would be a perfect match for me.  
Being in my second year of college, I have had many fun experiences and made lots of lasting friendships at UK.  However, my favorite things about the university are the sports games that we are able to attend.  I always love Caturdays for football are sitting in the Erruption zone for basketball games.  The University of Kentucky has such a warm and welcoming environment, but I understand the nerves of moving to a different or bigger place.  If you have any questions or just want to talk, I am always here.  I hope you all decide to attend UK and Go Cats!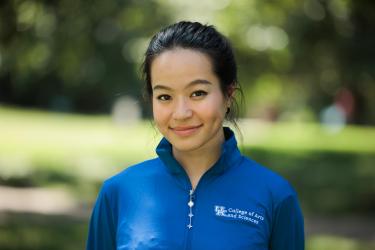 Amber Nguyen, Biology - Vietnam
Hi! My name is Amber Nguyen. I am a part of the international student community here at UK and I am from Vietnam. My major is Biology and I also minor in Neuroscience. My plan is to pursue a PhD in Toxicology and Cancer Biology here at UK. I love meeting new people and exploring different cultures, so come chat to me! I'd love to get to know more about you! 
Besides hobbies such as music and video games, I also play sports. Out of many sports I play, badminton is the one I play the most often. I am a member of the UK Badminton Association. We meet twice a week at the Seaton Center on campus. Feel free to let me know if you're interested because we always welcome new players! 
The A&S International Student Ambassadors and I are here to help answer any questions or concerns you may have about the university so please reach out to me or any of our members at  ANYTIME, we are more than happy to assist! 
Jie Qu, Psychology & Hospitality Management and Tourism- China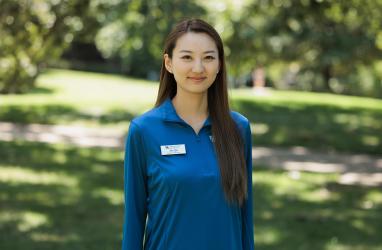 Hi, my name is Jie Qu. I am from China. I am a senior here at the University of Kentucky and double majoring in Psychology and Hospitality Management and Tourism and a Business minor. I chose UK because UK gives me the opportunity to pursue a higher education. I believe UK will effectively help me succeed in my future career path and beyond. I've enjoyed my time here at UK thus far. UK provides a great platform to help students find ways to build their academic experience and to help each student reach all of their academic goals. I enjoy going to my professors' office hours. They are always nice and willing to help students in any way they can.

My favorite things to do in my free time are yoga, running and exploring coffee shops. Feel free to reach out to me if you have any questions about UK, the College Arts and Sciences, or anything you can think of! I'm always happy to provide any assistance I can.