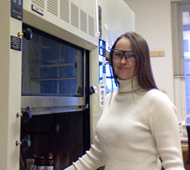 "I didn't want to rush into the next step after undergrad so I took some time off," Payne said. "Then, I sort of came to the point where I wanted a plan for the rest of my life."
Knowing that she wanted to continue to study chemistry but also wanting to foster her other life passions, Payne picked UK and started her graduate work in 2000.
"I was an avid rock climber and I knew I could be close to the Red River Gorge," she said. "I also rode horses as a kid and had been to Lexington several times, so I had some familiarity with the area."
At UK, Payne quickly found a mentor in faculty member John Anthony.
"I wanted to do synthetic organic chemistry but I was not interested in the biological applications of the field, which seem dominant" she said. "With Dr. Anthony, I found out about materials-based chemistry. The technological aspects of working on cutting edge electronics keeps it exciting, and I was still making compounds in the lab."
"I found grad school to be not as stressful as everyone made it out to be," she said. "I budgeted my time well and kept a tight schedule. Otherwise, I had lots of time to pursue outside interests. I even began playing guitar."
After she finished her Ph.D. at UK in 2005, Payne moved on to a post-doctorate position at Northwestern University in Chicago.
"The group I joined had a different focus and I saw that as a means for further growth as a scientist, but I really wasn't happy in Chicago," she said. "I found that I'm not a city person."
Luckily, Payne heard that her UK mentor was planning to start his own company back in Lexington.
"He was looking for someone to work for him and I jumped on it," she said.
Now, as the sole employee of Outrider Technologies, Payne spends her days in the lab researching organic semiconductors for transistors, such as are used in flat panel displays as pixel control drivers. Her title is senior research scientist.
"Much of the work is cost-basis oriented. Make it cheaper, and the technology can then be more widely disseminated," she said.
Another potential application of the work is to replace the barcodes used to keep track of items in warehouses.
"Transistors that rely on radio frequency pulses could make warehouse processing more efficient," Payne said. "Imagine that instead of walking through rows of shelves to scan each package, this could be accomplished by standing at the door."
Along with exploring the range of options offered by the chemistry field, Payne said she hopes students take time to enjoy their lives while they are studying.
"It's important to cultivate a life outside graduate school," she said. "It's easy to get become too narrowly focused and get burned out on the work you used to like. Keep it fresh by participating in things with other graduate students and cultivating personal relationships. You never know when it might lead to opportunities later."
By Sara Cunningham
photo courtesy of Marcia Payne