A&S Internationalization Staff

M. Cristina Alcalde
Associate Dean for Inclusion and Internationalization
cristina.alcalde@uky.edu
+1 859 257-9719
M. Cristina Alcalde serves as Associate Dean of Inclusion and Internationalization in the College of Arts and Sciences and is Professor of Gender and Women's Studies and Marie Rich Endowed Professor. Between 2011 and 2015, she served as Faculty Co-Director of A&S Wired Residential College. She also served as Director of Graduate Studies in Gender and Women's Studies until Spring 2017. 
Her most recent book is Peruvian Lives across Borders: Power, Exclusion, and Home (2018, University of Illinois Press). It is based on multi-sited research in Peru, the U.S., Canada, and Germany. She is an affiliate faculty member in Social Theory, Latin American, Caribbean, and Latino Studies, and Anthropology. Her research areas include gender violence, migration, exclusion, and race and racialization. 
During April-July 2013, she was an invited visiting professor in the Gender Studies Program at the Pontificia Universidad Católica in Lima, Perú, where she taught a seminar on feminicide and intersectionality. During June 2018, she was an invited visiting professor in the Gender Studies Program at the Ludwig Maximilians University in Munich, Germany, where she taught a seminar on gender and migration.
In the area of internationalization, she is particularly interested in meaningful partnerships with universities around the world to develop faculty exchanges to facilitate research and teaching collaborations, research symposia, student exchanges and visits, and the continued growth of international student success in the College of Arts and Sciences and at the University of Kentucky. She also actively supports the development and growth of study abroad opportunities for A&S students. 
She grew up in Peru, England, and the U.S., and when she's not at work enjoys spending time with her family, reading, cooking, hiking, and thinking about traveling.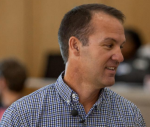 Jesse Hedge
Assistant Dean for Undergraduate and International Affairs
jesse.hedge@uky.edu
+1 859 257-7296
Jesse Hedge serves as Assistant Dean for Undergraduate and International Affairs in the College of Arts and Sciences.  Jesse has been with the College in multiple roles beginning as an Assistant Professor of Aerospace Studies in 2008.  In 2012, Jesse joined the dean's office staff and is currently responsible for international and domestic recruitment, enrollment management, living learning programs, and data analysis.  He holds a MA Ed from Touro University and a bachelor's degree from Charleston Southern University. 
Prior to joining the College, Jesse served for over 23 years in the U.S. Air Force with assignments throughout the world.  During this time, he gained relevant international experience by negotiating civil and military use airspace in South Asia, Africa and the continental United States. He also served at the U.S. Embassy in Islamabad, Pakistan. 
Jesse's primary international focus is in establishing meaningful partnerships with universities to develop student articulation agreements. Specific focus areas include pathway programs, transfer, and visiting student agreements.
In addition to spending time with his family, Jesse enjoys DIY projects in his home. He is also an avid outdoorsman and spends as much time as possible enjoying the natural world.    
Kathryn King
International Student and Program Coordinator/ESL Global Pathway Director
kathryn.king@uky.edu
+1 859 257-3593
Kathryn joined the A&S team in May 2019 and is focused on expanding international partnerships and support for international students. She has extensive experience in international higher education and an enthusiasm for working with students of all backgrounds. Kathryn holds an M.Phil in Race, Ethnicity, Conflict from Trinity College, University of Dublin and a B.S. in Foreign Service from Georgetown University. She  has studied in France, Lebanon and Ireland and speaks Arabic and French. 

From 2005 to 2014, Kathryn worked for Georgetown University's campus in Doha, Qatar, leaving as the campus' Director of Student Programs. Upon her return to Kentucky, Kathryn taught ESL at Bluegrass Community & Technical College (BCTC) in the Adult Education program as well as managed a summer grant program for refugees at Operation Read in downtown Lexington. She began her work at UK in 2017 as a recruiter for the International Center, developing connections with high school counselors and prospective UK students around the globe.
In her free time, Kathryn loves to read, dream up new home and garden projects and play with her baby daughter. She also spends time supporting a mobile medical clinic in Haiti as well as families in Kentucky who are hoping to adopt a child.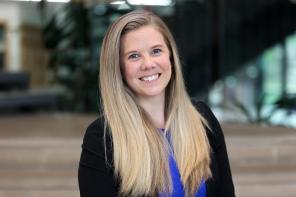 Megan Koshurba
International Undergraduate Student Director (China and South Asia)
megan.koshurba@uky.edu
+1 859 218-5334  
Megan received her bachelor's degree from West Virginia University in 2006 and joined the University of Kentucky in 2013 after seven years of teaching high school Biology and Special Education in Maryland. 
Megan specializes in recruiting students from Asia and focuses largely on Chinese students. The International Recruitment Team works with students throughout their entire college career, from recruiting to applying and securing immigration documents and ensuring their success once they make it to campus. We also offer free cultural activities for our international students each month so that students can experience unique aspects of both Kentucky and American culture.
Fun Fact: Megan has been an avid volleyball player for over 20 years, and she played on the Welsh National Volleyball Team when she studied abroad during her senior year of college.