By Hannah Edelen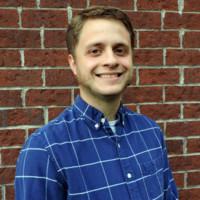 Charles Altendorf, a 2011 University of Kentucky alumnus, is using the skills he developed and honed as a geography student in the College of Arts & Sciences to help improve the mapping system at his current job with the Hardin County Water District No. 1. Working on a pilot project, Altendorf is attempting to convert the water district's data analysis from traditional digital mapping to an open source method.
From a young age, Altendorf was drawn to maps and mapmaking. "When I was a kid, I would get a new Rand McNally Atlas every year," he said. However, Altendorf began his time at UK as an engineering major, partly because he was never exposed to geography courses in high school and was not aware that it was possible to study geography professionally. "After struggling my first year at UK, I realized you could major in geography," Altendorf said. "After my very first geography class, I was hooked."
During his time as a geography student at UK, Altendorf was exposed to many different topics within the department. "Even though I focused on Geographic Information Systems, one of my favorite mentors studied telemedicine, and I also took classes under people interested in urban planning. What I loved about the Geography Department at UK, and how it prepared me for this project, was being able to adapt, because you experienced so many viewpoints."
Altendorf first got the idea for his open source pilot project while attending the 2017 Indiana Geographic Information Council conference. While there, he saw an undergraduate give a presentation entirely in open source mapping format. This lit a spark inside of Altendorf who, up until then, had never met anyone in his field who used entirely open-source formatting.
"There are only two companies in the whole United States that professionally train people in QGIS, and there are very few tutorials about how to convert digital mapping to open-source," he said.
When hired by the Hardin County Water District No. 1 in April of 2018, Altendorf found an ideal environment to try out his new idea. "When I came over here to Hardin County, I realized we don't have the environment that necessarily dictates a very advanced cloud-based setup - there's only me and one other guy to collect data, and only the field crews who view it. So I thought, why can't we convert our stuff to open source?"
Altendorf's pilot project includes three steps: convert data to a format that is consistent with open source, synchronize multiple servers so that all those viewing the information will receive updates automatically and convert the symbols used in mapping so they will appear the same in an open source format as they do in traditional digital mapping.
On a local level, Altendorf believes his work will both simplify Hardin County Water District No. 1's information and make it more accessible. "It gives us access to all our data. In traditional digital mapping, there is so much information but you don't have direct access to all of it. Whereas in open source, I put all the information in the directory, where it can be viewed."
Another added benefit of the pilot project is that it will make Hardin County's data more secure by allowing users to store the information directly on user's computers, instead of in a Cloud.
Outside of Hardin County, Altendorf also believes that the work he is doing on a local level can have far-reaching impacts on the field of geography, and mapping in general.
"For the rest of the country and everyone else, the potential is limitless once you get out of the original box of figuring out how to put your data in an open source format," he said. "Then anybody can set up an environment like ours."
The work that Altendorf is doing has ties to new developments in the Geography Department at UK.
"The University of Kentucky is one of the only institutions of higher education that offer residential and online courses in the advanced use of QGIS," said Matthew Wilson, associate professor in the Department of Geography at the University of Kentucky. Wilson believes an education in QGIS means that "graduates will have greater dexterity in the use of a variety of tools to best understand our changing communities."
To learn more about the technical aspects of Altendorf's project visit: https://newmaps.as.uky.edu/converting-open-source-example-hardin-co-water-district.