Five Questions
Emily Shortslef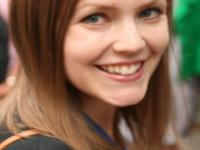 Dr. Emily Shortslef is an Assistant Professor of English at the University of Kentucky. Her research interests include Renaissance/early modern literature and culture, drama, intellectual history, affect theory and the history of the passions, and theories of poetics, genre, and aesthetics. Her book project, Shakespeare and the Drama of Complaint, focuses on the way speeches and scenes of complaint--lamentation, supplication, and protest--in early modern theatrical tragedy explore the ethical, political, social, and aesthetic value of "complaining," a common trope in moral philosophy and other discourses for modes of action criticized as passive, ineffective, and feminine.
1.  What is your favorite thing about Lexington?
The beautiful rolling horse country.
2.  What have you recently read for fun and why did you like it?
I loved Elena Ferrante's Neapolitan Novels--they're beautifully written, perfectly plotted, and totally wrenching.
3.  What's the funniest or most awkward incident that's ever happened to you in your research or in the classroom?
I think I've repressed those memories. But I do recall my most awkward moment in the classroom as an undergraduate: I was whispering to a friend during class and the professor stopped his lecture to give *me* a lecture about how rude and disrespectful I was being to him and to the other students. It was mortifying, and I completely deserved it.
4.  If you were a literary character, who would you be?
Can I say Miss Marple? I think I'd enjoy solving crimes while knitting.
5.  If you hadn't been an English professor, what career would you have pursued?
I probably would have become a veterinarian. Or maybe I would design board games.