By J. Susan Griffith, M.D.
My dad, Charles Herschel Holmes Griffith, was a devoted son, Marine, husband, father of two, grandfather of four, chemist and teacher. He gave his full devotion to the things he loved most – his family and education. Dad always said teaching Chemistry at UK was his "dream job" and from 1964-1991 he loved every minute of working with students and supervising TA's in his General Chemistry labs. At his funeral in 2013, the Chair of the department told me that my dad undoubtedly had more direct contact with UK college students than anyone else in the history of UK's Chemistry department.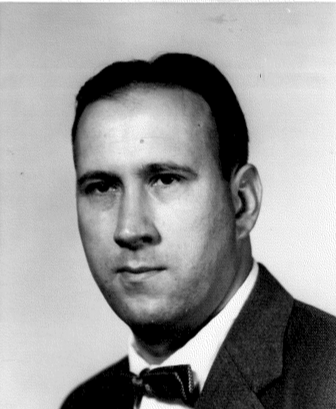 As I was putting together Dad's biography in 2011, I found this in a letter he wrote - "I was born in Huntington, IN into a family of educators." Both of his parents were college graduates, each with a Bachelor's and Master's degree. His mom was an English teacher, before having five children, and his dad was a History teacher. His maternal grandfather was a Theology Professor and President of Huntington College (IN). Many sacrifices were made by his family to pursue a better education. The Griffith family expectations were that you would go as far as you could with your education! My dad took this to heart and attended SEVEN colleges in his lifetime – starting out at the Calumet Center of Indiana University (1) in 1941.
He took a break of four years from college after he enlisted in the Marines in June 1942. Part of that time, he was studying Chemical Engineering at Purdue University (2), and then the Marines sent him for training at Parris Island, Camp Le Jeune and Camp Pendleton. He became a Drill Sergeant in the Marines, and served in the South Pacific during WWII – shipping out from Hawaii and serving in Guam, Tru and Tsingtao China and other locations in the South Pacific.
After discharge from the Marines in August 1946, he returned to Indiana University (3) and got his Bachelor's (1948) and Master's degrees in Chemistry (1954).  At IU, Dad played bass clarinet in the "Marching 100" band. He so enjoyed coming back to the IU campus as a member of the Alumni Marching Band for Homecoming! When Dad returned to college, he also met Gloria Thomas who was working in the IU Chemistry library to supplement her partial college scholarship. They were married in 1949. For most of her teaching career, she was head of the Business department of Central KY Vocational School (now KCTCS) on Leestown Road. She also had Bachelors's and Master's degrees from IU.
For many years, Dad worked as an industrial petroleum chemist, with Cities Service and later with Standard Oil, in the Chicago area but then decided that what he really wanted to do was teach Chemistry, so he started taking education classes and did some substitute teaching. One of his students, at a Chicago high school, was Dick Butkus, who later played for the Chicago Bears!
We moved to Oxford, OH in 1960 where my dad taught chemistry, general science and mathematics at Talawanda High School. He also continued to further his college education at Miami University (4) in Oxford and at Earlham College (5) in Richmond, IN. At Earlham, he took a summer program about the CBA method (Chemical Bond Approach) of teaching chemistry. When his students scored very high on standardized national tests, he got the attention of the National Science Foundation who offered him an Academic Year at Brown University (6). While at Brown, he took advanced chemistry courses and did research in inorganic coordination chemistry. Research tools used included Nuclear Magnetic Resonance.
He had several interviews after the year at Brown (one with West Point), but wasn't happy with any of the schools – until he took a trip to Lexington, KY to apply for the General Chemistry Lab Supervisor in the newly built Chemistry-Physics Building. When he landed in Bluegrass Field, it was so small back then that there wasn't even a cab available. So a group that had just landed, who needed to go to the UK campus, rented a car together. Dad got into an argument with one of the men because Dad wanted to drive the car, and the other man insisted that he would drive. It turned out that the man he was arguing with was Dr. John Oswald, the current President of UK. He still got the job, so Dr. Oswald must have appreciated Dad's moxie. He didn't veto his hiring!
As Laboratory Supervisor at UK, he was constantly on the move through the labs during classes, answering questions from students. He supervised all of the TA's in General Chemistry, and was the liaison with the stockroom, making sure that all the supplies were ready for the students when they arrived at each lab period. He made sure that students knew what they were doing by preparing frequent quizzes for them. As the students left the labs, he made sure the area was spotless. Although the number of students who passed through those basement labs in his 27 years is staggering, those labs showed their age less than others in the building. He set high standards for the TA's under his supervision, and even higher ones for himself. He also took some graduate Education courses from the University of Kentucky (7).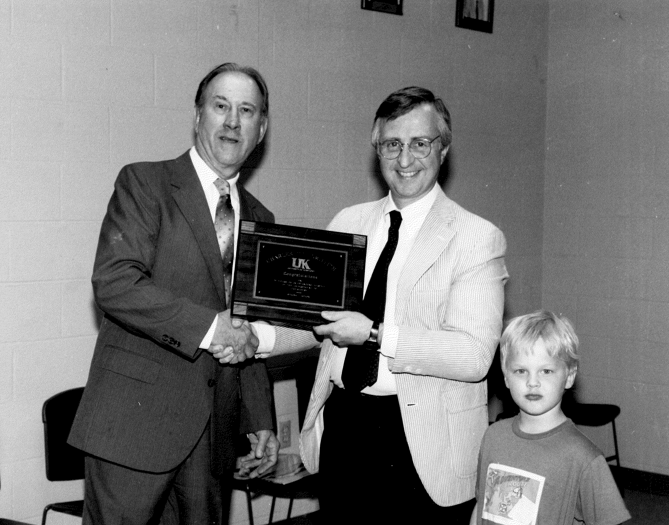 My dad loved Chemistry but he also loved teaching and working with college students. Dad was a real advocate for the students. If their grade was on the fence, he would fight for them to get the higher grade if they deserved it. Unlike many college teachers, who have limited office hours, Dad's office was always open to students. If he wasn't supervising in the lab, his office was open to any student who needed help.
My sister Diane and I, with our health-related majors (Dietetics and Pre-Med), had to take our Dad's Chem 115 lab, me in 1974 and my sister in 1975. The first day of class, I raised my hand to ask a question and without thinking said, "Dad . . . " There was dead silence in the lab as everyone looked at me. They might have thought he would make the class easier for me because I was his daughter, but they were SO wrong. Many times he would come up to me and say, "Susan, why aren't you done with that experiment yet?" And I would say, "But Dad, no one else is done yet." And he would reply, "I expect more from you."
Dad followed our other Chemistry classes closely, and the Professors knew when we were in their classes. I didn't know this when I sat down to my first ever college course at 8 AM, the first day of the 1973 Fall Semester. I had Dr. Sears for Chem 110, the freshman Chemistry class for science majors. Dr. Sears was famous for having assigned seating, in an alphabetical format, so I was surprised to find myself front row center! I realized then that Dr. Sears had been expecting me because of my dad. For that whole semester, and for the 112 class in the spring, I sat front row center, and about every third question came to me. I did very well in those classes. I had to!
My Dad was a stickler for allowing time at the end of each lab class for the students to clean up their lab stations. He had the habit of coming by near the end of each lab and flicking the lights on and off to signal that it was time to clean up and get ready to leave. My sister Diane worked with a pharmacist at Central Baptist whose husband also went to UK – and both of them had taken my dad's Chem 115 class. She told Diane that her husband flicks the lights in their house on and off when they're getting ready to go somewhere, and then he says, "Come on Mary. CH2G says it's time to go!"
My dad LOVED being a grandfather. He was a very hands-on grandfather – and he attended every sports event, recital, and graduation! He also instilled the importance of education in his four grandchildren. Diane's oldest, Josh, has a BA in Psychology from UK and a master's in Social Work (LCSW) from Louisville. His sister, Jessica, has a BA in Social Work and a BS in Nursing (RN) from UK, and a masters (APRN) from EKU. My first-born twin, Chad, has a BS in Agriculture from UK, and his twin, Brandon, has a BA in Accounting from Transylvania.
Another "love" of my Dad's was music – especially swing music from the Big Band Era. The last day of each semester, my Dad would throw kind of a party. He would bring a cassette player, and play jazz music as the students finished up their lab work. There was also always some food and drink – although not near any of the chemicals! –and the students really enjoyed it.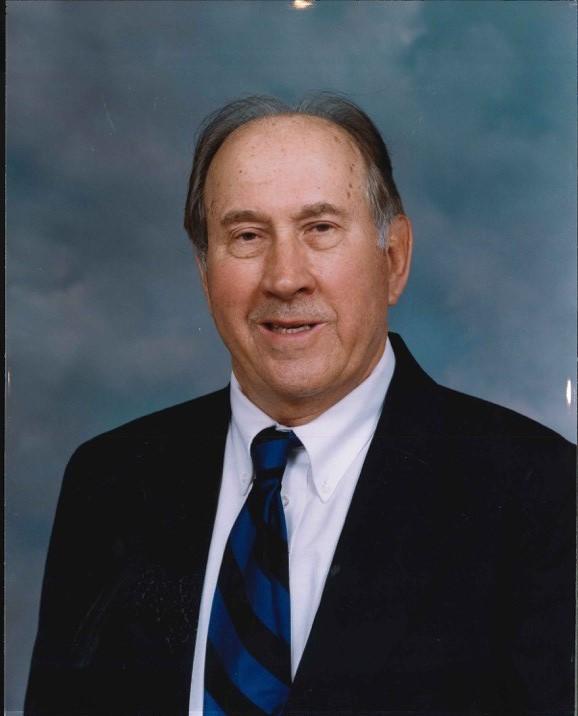 My dad always loved sports too. He grew up near Chicago and was a lifelong Cubs fan. As a young boy, he enjoyed swimming, football and baseball. In high school and in college, he was a wrestler. Quickly after coming to Kentucky in 1964, my dad developed a love of UK sports, especially basketball. He was an active booster of the UK Ladykats (the UK Women's Basketball team) and a 20+ year member of the Committee of 101, a volunteer organization that supports UK's Men's Basketball and Football (He ushered at every home BB and FB game, and loved every minute of it!). My dad also loved the many Chemistry staff/faculty vs. Chemistry graduate students volleyball games at the Seaton Center.
Former students and TA's have many fond memories of my dad. Memories of my dad will hopefully be kept alive by the Charles H.H. Griffith General Chemistry Teaching Assistant Award – given annually to encourage and reward excellence in teaching in the General Chemistry labs. This is the closing sentence from an article in the 1992 Chem News, the UK Department of Chemistry's newsletter: "At the retirement reception, Charlie was presented with a watch and a picture history of the University, but neither will last as long as the award in his name." My dad loved returning to the Chemistry building and often personally presented this award at the Awards ceremony at the end of each school year.
My sister Diane and I followed the family example of getting a good education. Diane has a BS and an MS in Dietetics, and I have a BS in Physical Anthropology and my MD. My sister Diane retired in 2018 after a 40 year career as a Registered Dietitian at Baptist Health in Lexington. I am still working. I'm a physician at U.K.'s University Health Service, my third job after finishing my residency in Family Medicine in 1985. I am in my 36th year of service at UK! I never thought I would pass my Dad's record of 27 years at UK! I guess a love of the University of Kentucky runs in the family! My sister and I hope we've done our father proud!
About the Author:

J. Susan Griffith received her advanced degrees (B.S. in Physical Anthropology, 1977; M.D. 1982) from the University of Kentucky, and she has been a college health physician at UK since 1992.  She is a board-certified family physician and previously worked in Urgent Care in Cincinnati and as a faculty member of the Department of Family Medicine at UK.  Her residency in Family Medicine was from 1982-85 at UK, and she was the Chief Resident from 1984-85.  At the University Health Service, she performs all the minor surgical procedures in addition to providing regular medical care for UK students and employees.  Her volunteer work includes being the Research Chair for the International Council of Multiple Birth Organization and the Research Interpreter for Multiples of America.  Dr. Griffith adds, "As part of the eulogy I gave for my dad, I told everyone how much my dad loved chemistry and how much he loved teaching the students of the University of Kentucky.  I want to honor his memory by doing whatever I can to help the UK Chemistry Department continue to be a strong scientific department that cares about the students of UK."