By Guy Spriggs
Brittany Shaver says she's always been a hard worker. However, when she began her undergraduate study at the University of Kentucky as a biology major and then switched to chemistry, Shaver didn't find fulfillment or results that matched her effort.
So at the end of her freshman year, Shaver tried to figure out her ideal major – what course of study would be just right for her.
"I thought, 'If there was a Brittany major out there in the world, what would it be?' One of the answers was German," Shaver explained. "I always wanted to study German, but I first started the language at the University of Kentucky my sophomore year."
While she says her path to studying German wasn't clear or easy, Shaver's interest in German language and culture dates back to her participation in exchange programs in high school. On two different occasions she spent weeks in Germany and at home with an international partner. "I was paired with girls my age who were German. We are really good friends, and I still talk to them and visit them when I go to Germany," she said.
After discovering her "Brittany" major, Shaver demonstrated her work ethic by jumping into UK's German program with both feet: she was nominated for the German Book Award by her German 102 teaching assistant, spent a summer abroad in Germany after just two semesters of introductory German and was awarded the Heidelberg Scholarship through UK's Education Abroad for her senior year.
Shaver looks back on her summer abroad as an overwhelming, but beneficial experience. "It was a combination of German 201 and 202, and all 11 of us were paired with a host family. My Gastmutter (host mom) didn't speak any English, so it was terrifying," she said. "But I also think it was the best thing for me because it pushed me to speak German and work hard – it would have been easier if I was with someone who knew English."
The Heidelberg Scholarship awards its winners with a monetary stipend and funds a year studying abroad at Ruprecht-Karls-Universität Heidelberg, one of Germany's premier universities.
Throughout these experiences, Shaver has been inspired and supported by faculty and teaching assistants in German Studies. In reflecting on her years in the program, she makes it clear that this encouragement was essential to her growth and success.
"I had great teaching assistants who really inspired me to be a great teacher myself. My faculty mentor Brenna Byrd believes in me, and having someone like that who will oversee you as a TA and support you as you're learning to teach…that is really special to me," she explained. "My time in Heidelberg was a wonderful experience, but being selected showed the department believed in me and my German abilities."
Byrd, who led the aforementioned summer abroad, is unflinchingly supportive of Shaver. "She is industrious and excels in her classes and yet she is at the same time humble and always collegial, which has won her the respect and admiration of her peers," said Byrd. "She asks me to push her, and she is always open for corrective feedback. She is a fantastic role model for all students and language learners."
This encouragement was also a key factor in Shaver's decision to stay at UK to pursue a master's degree after earning her bachelor's. "I was trying to decide between Ohio State and the University of Kentucky. Ohio State was more focused on a doctoral program, and I thought I just had more options at UK. There were more majors I could mix together. I met with the Director of Graduate Studies in the department, Linda Worley, and she helped me by explaining the idea of concurrent degrees," she explained.
Now a master's student, Shaver's new major is a mixture of concurrent degrees – just like what she had in mind during the application process. She is actually earning two master's degrees: one in the MATWL – a Master's in the Teaching of World Languages, focusing on German – and the other in Teaching English as a Second Language (TESL).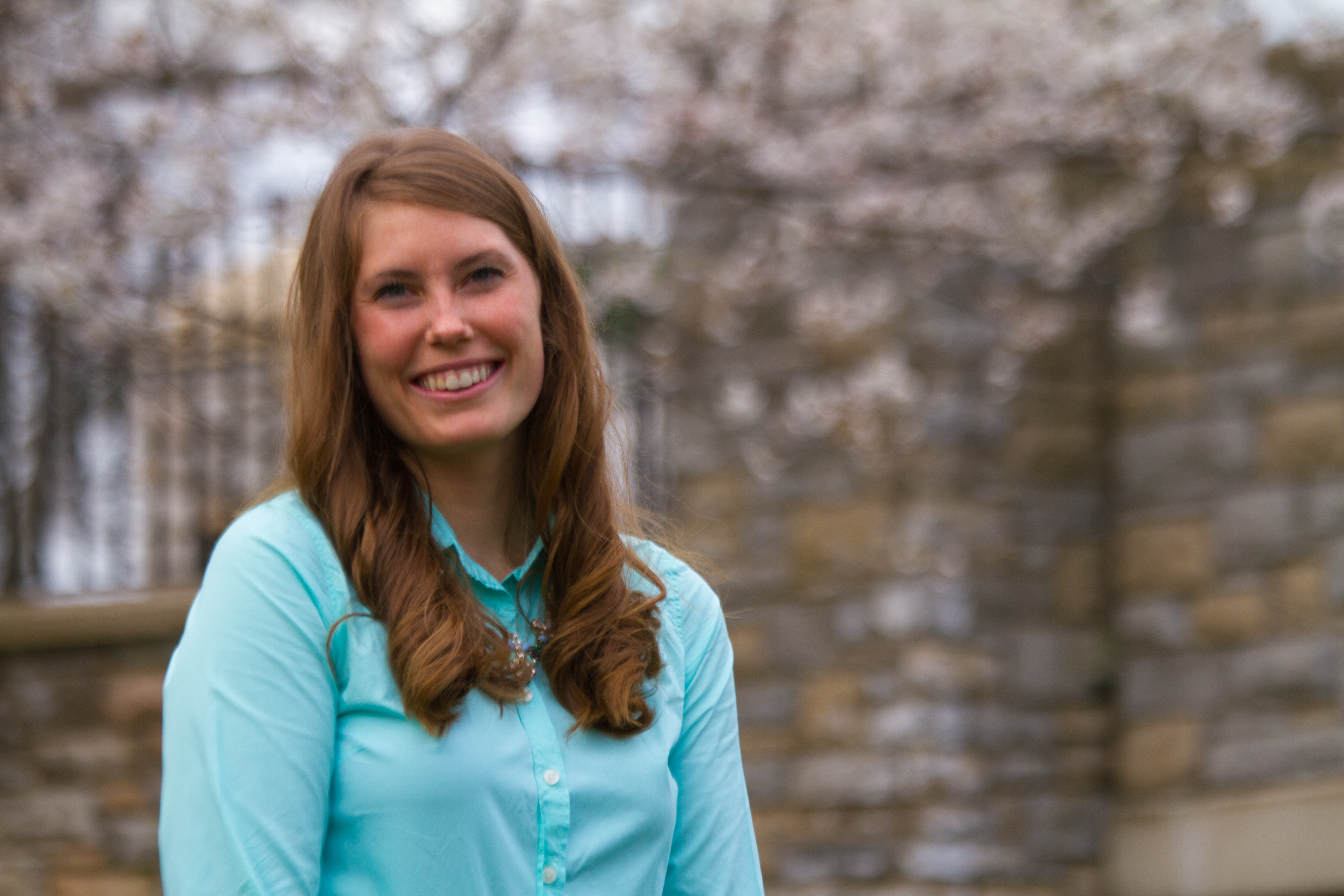 Shaver decided to pursue the MATWL program once she realized it would certify her to be a teacher at the K-12 level. "I love working with kids. There's something about being able to have a huge impact in a child's life and shape them into the kind of person they want to be," she said.
Most recently, her love of German has been rewarded with the Future K-12 German Teacher Award from the American Association of Teachers of German. This national award recognizes outstanding students who are pursuing careers teaching German at the K-12 level. Shaver was thankful and surprised to learn she was being recognized.
"The award means a lot to me…not only because it's a national award and it's amazing for me personally, but because it really speaks volumes about what we do here at the University of Kentucky," she explained. "It's just as much my award as the German program's here in Modern and Classical Languages, Literatures and Cultures."
Looking forward, Shaver has her sights set on teaching middle school. "I would love to be a German and English as a Second Language teacher at the middle school level. I love the German language, culture and people, and I would love continuing to help people with learning different languages. With teaching languages you can really change someone's life – kind of like what German did for me. I want to be able to impact someone like that as well."
Professor and mentor Byrd says that, "whichever school Shaver ends up working for will feel lucky to have her." As true as this seems, for now Shaver seems to feel lucky and appreciates the opportunities she's had at the University of Kentucky.
"It's great I won this award because it looks so good on the whole department," she said. "I didn't take German until my sophomore year and look at me now. I'm a reflection of what the department does – and a living, breathing example that you can learn German and go far if you have the desire to do it."