Award-winning Poets Gabrielle Calvocoressi, Tarfia Faizullah to Present at Women Writers Conference
By Whitney Hale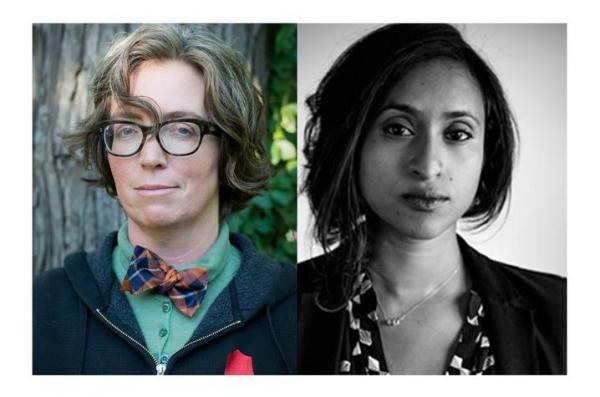 Award-winning poets Gabrielle Calvocoressi and Tarfia Faizullah will present workshops as part of the 2018 Kentucky Women Writers Conference this September.
As poetry lovers across the United States celebrate National Poetry Month, the Kentucky Women Writers Conference is announcing some of its lineup of poets for its 40th conference this fall. The conference will feature two poetry workshops with award-winning writers Gabrielle Calvocoressi and Tarfia Faizullah during its Sept. 13-16 run, in Lexington. The Wild Women of Poetry, which will take place the evening of Sept. 15, will announce its lineup later this year. In addition, the conference is currently accepting submissions for its emerging writer awards, the Betty Gabehart Prizes in fiction, nonfiction and poetry through June 1.
Gabrielle Calvocoressi is the author of "The Last Time I Saw Amelia Earhart"; "Apocalyptic Swing," a finalist for the Los Angeles Times Book Prize; and more recently "Rocket Fantastic." She is the recipient of numerous awards and fellowships including a Stegner Fellowship and Jones Lectureship from Stanford University; a Rona Jaffe Woman Writer's Award; a Lannan Foundation Residency in Marfa, Texas; the Bernard F. Conners Prize from The Paris Review; and a residency from the Civitella di Ranieri Foundation, among others.
Calvocoressi's poems have been published in numerous magazines and journals including The New York Times, POETRY, Boston Review and Kenyon Review. She is an editor-at-large at Los Angeles Review of Books, and co-curates the digital maker's space Voluble. Currently, Calvocoressi is working on a memoir titled "The Year I Didn't Kill Myself," and a novel, "The Alderman of the Graveyard." She lives in North Carolina and teaches at the University of North Carolina at Chapel Hill.
The workshop Calvocoressi will present is titled "Who Are You Telling? And Why?" In this class, open only to conference registrants, writers will have the opportunity to delve into stories they think they know and those they think they've forgotten as a way of investigating how memory and voice can work in poems. The group will experiment with sound recording, interviews and formal variations to make poems that are worlds in themselves and gateways to somewhere even deeper.
Born in Brooklyn, New York, and raised in Midland, Texas, Tarfia Faizullah is the author of the upcoming book "Registers of Illuminated Villages," as well as the previous poetry Collection "Seam," winner of a VIDA Award, a GLCA New Writers' Award, a Milton Kessler First Book Award, Drake University Emerging Writer Award and other honors. Her poems are published widely in periodicals and anthologies both in the United States and abroad; are translated into Persian, Chinese, Bengali, Tamil and Spanish; have been featured at the Smithsonian, the Rubin Museum of Art and elsewhere; and are the recipients of multiple awards, including a Fulbright Fellowship, three Pushcart Prizes, the Frederick Bock Prize from Poetry and other honors.
Faizullah has collaborated with photographer Elizabeth Herman, emcee and producer Brooklyn Shanti, and composer Jacob Cooper, and has served as an editor for Blackbird, Asian American Literary Review, Four Way Review, Orison Books, New England Review, Organic Weapon Arts Chapbook Press and most recently, an issue of Poetry Magazine, guest-edited with Lawrence Minh-Bui Davis and Timothy Yu. She has been invited to present her work at the Library of Congress, the Lannan Center for Poetics and Social Practice, the Radcliffe Seminars at Harvard University, the Smithsonian Asian Pacific American Center and elsewhere. In 2016, she was recognized by Harvard Law School as one of 50 Women Inspiring Change. Faizullah received her MFA from Virginia Commonwealth University, and currently teaches in the University of Michigan Helen Zell Writers' Program as the Nicholas Delbanco Visiting Professor in Poetry.
The workshop Faizullah will present is titled "Embrace Me In A Suicide Vest." What does it mean to be socially engaged artists in this moment? How do we write poems that are aware, craft-conscious, but not didactic? Conference registrants in this workshop will explore and write poems that render and interrogate vulnerability and violence. The group discussion will include non-Western forms and poets who have been exiled.
In addition to announcing this fall's poetry workshops, the Kentucky Women Writers Conference is now accepting submissions for the Betty Gabehart Prizes. These awards recognize and support talented writers who show potential for excellence in their literary endeavors. Three prizes will be awarded as part of the contest in poetry, fiction and creative nonfiction.
Individuals making submissions for these contests should include a $10 entry fee. Each winner will receive $300, free admission to the conference and one small-group writing workshop, and the opportunity to read her winning manuscript at the conference.
To apply for the Gabehart Prize, complete the entry form online at https://womenwriters.as.uky.edu/entry-form. For more information, contact staff via email at kentuckywomenwriters@gmail.com. Manuscripts must be postmarked by June 1. Winners will be notified and announced on the conference website by July 13, 2018.
The 40th annual Kentucky Women Writers Conference, will take place Sept. 13-16, 2018, at the Carnegie Center for Literacy and Learning and other Lexington venues. A program of the UK College of Arts and Sciences, the conference is the longest running literary festival of women in the nation. Registration opens May 1.
For more information on the Kentucky Women Writers Conference, visit online at www.kentuckywomenwriters.org.
UK is the University for Kentucky. At UK, we are educating more students, treating more patients with complex illnesses and conducting more research and service than at any time in our 150-year history. To read more about the UK story and how you can support continued investment in your university and the Commonwealth, go to: uky.edu/uk4ky. #uk4ky #seeblue