Location:
John Jacob Niles Gallery - Lucille Little Fine Arts Library, Zoom
Please join us for a virtual performance and Q&A featuring Appalasia. Appalasia was formed by Mimi Jong, Jeff Berman, and Sue Powers in Pittsburgh, PA. Together they have created an evocative and ambitious performance language for dulcimer, erhu, banjo, and vocals that combines the influence of their folk-roots with original composition and inspired improvisation.
This event is co-sponsored by the UK Appalachian Center & Appalachian Studies Program, the John Jacob Niles Center for American Music, Passport to the World's Year of Cultures Without Borders, the Gaines Center for the Humanities, and the Office of China Initiatives. It is presented in association with the 2022 Annual Meeting of the Midwest Chapter of the Society for Ethnomusicology.
We'll have a virtual viewing session at the John Jacob Niles Gallery, April 1st, at 3:30PM, or you can tune in via Zoom: https://uky.zoom.us/j/83469552756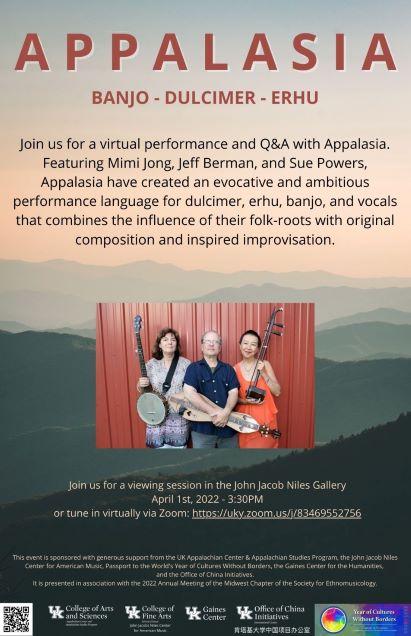 Type of Event (for grouping events):