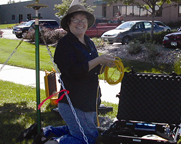 Susan (Camenisch) Eriksson started her studies at UK as a music major, with a focus on piano. But when she took an honors section of geology during her junior year, she was hooked.
"After one exam, I went up to the TA and said, I love this, I love, this, I love this!" she recalls. "I was so excited. I said I wished I had found geology as a freshman."
Eventually, her UK professors—particularly Dr. Bill Blackburn—helped Eriksson make the switch to majoring in geology as a junior, and she was able to graduate with just one extra semester of work, in the summer of 1971.
"I was the only woman undergraduate in geology at UK when I was there," she recalls. "That was quite a big thing. It's traditionally a very male-dominated field."
Professors and graduate students in the department, who became her colleagues and friends, encouraged her studies, and Eriksson went on to pursue a master's degree in geology at SUNY-Stony Brook and a doctorate at the University of the Witwatersrand in South Africa—where her future husband, whom she'd met while beginning her doctorate work at the University of Cincinnati, was a faculty member.
After graduate school, Eriksson took an appointment as a research geologist at Arco Oil and Gas in Dallas and then served for 22 years on the faculty of Virginia Tech. Since 2004, she has worked in Boulder, Colo., as education and outreach director for UNAVCO, an NSF- and NASA-funded research facility that focuses on the study and measurement of deformation in the Earth's crust.
Eriksson says that though her time as a UK geology major was rather brief, she enjoyed all of her A&S classes as well as her "fantastic" colloquium within the Honors Program.
It was in Boulder during a UK Geology alumni event that Eriksson met Cara Kiger, a fellow alumna, and they began talking about ways to give back to the College. Together, they have pledged $10,000 to launch the ASK (Advancing Science for Kentuckians) Scholarship, an award for full-time sophomores or above who display financial need and who are studying earth and environmental sciences.
"Because I'm a geochemist and Cara's a geophysicist, we saw this as a way to try to make the other sciences more aware of earth science," Eriksson explains. "If you give a chemistry major a scholarship with a geology connection, he or she might look at the options in a career in geochemistry, maybe."
Eriksson, a Lincoln County native, pledged her contribution in honor of her mother, Dorothy Cook, a graduate of UK's home economics program, while Kiger's gift honors one of her high school biology teachers.
"We both had women who encouraged us to do sciences," Eriksson says. "My mother always talked about the chemistry classes she took at UK. That was an important role model for me as a youngster."