Rebecca Greene knew one thing when she came to college from Elliott County in eastern Kentucky. She was going to leave her tiny hometown of Sandy Hook and become an astrophysicist. No doubt about it.
Both her parents were teachers, and she was reading at a very young age. Greene seemed far enough ahead of the other kids that she was "outcast and ostracized" from the start. "So, I was turned against my hometown in certain ways," Greene said. "I thought I needed to get out of there – that it was suffocating and oppressive."
After landing a Singletary Scholarship to UK, she signed up as a double major – in physics and linguistics. The linguistics part of the equation came from a paper she did in high school on the "science of language." That idea – 'the science of language' – swirled in her head. "I wanted to be an astrophysicist, and I just wanted to learn about linguistics because it was neat," Greene explained.
Halfway through her first semester at college, things were completely upside down for Greene. The calculus and physics classes she was taking were wearing thin, and she suddenly knew that her definitive plan of becoming an astrophysicist was being erased.
The other change was more personal. Back in Sandy Hook, she was an outcast for being the book smart nerd. "When I came to UK I got picked on every day, all the time, because I sounded like a hillbilly," Greene recalled. Students would often laugh at the way she said certain words and ask her to repeat herself as they chuckled. 
"I was on the reverse end of things, because I was the redneck," she said. "That got me interested in sociolinguistics – and language attitudes and language ideology."
Although not a pleasant experience, at that point the science of language was truly beginning to reveal itself to Greene. Linguistics was no longer just "neat," but her new full-time passion.
With professors like Greg Stump, who she says is the "best teacher I've ever had, hands down," guiding her deeper into understanding all that linguistics encompasses; Greene had a new career path. Since then, it's just been a matter of how the journey has unfolded.
A Gaines Fellow while at UK, Greene studied abroad in France and got her ESL teaching certificate. Another abroad opportunity arose, and she then immersed herself in Japanese culture and language, while she taught English in a southern rural high school in Japan.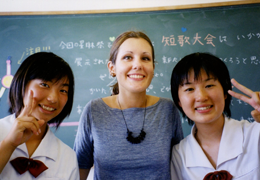 Having finished her undergraduate degree by the time she was in Japan, Greene was ready to continue with her academic pursuits and was accepted to Stanford. She again faced similar adversity as when she first arrived at UK. Her fellow graduate students mostly came from prestigious Ivy League schools, and she again felt isolated and out of place as she tried to find her unique and controversial voice in the academic world. Frustrated, she dropped out in her fourth year and moved to Florida. But odd jobs weren't cutting it and she knew that she had something to say - about her linguistics, about Appalachian English. She headed back to Stanford with a new determination.
"My Appalachian culture allows me to be brave and not care what anybody thinks about me.  That helps me in academia – to stake my own path out."  Greene says her professors criticize her for being too political about her research and that she has an agenda. She couldn't agree more – and with her sociolinguistic interest, the political was sure to follow.
"I want to look at social change and ideology, culture and power," Greene said. "I want to write books for the lay public in addition to being an academic, and to use academia as a springboard to change the culture. I'd like to bring issues of Appalachian English to a national discourse – you usually only really see it in the Appalachian region, and nothing is going to change if it's not brought to national attention."
Greene wants to see how Appalachian stereotypes are perpetuated and how they directly affect people's lives. "On TV the only time you hear someone talking like an Appalachian is when they are being a buffoon," she noted. "What does that mean? How do we fix that?"
"We are careful about getting racial representation on TV shows nowadays – but 50 years ago that was a joke. Now we've come around to the understanding that that is important – to see upper-middle class African Americans on the 'Cosby Show.' We need to know that Appalachian English speakers can be in academia. Because most of us, when we get in academia we drop it – we're afraid of being stereotyped, and we want to sound smart."
"How's another little girl from Eastern Kentucky ever going to feel like she can be a professor if she's never heard a professor talk like her?" she ponders.
She is in the stage of figuring out the best route to do just that. Does she go back home and try to start doing things on a grass roots level? A tough proposition for sure – "When I go home and talk politics to people they are jaded and disgusted by the whole thing – there is no interest in it. They say 'we've been written off for so long, what's the point?'"
The activist inside her soldiers on though. "I want to try and be as loud as I can and say 'I'm representing these people here. And you can't do whatever you want to us.'"
Greene cites mountain top removal of the Eastern Kentucky landscape as an example. "It's egregious and sickening and has lot to do with the way people see Appalachia and our ancestors – that they are not real people that matter and we can do whatever we want to them – because they wouldn't do mountain top removal in California and they would have the power to stop it. Why don't wehave the power to stop this?"
Greene is set to change those patterns, and she's got just the voice – and accent – to do it.
By: Brian Connors Manke