Kevin Harrelson discovered the works of 17th century Dutch philosopher Baruch Spinoza and early-19th century German philosopher Georg Wilhelm Friedrich Hegel while an undergraduate philosophy major at Villanova University. 
Their writing—and their questions—captivated him. His readings of Hegel led to an interest in German Idealism in general, and led him to pursue his doctorate in philosophy at the University of Kentucky.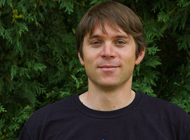 "There were a lot of people at UK studying German Idealism, and it was a good place to pursue that," said Harrelson, who completed his Ph.D. at UK in 2004.
Harrelson is now in his first year as visiting assistant professor in the Department of Philosophy and Religion at Ball State University. 
His first book, "The Ontological Argument from Descartes to Hegel," was published in December as part of the "Journal of the History of Philosophy" monograph series. The book is a development of work begun in Harrelson's dissertation.
In his book, Harrelson offers a chronological study of the ontological argument from the 17th century through the 19th century. The ontological argument, first posited by Anselm in the 11th century, aims to "prove the existence of God from the concept or idea of God," or, put another way, insists that "the very effort to think of God and then to deny the existence of such a thing entails a contradiction," Harrelson said.
Descartes and Hegel both attempted to uphold the validity of the ontological argument by expanding it in new ways. It's generally assumed they were not successful, particularly since many of their respective well-known contemporaries—men like Hobbes, Hume, and Kant—argued against it.
But Harrelson's book argues that Descartes' and Hegel's arguments are more persuasive than is commonly presumed.
"What I find most interesting, and this is quite simple, actually: The argument seems utterly ridiculous. It seems preposterous. It must be wrong, like there's a trick. But for 900 years, philosophers have been unable to completely and satisfactorily say what the problem is," Harrelson said. "So it's like a problem that never goes away."
It's that sometimes tense interplay between philosophy and religion that has always intrigued Harrelson, who first knew he wanted to study philosophy while still in high school. His current research includes forthcoming articles on Hegel's philosophy of religion and on Hume's naturalistic science of religion.
While at UK, Harrelson worked closely with UK professors Daniel Breazeale—his dissertation adviser whom he called his "biggest influence"—along with Ron Bruzina and Brandon Look, with whom he maintains close contact.
Now at Ball State, Harrelson teaches courses on everything from ancient to modern philosophy, and he credits his time with UK's Philosophy Department for preparing him so well.
"I think the strength of the philosophy education I got at UK was in its breadth rather than in its depth in any particular area," Harrelson said. "Looking back, that's what I'm most fond of about the education that I got there. That I was able to work with faculty in many areas of specialty."
After receiving his Ph.D., Harrelson stayed on at UK for three years as a postdoctoral teaching scholar with the university's Honors Program, an experience he says was deeply formative and rewarding. 
The position challenged him to broaden his understanding of humanities beyond the world of philosophy. His sophomore Honors classes delved into art history, drama, poetry, and literature, and led to a period of "active learning for me in the classroom," he said. The experience shaped him as a teacher.
"The Honors Program was such a tight-knit community. I got to know so many of the students, several dozen of them so well that I can say that they impacted me as much as I impacted them," he said.
Everywhere he goes, Harrelson's gift for teaching is lauded. Following his tenure with the UK Honors Program, Harrelson taught for one year at the University of North Dakota, where he was a nominee for the university's top teaching honor. This year he was a finalist for Ball State University's Excellence in Teaching Award.
"That mentoring role is one I embrace very much," he said.
by Robin Roenker