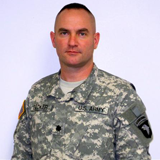 The soldiers of the 3rd Brigade Combat Team (BCT) from the 101st Airborne Division (Air Assault) who are scheduled to deploy to Afghanistan by early March will have a University of Kentucky alum among those leading their mission.
Lieutenant Colonel James Becker, a battalion commander based at Fort Campbell, Ky., will have about 800 soldiers assigned to him as they make their way overseas for a year-long deployment. Becker's unit will be in charge of ensuring all logistics and medical support is provided for brigade combat team soldiers located in Regional Command-East in Afghanistan.
Among their responsibilities will be organizing maintenance of equipment which includes radio systems, mine-resistant vehicles, and weapons, as well as medical facilities, and all the supply and transport operations for fuel, food and water in the area, according to Becker.
It will add to the long list of overseas assignments Becker has fulfilled during his 22-year Army career, a career that started at UK.
Becker grew up in Fort Mitchell, Ky., knowing that he wanted to go to college in Lexington.
"I can't think of a time where I didn't know I would be going to UK," Becker, 42, said. "I grew up listening to football and basketball games on the radio. UK was always my choice."
When Becker started at UK in 1985, he was a computer science major but then eventually switched to accounting and then economics, with a minor in German.
"I enjoyed my classes at the beginning but really grew to like economics more than what I was doing in computer science," Becker said. "I knew I wanted to stay in the College of Arts & Sciences because it would allow me to get a good blend."
In 1988, Becker went by Barker Hall "on a whim" and was looking at photos of students in the Army ROTC program when he was approached to join.
In the summer of 1988 Becker finished his basic training and returned to UK's campus.
After graduating in 1990, Becker moved to Mannheim, Germany where he served as Platoon Leader for the 574th Supply Company and the 512th Maintenance Company, among other assignments. Becker's three and a half years of service in Germany also allowed him and his wife, Maria, to travel.
"We made it to France, Switzerland, England, Italy, Belgium and the Netherlands," he said. "It was a wonderful experience for us. We knew we wanted to travel all along and with the military, that was possible."
The experience was good professionally and personally, Becker said.
"The best part of going to Germany was being able to experience everything as newlyweds with my wife, Maria," he said. "We truly got to grow as a young married couple before starting our family."
So far, Becker's military service has also included two deployments to Iraq, in addition to deployments to Zaire, Vietnam, Cambodia, Laos, Papua New Guinea, Tunisia and China.
Eventually, Becker and his wife, Maria, and their sons Andrew, 14, and Nicolas, 9, moved back to Fort Campbell. Becker is quick to point out that his two sons are already UK Wildcat fans.
Becker said his experience and education at UK helped him get as far as he has in his military career. Becker also holds a master's degree from the United States Army Command and General Staff College at Fort Leavenworth, Kansas.
"My UK economics degree was a very good basis for military experience," Becker said. "It really helped me understand systems from the manufacturing of supplies through the use of those items. The military really is no different from any other industry or institution. We need things, we have to procure those things and then distribute them to our soldiers all over the world."
While there is a lot of conflict going on in the world, Becker said students should keep in mind that the military offers a diverse number of opportunities.
"I can honestly say I would never have imagined I would get to go to all the places that I have been while serving in the Army," Becker said. "It's truly been an amazing experience. UK and the College of Arts and Sciences provided an excellent starting point."
by Sara Cunningham