Alumna Caroline Light says she feels like ending up at the University of Kentucky for her graduate studies "was the luckiest break."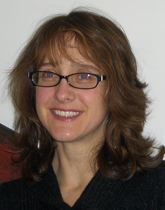 Light is now the Director of Studies in the Women, Gender and Sexuality program at Harvard University. The research and teaching skills she gained while at UK have helped her get to where she is now, she said.
The Virginia native had finished her undergraduate degree in history at Duke University in 1991 and was shopping around for graduate programs when UK caught her attention.
"One of my professors pulled me aside and asked if I had thought about UK," Light said. "All I knew at that point was that they had a basketball team, but I learned that with people like Patricia Cooper and Kathi Kern, UK could offer me a great history department. So that's where I headed. It really was a stroke of amazing luck."
Both Cooper and Kern are still UK Arts & Sciences faculty members.
Living off of Euclid Avenue near the Henry Clay estate, Light rode her bike to campus nearly every day to pursue delving deeper into U.S. women's history, Latin American history, women's labor history and other topics.
"I was being trained as a historian but also got exposure to interdisciplinary pedagogies and ways of thinking that allowed me to do the kind of research I wanted to do and to apply for a wide range of jobs later," Light said.
Besides research skills, Light said she truly became a teacher while at UK.
"I was a T.A. like a lot of students and I got wonderful experience both in large lecture style classes and in smaller classes," Light said. "Kathi Kern actually let me and another grad student help her teach a course on the 1950s and the two of us got to lead some of the discussion."
That experience helped Light grow in her love of teaching.
"It sounds like such a small thing but it helped me see myself as a teacher and feel comfortable in that role," Light said.
For her dissertation, Light moved toward a topic relating to her own Jewish background.
"I started looking at southern Jewish race identity," Light said. "It was the perfect way to merge my interests in race and gender. There is a real gap in the historiography of the United States as it relates to southern Jewish identity."
Because she had finished her coursework and exams during the first couple years in Lexington, Light was able to spend the last two years of her graduate degree work researching in Atlanta, Ga.
"The city has outstanding collections in Jewish American history and I spent all my time pouring over things like case records of Jewish orphans," Light said. "It may not sound very exciting but I was fascinated and I was using all of the skills I had gained at UK."
In 2000, Light defended her thesis, "The world is looking at us from afar: Southern Jewish race identity and orphanhood." 
The experience was challenging enough on its own but Light was also "very, very pregnant," she said. Three weeks after she defended, Light and her husband, Matt Cubstead, welcomed their second daughter, Miriam, to the world.
Light and her husband met while they were both at Duke and had their first daughter, Jocelyn, in 1998. They had a son, Drew, in 2003.
After graduating from UK, Light and her family moved back to North Carolina where Light taught at Duke for eight years.
Last summer, Light was offered the Harvard position and moved to Massachusetts.
In addition to teaching, Light continues to work on her southern Jewish identity research and manuscript. Light hasn't forgotten her own southern roots, either.
"Having gone to UK where I had these outstanding mentors has been so fundamental to my success as a teacher and researcher," Light said. "I don't know what I would have done or where I would be without that."
By Sara Cunningham