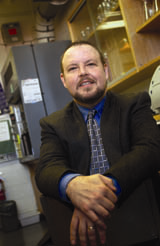 One-on-one teaching assistance is hard to come by in math and science courses, where many students struggle to understand balancing equations, solving for variables, and applying formulas. To address the problem, Benny G. Johnson, Sr., and Dale Holder joined forces, merging chemistry, computer programming and teaching philosophy to create Quantum Tutors, the first artificial intelligence tutoring program for the sciences.
"We thought it would be beneficial to explore developing software that closely approached what real people — good teachers or tutors — do when they work with students, rather than making students complete long lists of questions like a standardized test," said Johnson, a University of Kentucky alumnus and president and CEO of Quantum Simulations, Inc.  
In the past, science or math computer-based educational programs have only offered lists of problems and corresponding answers, according to Holder, an award-winning teacher with more than 35 years of experience. The available software was more like an online workbook than an interactive study tool.
"I don't have anything against the good, old-fashioned workbook, but a computer program should do more," Johnson said. "It seemed like an unimaginative use of the computer for education."
Quantum Tutors filled the gap as a computer-based, AI educational resource for students and their teachers. "The goal is not just to solve a problem, but to help the student who doesn't understand the problem to grasp the concepts involved," Johnson said. "We didn't want to take old software and improve it, but to build a foundation from the ground up. It was fundamentally new."  
The software for Quantum Tutors mimics the fluid work process of students consulting with an actual person, and it offers step-by-step instruction, rather than a simple right or wrong qualification. Instead of using a set of rigid, predetermined questions and answers, the program allows students to bring their work to the computer and get helpful, interactive feedback. 
"Personal connection and one-on-one teaching is the best way to learn," Johnson said.  "Understanding is nothing without practical applications. Understanding comes from practice, from struggle, from application that makes the concepts real." To mirror this philosophy in the Quantum Tutor software design, Johnson relied on Holder, his high school chemistry professor and mentor.
"My job was to supply the academic aspect," Holder said. "We structured the computer interface to maintain a conversational and learning conductive tone. I think that comes through in the software, which is unusual."
They designed the Quantum Tutors based on several ideals: to provide students with meaningful support, to allow them to field problems and ask questions, to show them how to work through problems, to give feedback on the problem-solving process and to treat them with respect to increase self-efficacy.
"Self-efficacy is important to motivate students," Holder said. "Students have to feel some sense of accomplishment or success in what they are doing to keep them interested in a subject."
Quantum Tutors programs are currently being developed in other fields, such as accounting and math. While Johnson admits that a computer can't take the place of a real tutor, it can help students grasp the subject and get comfortable with solving problems. "We're not trying to replace human teachers, but, realistically, there will never be enough high-quality tutors around to help every student one-on-one," he said. "The challenge is getting the computer to closely mimic a human tutor."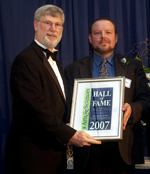 Johnson was inducted into the University of Kentucky's Hall of Fame 2007 for his work with Quantum Tutors and his contributions to the field of chemistry, education, and computer programming.
"There's no question about Benny deserving such recognition as the UK award and it's a great honor for him," Holder said. "Benny was bound to be successful with all his ability, drive and tenacity. He is unwilling to give up or to accept that something can't be done." 
Johnson said he knew he had been nominated to the Hall of Fame, but he didn't expect the recognition. "I love and identify with UK. I wear UK T-shirts all the time," he said. "The other alumni who will be inducted are highly accomplished, recognized scholars. It is an honor to be included with such amazing people."
By Brianna Bodine