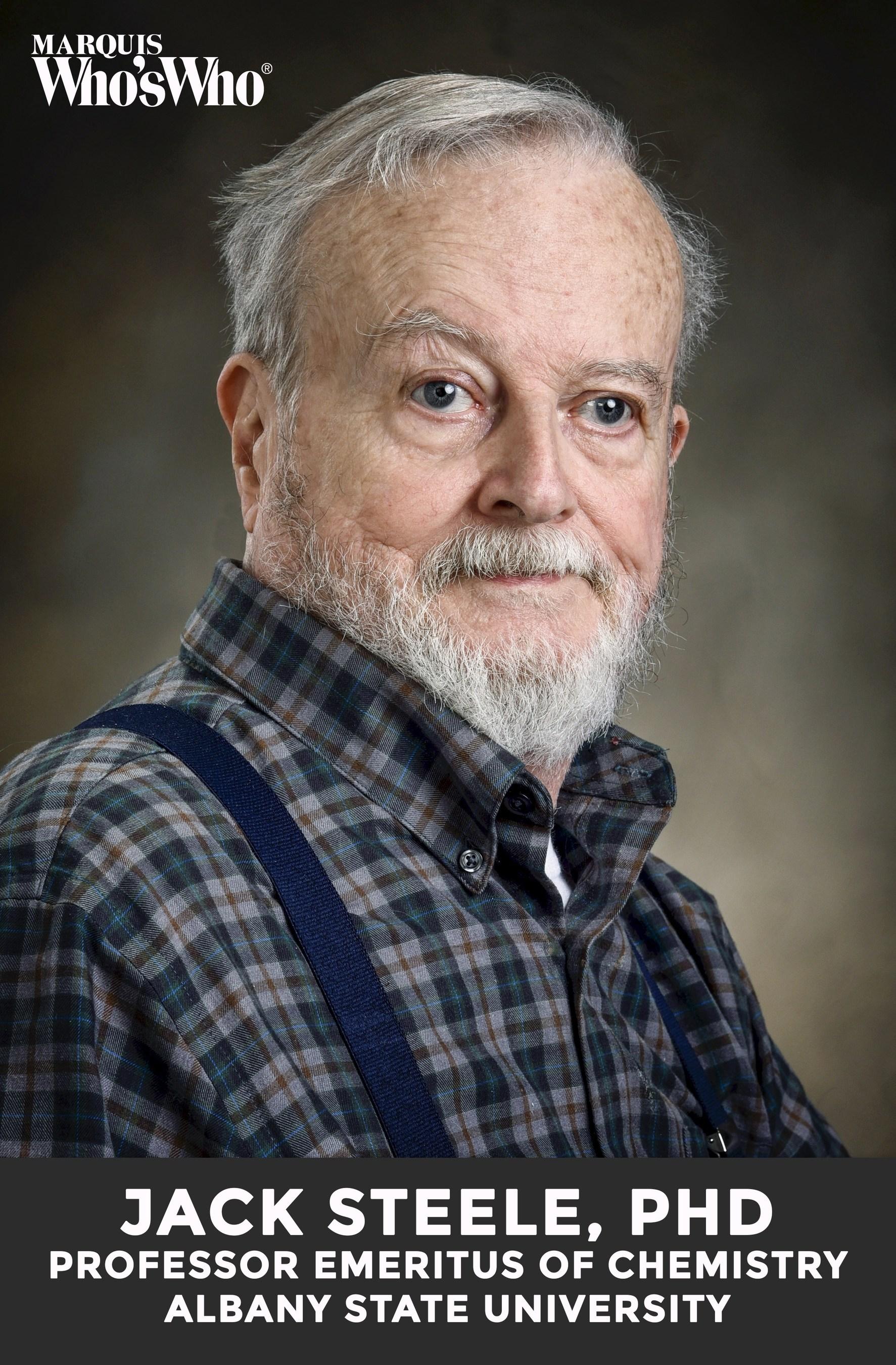 As a 6th grade student in his hometown of Greencastle, Indiana, Jack Steele realized that his life ambition was to be a chemist and, when time came to go to college, he pursued a BA in chemistry at DePauw University. Jack worked on electrochemistry with Prof. Eugene Schwartz at DePauw the summer of 1964 after getting his BA. Following his work at DePauw, Jack opted to pursue a Ph.D. at the University of Kentucky. He had a great appreciation for Prof. Donald H. Williams who directed his graduate research at UK. While he considers himself a coordination chemist, his coursework and research reflected broad interests – from electrochemistry to biochemistry. Dr. Steele has said that Professors Don Sands and Joe Wilson of UK Chemistry were "without a doubt" the best teachers he ever had. 
After receiving his doctoral degree in 1968, Dr. Steele accepted a postdoctoral position at the Washington State University with Dr. Ivan Legg. In addition to working on his research projects, he taught large-enrollment general chemistry courses and was responsible for an NMR instrument that was used in undergraduate organic labs, which probably put Washington State well out ahead of the curve for the use of NMR in teaching labs. 
Following his postdoctoral stint, he accepted a position as an Assistant Professor in the Department of Chemistry and Physics at Albany State University, a public, historically black university in Albany, Georgia. At that time, in 1970, he was one of three chemists on the faculty: one taught general chemistry, one taught organic chemistry, and everything else fell to Prof. Steele. Needless to say, this meant that he was called upon to teach a broad range of courses. In addition to courses in the traditional chemistry curriculum (including inorganic chemistry, analytical chemistry, group theory, physical chemistry, biochemistry, and more) he taught clinical chemistry and toxicology. Drawing on his experience with these courses and with collaboration from two friends from his time at UK, Vernon Stubblefield and Bob Frass, Prof. Steele produced the proposal that led to the formation of a new Forensic Sciences program which, more than 40 years later, remains a popular undergraduate major at Albany State. 
When graduate programs in Education were established, he was named to the College of Education Graduate Faculty and began teaching graduate-level analytical and physical chemistry courses in support of those programs. He also taught pathophysiology in support of the School of Nursing. Over the course of his career at Albany State University, he was affiliated with the College of Education, the School of Nursing, and with the Criminal Justice program, in addition to his position in the Department of Chemistry and Physics. 
He rose through the ranks to become full professor, and he served as Department Chair for four years. All the while, he was innovating and expanding the educational opportunities for students he worked with Georgia Tech to establish a pre-engineering program at so that undergraduates could move into engineering graduate programs. He co-founded the Southwest Georgia Section of the ACS, which won the award for Best Small Section a few years later. 
Prof. Steele retired from Albany State University in 2005 and is now emeritus and living in Albany, GA. Over the course of his long career, Prof. Steele was awarded grants from the Mott Foundation, the National Science Foundation, and from the Minority Schools Biomedical Support program. His students have become doctors, nurses, dentists, pharmacists, engineers, and teachers, and his influence on them is benefitting countless patients, companies, and students. In February 2019, this remarkable career was recognized with the Albert Nelson Marquis Lifetime Achievement Award.