Rearranging Courses in Your Blackboard Course List
It is possible to rearrange your course order on your Course List on your My Bb page. 
Please refer to the video below on how to do so, or continue on to the written steps below.
Steps:
Navigate to your "My Bb" page. This is the same page that appears when you first log into Blackboard.
2.
Hover Over Course List for Gear
Once you are at "My Bb," hover over your course list. A small gear should appear at the top right corner of the list.

3.
Click "Personalize: Course List"
Once you click on the gear it should take you to the "Personalize: Course List" page. Here, click on the double arrows next to the list you wish to modify.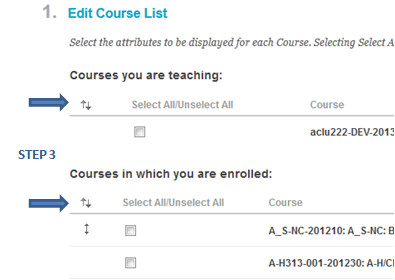 Once you click on the double arrows, a box should appear with a list of your courses. Select a course, then use the up and down arrows to navigate where you want to place this course. Once you are done rearranging your courses, click "Submit."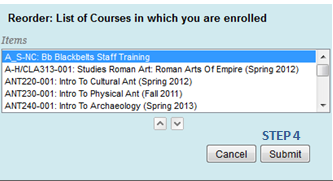 Your courses should now be arranged the way you prefer when you log into Blackboard.