How to do a Course Copy
The following tutorial will show you how to copy over some or all of the materials in a course.
APAT/UKIT suggests the following course copy settings:
IMPORTANT: (1) If the course you are copying from (the one you are in) is a course from Spring 2009 or before, DO NOT CLICK SETTINGS. This will copy in the settings from a Blackboard 8 course and could result in formatting problems.
                      (2) Before Tests (deployments) and Assignments are copied over, "Grade Center Column and Settings" must be checked. The following errors will occur if "Grade Center Columns and Settings" is not checked:
                             i. SafeAssign assignments are copied, but no grade columns are created for them. (Once any of the SafeAssign assignments are edited by the Instructor, the columns for those assignments with be created in Grade Center.)
                             ii. Tests (and test options) are copied over, but not deployed.
                             iii. Assignments are not copied over.
                         (3) If you have copied over SafeAssignments: Please note, within the new course, you must navigate to the Course Tools sub-menu of the Control Panel and select SafeAssign and then SafeAssignments to "Synchronize this course".
If your material does not copy over to your new shell as it should have, please contact the IT Service Desk by calling (859) 218-HELP (4357). 
Steps:
1.
Go to the Course you want to copy
Under Course Management, select Packages and Utilities then select Course Copy.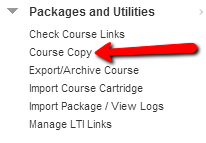 2.
On the Course Copy Page
From here, make sure that in section 1 "Select Copy Type" that the drop down menu has "Course Copy Materials in an Existing Course" is selected.

In section 2 next to "Destination Course ID" select Browse and choose the course where you want the material to be copied to. After selecting the desired course, scroll and click Submit.

4.
Selecting what to copy
Now that you have selected the course where the copied materials with be transferred to, you must choose which materials you want copied. It is typical to choose Select All. Please keep in mind that material such as announcements will be outdated and need to be deleted or updated. Please also note that even after clicking Select All, all of the boxes will become checked EXCEPT for Availability, Course Guest Access, Course Observer Access and Duration. These will need to be manually selected if desired, but they are fairly uncommon and typically left unchecked.
In section 3, leave the default option, "Copy links and copies of the content" checked.

In section 4, make sure that "Include Enrollments in the Copy" is NOT selected.
Now click Submit. You should receive an email stating that the transfer was a success. Please keep in mind that you will likely need to redeploy all exams.
8.
Course Copy and Safe Assign
If your course has been copied over from another, it is important to "synchronize" your new course using SafeAssign. To do so, you will go to your Control Panel in the Blackboard shell --> Click on Course Tools --> Click on SafeAssign --> Click on SafeAssignments --> From there, you will find a gray button which will say "Synchronize this course." Click on that button to synchronize your course. If at any time you realize you have forgotten this step, or if SafeAssign is giving you trouble, you can click this button.

After completing a Course Copy, it is highly recommend to give the new course a thorough look-over and answer these following questions: -Have all the tests and quizzes been imported correctly? If there are missing tests or quizzes, they can sometimes be found in the list of tests that appears when adding a new test. To check if the tests/quizzes copied correctly, click: 1) The content area where the tests/quizzes are located. Then hover over Assessments and select Test. 2) A list of tests/quizzes should appear. 3) Find the test/quiz that did not copy over and add it to your list by selecting it and clicking Submit. -Have all replies to communication (discussion boards, blogs, journals, wikis, etc) been deleted? - Make sure to update any information that is outdated such as, announcements, assignment dates and so on.