Basics of Turning Point V5
TurningPoint 5 integrates a variety of TurningPoint applications into one easy to use environment.  PowerPoint polling, AnyWhere polling, and ResultsManager can now share participant lists across polling methods and provides easier evaluation throughout the semester. It can be downloaded for free at download.uky.edu after using your linkblue information to login. 
Please note that in order to be able to download participant lists from Blackboard or upload grades, you must use TurningPoint 5. TurningPoint 2008 will no longer be supported. Please save a backup of your presentations before opening them in TurningPoint 5! Once a presentation has been opened in TurningPoint 5, it will be converted and will NO LONGER open in TurningPoint 2008. 
Steps:
Click the Start menu icon in the bottom left-hand corner. Locate the Turning Point folder and click to launch the Turning Point Software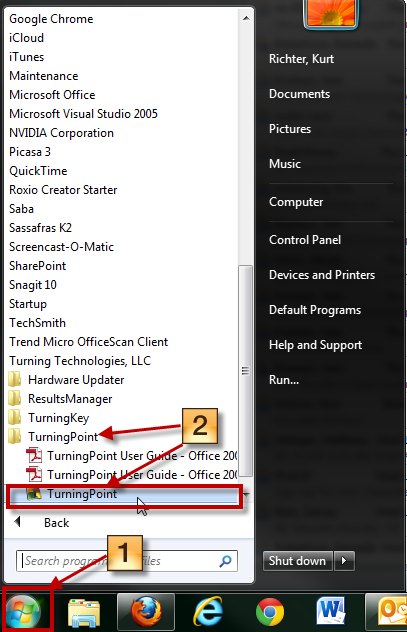 (1) The Polling tab administers a Turning Point Interactive poll. (2) The Content tab creates or imports new Turning Point interactive polls. (3) The Manage tab works with the data collected during class sessions/quizzes/tests. It can also create or use Participant Lists. (4) The Turning Talk tab engages in the Turning Technologies Social Forum and community. (5) ResponseWare engages remote participants. (6) Participants creates and manages participants list. (7) Anonymous Polling can facilitate collaboration and discussion because it does not identify ownership of collected polling responses. (8) Content lists materials used recently.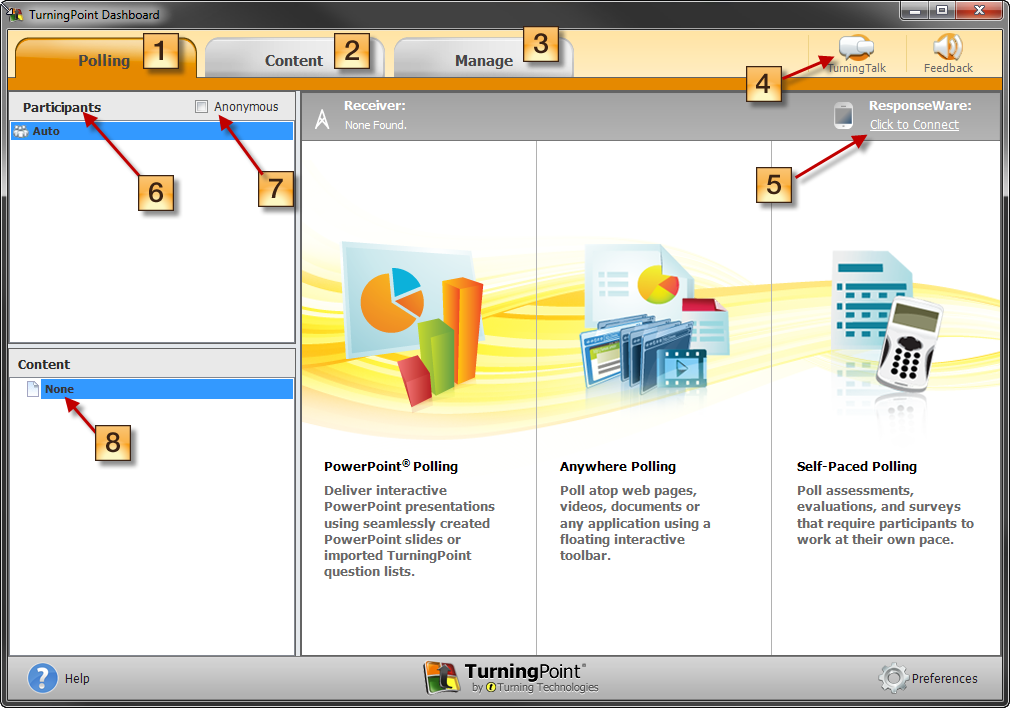 3.
Launch/Run a new TP Presentation
Click on Polling in the upper left hand corner and PowerPoint Polling in the main screen area. This opens TP in Powerpoint.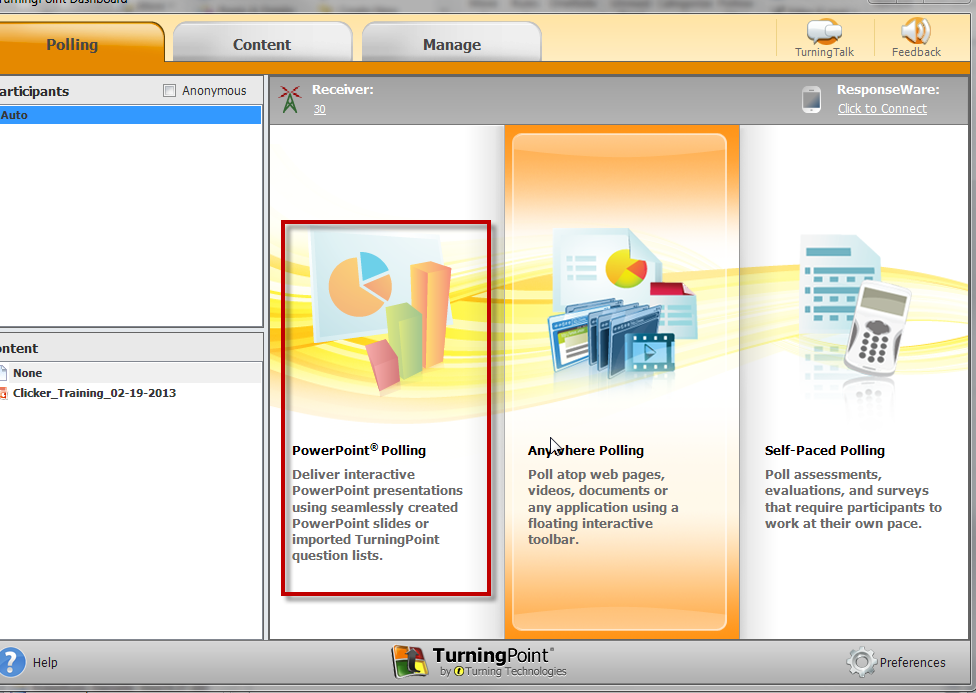 Click the Turning Point Tab within the Powerpoint interface.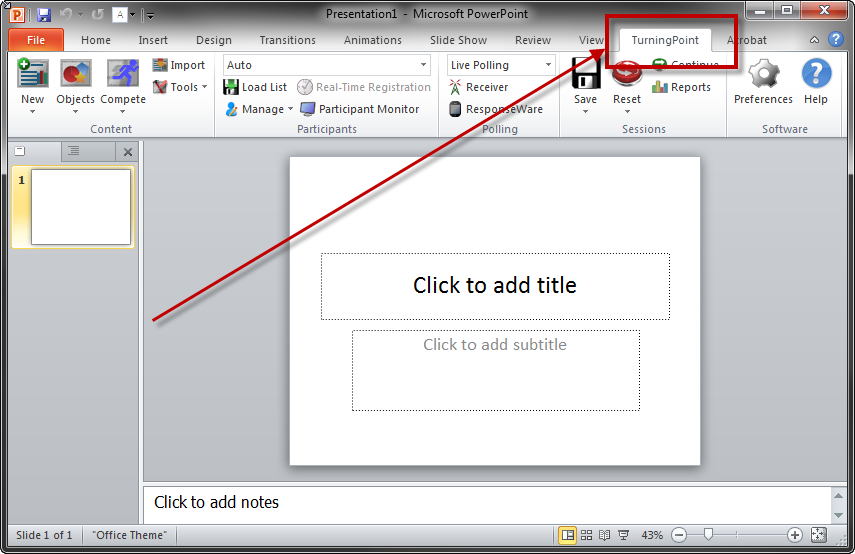 5.
Interactive Question Slides
Add Interactive Question slides by clicking on the New icon on the TurningPoint tab. The user can insert any of the following types of questions. 1.) Multiple Choice - questions require one or more responses. Can be set for multiple responses. 2.) Short Answer - questions are answered by a word or short phrase. Must match exactly to be counted as correct. 3.) Numeric Response - questions are answered by a real number with up to 9 places, including decimals. 4.) True/False - questions tare answered by "True" or "False". Options to these responses such as "Not sure" or "Uncertain". 5.) Essay - This response is not automatically assessed by the program. Users can find it awkward to enter more than one or two word responses. 6.) Demographic Assignment slide contains a question text box, an answer text box that allows for up to 10 answer choices and a chart. The demographic assignment slide assigns participants to demographic/competition groups. 7.) The priority ranking slide contains a question text box, an answer text box that allows for up to 10 answer choices and a chart. The slide weighs participants' choices and then ranks them accordingly. 8.) Priority ranking questions may have up to 10 answer choices. Items are ranked by the participants and then scored based on response weights. 9.) An ice breaker slide uses an analogy or word scramble question to get the participants involved in the polling presentation. Analogies are automatically generated, but a word must be provided for the word scramble. 10.) Moment to moment slide can be used to have participants rate something on a scale of 1 to 5 over a period of time. The slide contains a question text box and a chart that shows the average response at each polling interval. The chart displays the average response over time in a line graph.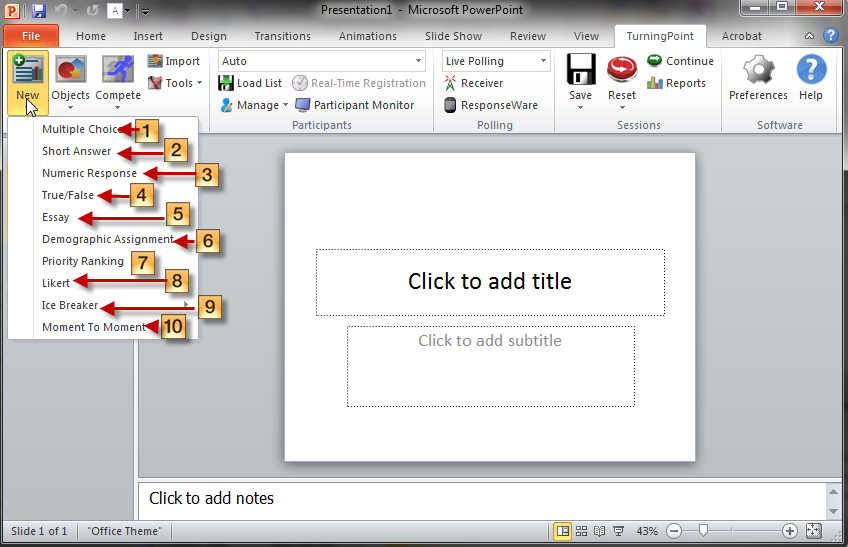 For each interactive question, the user must assign points and values (correct or incorrect) using the Slide Preferences dialogue box (blue box on the side) if data is to be gathered and reported on student performance. 1. Set Question Options. Default setting is shown. If the user prefers numeric format for answers (A instead of 1,2,3,4), change Bullet Format options. If more than one answer can be given, check the Multiple Response box. 2. Set Polling Options. Default setting is shown, and includes Automatically Open Polling and Show Results After Polling. User can alternatively Show Results. User can set First Response Only if desired. 3. Set Scoring Options. Default setting is 1 point for Correct Value and 0 points for Incorrect Value.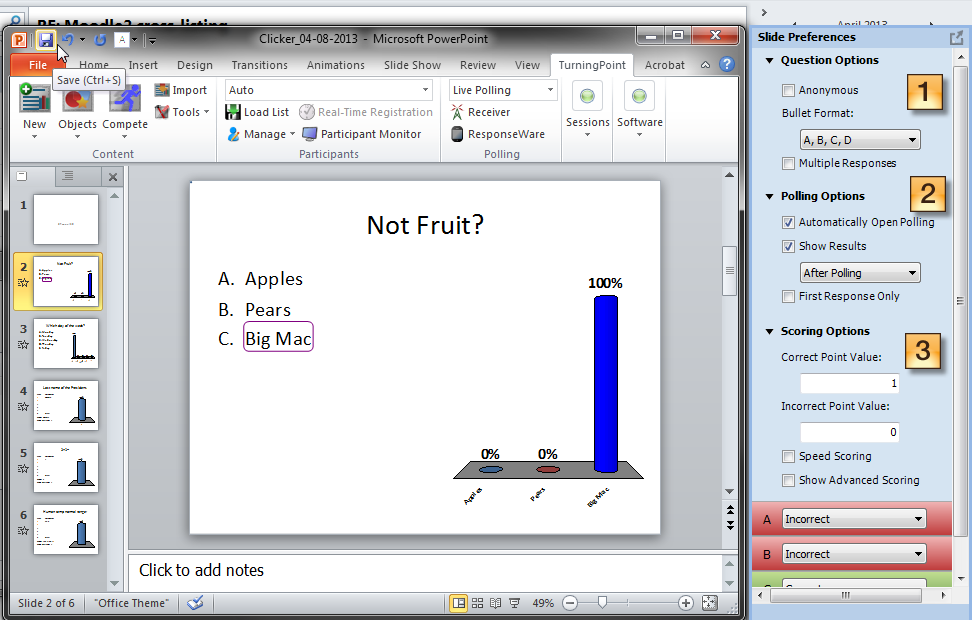 Setting one answer as the Correct Response sets all other responses automatically as Incorrect Responses. User can add alternative Correct Responses.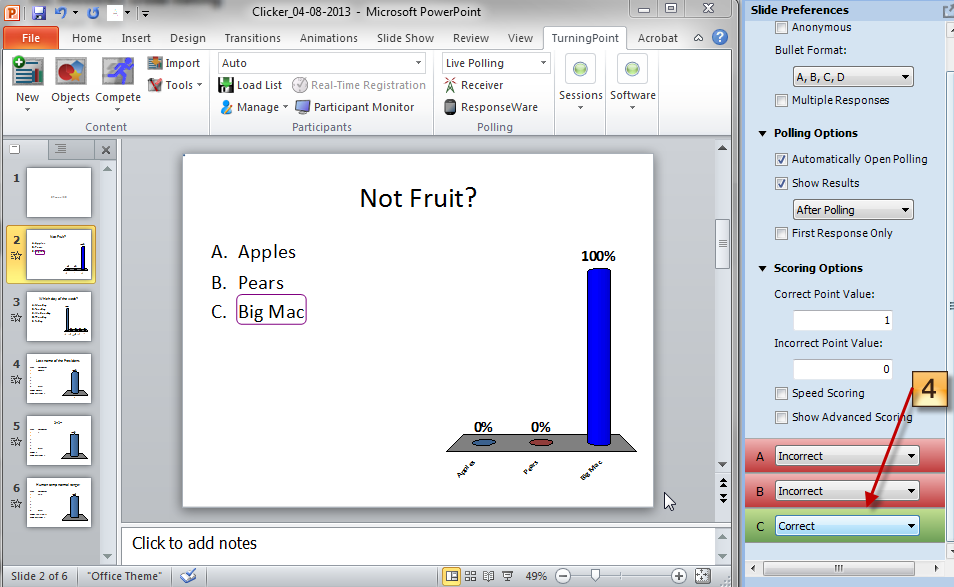 Prior to presenting your Turning Point-enabled slides, click Reset and in the drop down menu, click on Session. This resets all previously gathered data to a new zero, allowing the user to gather new data for the presentation.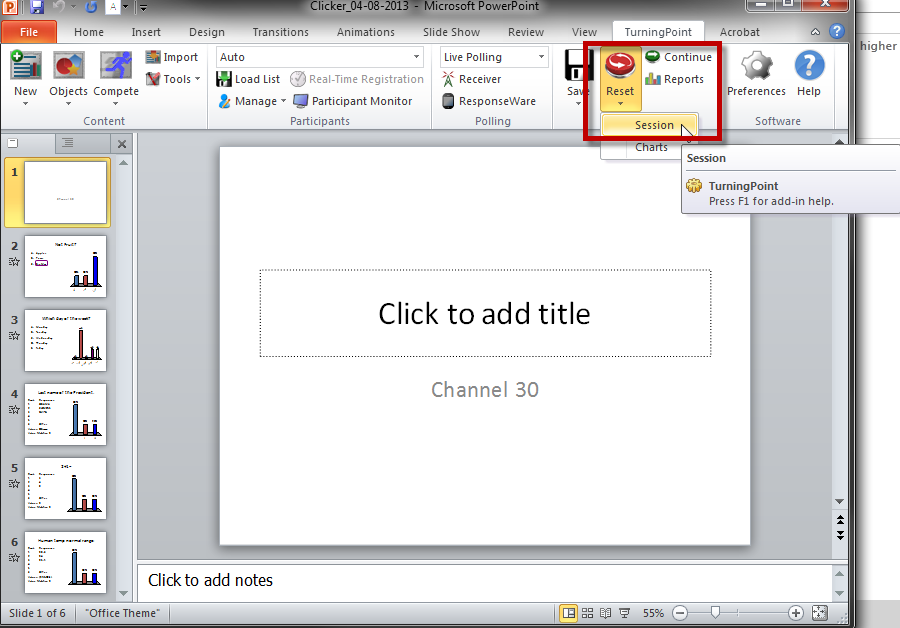 After presenting to your class, you must click in 2 different places to save your data. 1.) Click Save. 2.) In the drop down section, click Save Session.