The Office for Policy Studies on Violence Against Women (OPSVAW) in the College of Arts and Sciences announced today the selection of four graduate students to receive three named graduate fellowships and one named research assistantship during the 2020/2021 academic year. The students were selected following a competitive proposal process the OPSVAW holds each year.
"Support of graduate students is among our highest priorities," said Carol E. Jordan, Executive Director of the OPSVAW. "The annual graduate student support program gives us a substantive opportunity to advance scholarship in the field of gendered violence in the short term, and by what these young scholars do in their future careers, to meaningfully contribute to ending gendered violence in the long run," said Jordan.
"We are particularly enthusiastic about the four students we selected this year for support," said Jordan. "These graduate students are conducting cutting edge research and comprise the most diverse cohort we have ever funded. I believe that their diversity will be reflected in the contributions they make to the body of knowledge in the gender violence field," she said.
The named graduate fellowships and assistantship are inspired by the stories and accomplishments of extraordinary women and include:
The Ashley T. Judd Distinguished Fellowship
The Ashley T. Judd Distinguished Graduate Fellowship was created in 2017. Ashley Judd is well known for dexterously starring in both box office hits and for turning in unforgettable performances in fine independent films. From her debut in Sundance Film Festival grand jury prize winner, Ruby In Paradise, to Where the Heart Is, Simon Burch, Helen, De-Lovely and Divine Secrets of the Ya-Ya Sisterhood, her films tell very personal stories– which is exactly what Judd does when she is not making movies. But the stories she tells are not about being a Golden Globe and Emmy-nominated actress or about making People magazine's "50 Most Beautiful People" list three times. Ashley Judd is a feminist and social justice humanitarian. She has been working internationally, with NGO'S, grassroots organizations, governments, and supranational bodies since 2004. Presently, she serves as Global Goodwill Ambassador for UNFPA, is the Global Ambassador for Population Services International, and also for Polaris Project. She serves on the Advisory Boards of International Center for Research on Women, Apne Aap Worldwide, and Demand Abolition. She is Chairperson of the Women's Media Center Speech Project: Curbing Abuse, Expanding Freedom. She has also served as a board member for Population Services International (PSI) and as Global Ambassador for YouthAIDS. She is a graduate of the University of Kentucky, and in 2010, earned a Master of Public Administration (MPA) from Harvard's Kennedy School of Government. Her paper, Gender Violence, Law and Social Justice won the Dean's Scholar Award at Harvard Law School. She was also named a distinguished alum of the University of Kentucky in 2020. Ashley has worked closely with Carol Jordan and the OPSVAW for several years.
The Ashley T. Judd Distinguished Graduate Fellowship is being awarded to Ruwen Chang, a 3rd-year graduate student in the Department of Gender and Women's Studies. The Judd Graduate Fellowship will support her year-long fieldwork in China from August 2020 to July 2021. This fieldwork will offer primary data for her dissertation research. Ruwen studies the interlocking connections between violence against women and stratified reproduction in contemporary China. Through her research, she argues that stratified reproduction impacts violence against women through spirit murder, slow killing, and human trafficking. Her dissertation project can contribute to the scholarship and public policies on violence against women worldwide.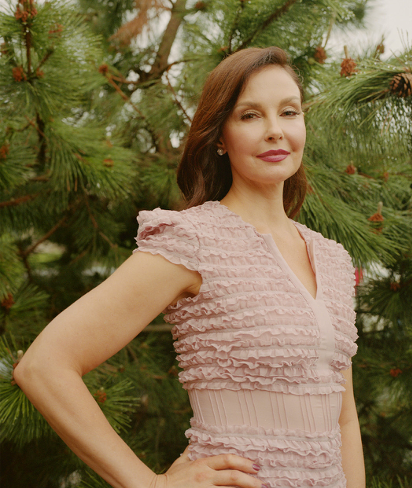 "My warmest congratulations to Ms. Chang on her receipt of the Fellowship I set up with the OPSVAW. I have done a great deal of advocacy for women in different countries around the world, so I am particularly delighted to see that her work has an international focus. We will not end gendered violence until we attend to it in every country where it occurs," said Ashley Judd upon hearing of Ms. Chang's award.
"We are very pleased to have the opportunity to support Ruwen through the Ashley T. Judd Distinguished Graduate Fellowship," Carol E. Jordan, executive director of the Office for Policy Studies on Violence Against Women, said. "Her scholarship uniquely and effectively advances comparative research into the varied experiences of women through the lens of multiple countries," said Jordan.
"I am consistently impressed, but not surprised, by Ruwen's accomplishments and her profound personal and professional commitment to understanding, furthering knowledge about, and combating multiple forms of violence. Ruwen is an amazingly sharp individual, and I am so excited and grateful that she will be able to conduct her important and ambitious field research in China with the support of the Ashley T. Judd Distinguished Graduate Fellowship. I have no doubt her work will push Chinese Studies and feminist scholarship in exciting new directions," said Ruwen's faculty advisor, Cristina Alcalde, Ph.D., Professor of Gender and Women's Studies and the Marie Rich Endowed Professor. Dr. Alcalde also serves as Associate Dean of Inclusion and Internationalization in the College of Arts and Sciences.
Mary Byron Research Assistantship
The OPSVAW will also bestow the Mary Byron Assistantship during the coming academic year. The Fellowship is named for a 21-year old woman who lived in Louisville, Kentucky. In 1993, her abusive boyfriend was arrested for kidnapping and raping her. She asked local law enforcement and corrections officials to notify her when he would be released from jail as she knew how dangerous he was to her. At the time, however, no automatic notification system was available, so Mary did not receive an alert. On her 21st birthday while leaving work, her ex-boyfriend brutally shot and killed her. Mary's death, through the dedicated work of her parents John and Pat Byron, led to creation of the statewide automated victim notification system (V.I.N.E.®), a first of its kind national resource for crime victims. The OPSVAW honors Mary Byron's life and the steadfast work of her parents through the fellowship program.
"John and I loved helping to create the assistantship in our daughter's name and have been so pleased to watch Mary's spirit come to life in the work of these amazing young doctoral students. She continues to live through their work, and I know she inspires them. Both of these mean so much to our family," said Pat Byron, Mary's mother.
"We are uniquely honored to bestow the Mary Byron Fellowship/Assistantship to advance the career of a bright young scholar while also teaching the lesson that there are real women behind the academic work they do," Jordan said. "Our students learn Mary's story as they study and conduct research, giving profound purpose to their academic careers as they also add to the field with their scholarly contribution and maturing expertise."
The Mary Byron Assistantship is being awarded to Jordyn M. Tipsword in the Department of Psychology. She is a first-year doctoral student in the Department's Clinical Program with a research focus on the psychological impact of child sexual abuse in women. Her work that will be supported by the Assistantship focuses on how re-victimization and negative self-focused trauma-related emotional responses influence disordered eating behaviors among women who have experienced childhood sexual abuse.
As an undergraduate, Jordyn conducted research at Sunflower Kids, a local non-profit in Lexington, Kentucky, that provides supervised visitation services for children and families that have been impacted by domestic violence, sexual assault, and other traumatic events. She has also served as a volunteer advocate at Ampersand, the regional rape crisis center located in Lexington.
Jordyn's faculty advisor is Dr. Christal Badour, Assistant Professor in the Department of Psychology and director of the Stress, Trauma, and Recovery Research Collaborative (STARRC) in the Department who, upon hearing of the award, said, "Although Jordyn is early in her graduate career, she has been extremely dedicated to building an independent research program that is focused on understanding and improving the mental and emotional health of women who have experienced sexual violence. Her project on trauma-related emotion and eating disorders is a welcome extension to the violence against women research in our lab and I'm thrilled that she was selected for the Mary Byron Assistantship."
The Georgia Davis Powers Graduate Fellowship
In 1968, Georgia Davis Powers became the first African American and the first woman ever elected to the Kentucky State Senate. Even before she began her career as a senator, Georgia Powers was a great leader in the Civil Rights Movement in Kentucky. Senator Powers' public service career often focused on the unique needs of women, but her preparation for being an outspoken pioneer in matters of gender started much earlier. She was born in Springfield in Washington County, growing up as the only girl in a family of nine children. Within the pages of her autobiography, I Shared the Dream, Senator Powers also revealed the way in which violence marked the years of her life. She is a survivor of violence, she is an instigator of change, and she is an inspiration to all future generations of girls and women.
In honor of Senator Powers and her work on behalf of women, the Georgia Davis Powers Endowment was established. The Endowment symbolizes the truth that violence against women is pervasive in the United States and around the globe, crossing boundaries of race, ethnicity, class, caste and age—crossing lines of country, region, state and nation. The Georgia Davis Powers Endowment affirms the importance of addressing race, ethnicity, and other socio-cultural factors in the study of violence against women. The Endowment supports the important work of graduate and professional students who, inspired by Senator Powers' life and story, study in the violence against women field.
Two Georgia Davis Powers Fellowships will be bestowed in the coming academic year. First, to Jessica Flores. Jessica is currently a fourth-year doctoral student in the Clinical Psychology program at the University of Kentucky. Her faculty advisor is Christal Badour, Ph.D., Assistant Professor and Director of the Stress, Trauma, and Recovery Research Collaborative (STARRC). The research that will be funded by the OPSVAW Powers Fellowship will focus on development and testing of a culturally sensitive model of intimate partner violence (IPV) and sexual health in young adult Latina women.
"I was so pleased to learn that Jessica received the Georgia Davis Powers graduate fellowship. Her work aimed at improving sexual health disparities among Latina women who have experienced intimate partner violence has tremendous potential to inform limited models of sexual health in Latina women. Her efforts to situate her model within the context of relevant socio-cultural risk and protective factors that impact Latina women is emblematic of the work of Senator Powers. Jessica's passion for promoting health equity shines in both her research and clinical endeavors," said Dr. Badour.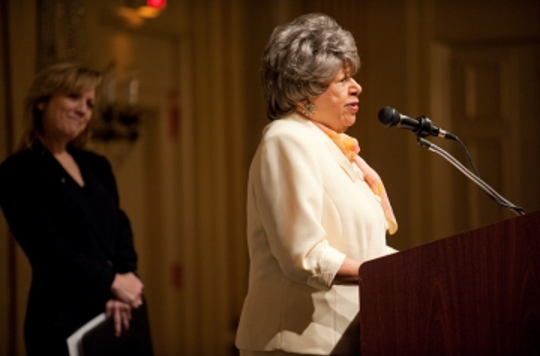 Additionally, a Powers Fellowship will be awarded to Baylee Harrell who is a second year Ph.D. student in the Department of Political Science with a broad research interest in violence against civilians. Her funded project is entitled "Sexual Violence in the Shadows: Private Military Contractors and the Perpetration of Sexual Violence in Armed Conflicts." Bailey's faculty advisor is Julienne Haglund, Assistant Professor of Political Science at the University of Kentucky
"The Political Science department is honored to have one of our students supported by the Georgia Davis Powers Graduate Fellowship. Baylee is an exceptional graduate student who has demonstrated excellent research potential and a unique passion for studying violence against women. Her project will forge new grounds in our understanding of the consequences of armed conflicts on women and will set the stage for her dissertation work on this topic," said Clayton Thyne, Chair of the Department of Political Science.
For additional information regarding graduate student support, contact Carol E. Jordan or refer to the website of the OPSVAW.