Speaker(s) / Presenter(s):
Dr. Lisa Mignone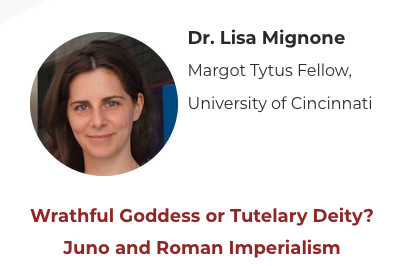 Lisa Mignone is the author of The Republican Aventine and Rome's Social Order (University of Michigan Press, 2016).  She was the inaugural Guangqi Lecturer at Shanghai Normal University in China (2016), and she has won several other international fellowships, including a Rome Prize at the American Academy in Rome (2006-2007) and the Margot Tytus Visiting Scholarship, which she currently holds.  She has written articles on urban social integration, religious topography, and classical reception, and she was an editor of Studi e Scavi sull'Aventino 2003-2015 (Quasar Edizioni). Her second monograph, Rome's Juno: religious imperialism and self-preservation is under contract with University of Michigan Press.
Wrath.  Hatred.  Brutality.  Is there more to the goddess Juno than the constantly cuckolded wife of Olympian Jupiter, the goddess ever-hateful of Aeneas' destiny to reach Italian shores and found Rome?  This paper positions both the goddess Juno and her worship outside of literary conventions, where she consistently appears as a foreign or external goddess in constant need of appeasement, inveiglement, and reconciliation.  When we look beyond (or around) the literary character to examine the object of active veneration, Juno emerges as the goddess to whom Romans turn at times of extraordinary military crisis--and she is the deity who responds. She not only protects the Roman state, but also extends its imperial jurisdiction.  This paper examines the role of the foremost goddess in Roman religious culture and practice during the Republic, particularly with respect to issues of Roman manhood and imperialism. Arguments draw from historical, religious, archaeological, epigraphic, numismatic, art historical and literary evidence from Rome, Etruscan Veii, Latin Lanuvium, and Punic Carthage. This work contributes to the study of ancient imperialism, Mediterranean religions, and inter-cultural history. Furthermore, it provides the cultural and historical context in which we can more fully recognize and appreciate the divide between and intersections across poetic creation and performed religious experience. While the initial goal of the project may have been to cleave religious, military, and political history from the contaminating influence of poetic constructions, ultimately the project deepens and enriches our understanding of both Roman religious-military practices and the construction of Juno as a literary character.
Type of Event (for grouping events):