Location:
Jacobs Science Building 321
Speaker(s) / Presenter(s):
Dr. Ridha Moumni, Harvard; Dr. Anja Bettworth, University of Cologne; Dr. Nisrine Slitine El Mghari, UK; Dr. Paolo Visonà, UK
MCLLC ~ Bluegrass Classics Lectures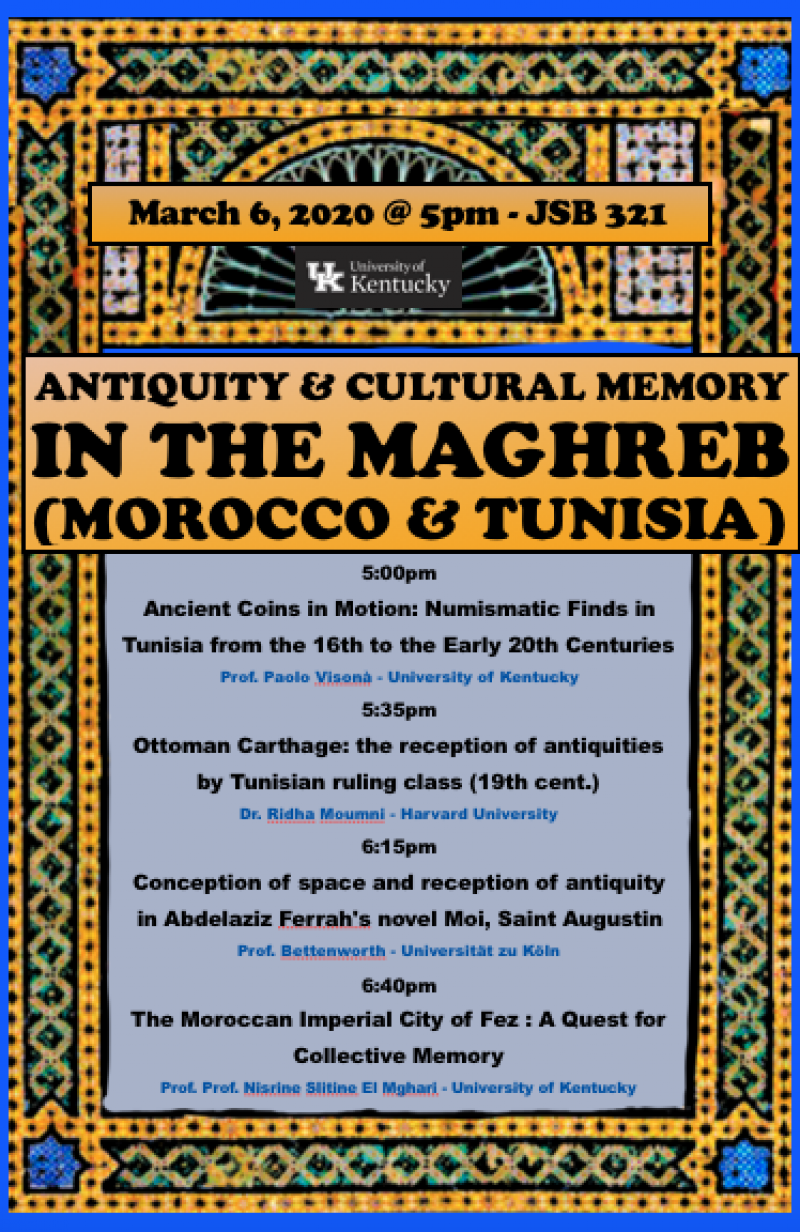 Prof. Dr. Anja Bettenworth
Professorin für Klassische Philologie
Universität zu Köln
​Conception of space and reception of antiquity in Abdelaziz Ferrah's novel Moi, Saint Augustin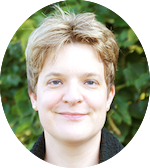 Prof. Bettenworth is Professor of Latin at the University of Cologne. She specializes in Roman Elegy, Greek-Roman Epic, Curtius Rufus, andthe Reception of the Antiquity, especially in modern Maghreb. Her current project examines the reception of antiquity in modern literature and film of the Maghreb. The focus is on the role that ancient figures play in the post-colonial societies of North Africa, especially for the Berber population.
Dr. Ridha Moumni
Tunisia Postdoctoral Fellow
THE CENTER FOR MIDDLE EASTERN STUDIES | HARVARD UNIVERSITY
Ottoman Carthage: the reception of antiquities by Tunisian ruling class (19th cent.)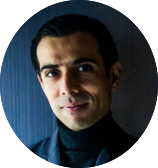 Dr. Ridha Moumni is currently an Aga Khan Fellow at the Department of Art History of Harvard University. He is conducting research at Harvard's Center of Middle Eastern Studies on the collection of Muhammad Khaznadar, the first Tunisian dignitary to excavate the ancient site of Carthage. A second project explores the role of the arts in nation building in Postcolonial Tunisia. Dr Moumni recently published a book on Tunisian visual artists from the 19th century to the Revolution. He is currently at work on a book project on the collections of Bardo National Museum.
Prof. Nisrine Slitine El Mghari
Assistant Professor of Arabic and Islamic Studies, and French and Francophone Studies | ​Modern and Classical Languages Literatures and Cultures | University of Kentucky
The Moroccan Imperial City of Fez : A Quest for Collective Memory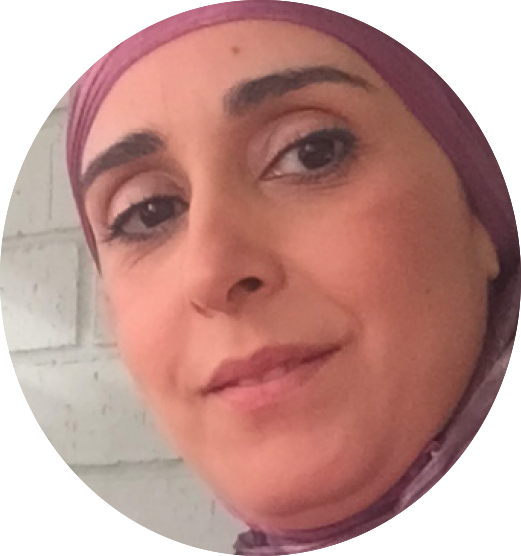 Professor Slitine El Mghari's research focuses on representations of the city in 20th- and 21st-century Francophone and Arabophone Moroccan literature. More specifically, her work concerns itself with the different social, historical, and political forces that contribute to the construction of urban spaces, and draws on various critical and theoretical fields, including colonial and postcolonial studies, cultural memory studies, gender studies, and literary studies, while at the same time considering different contemporary Moroccan urban structures from a spatio-temporal perspective. Currently, she explores forms of popular culture, ranging from grafitti, the graphic novel, to new-age journalism, as well as texts written in dārija (the Moroccan dialect). Her interest in cinema studies includes more contemporary genres like the various web series produced by young North African artists and examining social, cultural, and political realities. Her research areas are also in Maghrebi Francophone and Arabophone literature and civilization, Sub-Saharan Francophone fiction, and French Antillian literature and culture. 
Prof. Paolo Visonà Associate Professor Adjunct | School of Art and Visual Studies | University of Kentucky
Ancient Coins in Motion: Numismatic Finds in Tunisia from the 16th to the Early 20th Centuries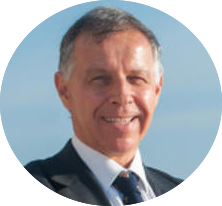 Paolo Visonà is a classical archaeologist who has been the principal investigator on several long-term excavation projects in Italy that were supported by the Mamertion Foundation, and later by the Foundation for Calabrian Archaeology.  His publications include studies in archaeology, art history and numismatics.  At the University of Kentucky, he has taught classes on classical mythology, Greek and Roman art, and a seminar on ancient coins.
Type of Event (for grouping events):