Anthropology Graduate Program
The Department of Anthropology at UK offers graduate training in three traditional subdisciplines of anthropology:
We train students to become professional anthropologists who can engage in both academic and non-academic settings, with strong foundations in theoretical and substantive areas. We encourage students to take classes across the sub-disciplines, and develop a graduate program that supports their interests.
.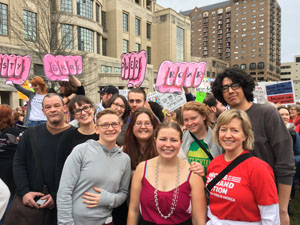 Anthropology graduate students Lee Bullock, Mauri Systo, Chelsea Cutright, Megan Parker, Ruth Dike, Olivia Spradlin, and Daniel Vallejo-Caliz along with Professor Lisa Cliggett at the Lexington Women's March, January 21, 2017. (Photo Credit: L. Cliggett)